Spinning and winning on the Wheel of Fortune
Olive Branch woman appears and wins on the popular TV game show
By day, Lashawn Marshall of Olive Branch is a court reporter and stenographer in the courtroom at the Federal Court Building in downtown Memphis.  
In the evening, Lashawn and her husband Stephen can be found many nights in front of the television trying to beat the contestants who are guessing the puzzles presented on the game show "Wheel of Fortune."
The show has been in existence since 1975 but the current nightly syndicated version with Pat Sajak and Vanna White has been airing since September 1983. It's the longest-running syndicated television game show ever.
Lashawn and Stephen watch the show and try to solve the puzzles along with the TV contestants but it was two years ago Lashawn decided she'd try to become one of those on-stage competitors vying for cash and prizes on the program.  
"They had that commercial for virtual auditions, so I had applied and submitted a video with it," Marshall said. "You just tell them why you want to be on Wheel of Fortune."
After the video submission, Marshall said she just kind of set it aside and didn't think anymore about it, saying she didn't think it was going to happen. But then an email arrived one day that said she had been chosen to audition to be on the "Wheel."  
"The first audition wasn't really an audition but maybe just a way to weed people out," she said. "They just asked me my name. And then got back to me for another audition and this was the real audition with three other women from around the country."
Using a Zoom connection, Lashawn and the other contestants did a "toss-up round," being told to hold up their pens in their hands when they had the right answer. Another round had random letters showing up and they were asked to solve the puzzle.
"We were told that if we were selected, we would hear from someone in a couple of weeks," Marshall said. "In two weeks, I got an email that said I had been selected to be on the show and asked if I could come out there (California) for taping on Feb. 2."
Lashawn said that set a lot of things in motion, from getting a hotel room, to getting flights, but then a snowstorm came through on Jan. 31 and changed some plans.
"We had a flight to leave at 12 a.m. and I didn't have to be in California until the first so I could take a COVID test," said Marshall. "You had to have a COVID test in the 24 hours before you could be on the show."
The original flight was canceled because of the snow so the Marshalls took another flight and got to California the same evening. The COVID test was done and the couple then spent time doing some shopping at a nearby mall and getting ready for the show taping.  
Ahead of the taping, Lashawn said she and the other contestants were given a tour of the set and that's when it first hit her that she really was about to play "Wheel of Fortune."
"We're standing on the Wheel of Fortune stage and the Wheel is right here," Lashawn said. "The Wheel isn't that big as I thought. That's when it hit me."
While not meeting Sajak ahead of the show taping, the contestants were able to meet Vanna White.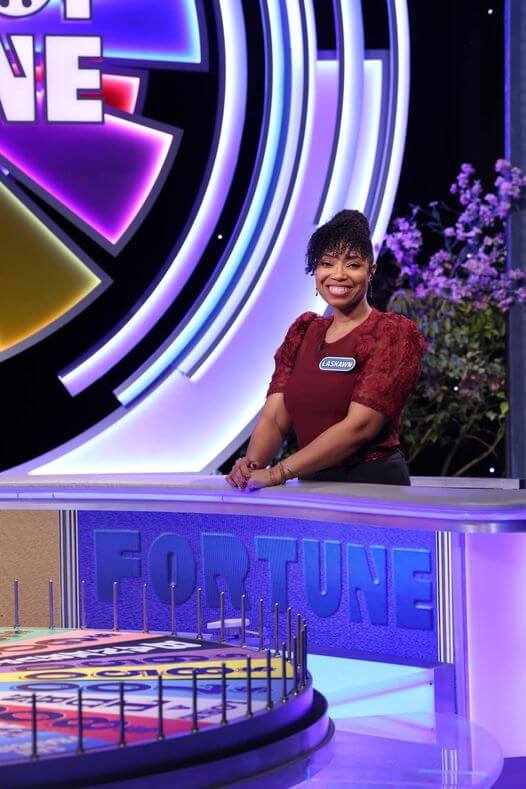 "She came out and said hello to everybody and I thought that was very nice," Marshall said. "We didn't see Pat before the show, we only saw him once the show started.  They tape all of the shows in one day for the week."
Six shows are taped in the one day for Wheel of Fortune and Marshall hoped she would be on the final taping of the day, meaning her appearance would be on June 7, which is her birthday. But Marshall was put on the first taping, which was to air on April 17.  
If there's anything that worked to Marshall's advantage, it's that she deals with words on a daily basis as a court stenographer and she loves to solve word puzzles.  
"I've played Words with Friends forever and I play Wordle with my coworkers every morning," Lashawn said. "I play these word games all of the time so maybe that's how I'm able to get the puzzles by playing them. I didn't have a strategy going," adding the show producers did tell them ahead of time that if it's a "what are you doing" puzzle, there likely is a word ending in "ing." They were also encouraged to call out the vowels as much as you can."
The program ended with Marshall being the big winner, leaving with a total of $64,359 in cash and prizes, including a trip to the Bahamas and a 2022 Ford Escape SEL. 
But the hardest part was still ahead. The show was taped in early February and Marshall was legally bound not to tell anyone about the results until it aired, seen locally on WMC-TV Channel 5 in Memphis. 
"It was hard to not tell my coworkers," Marshall said. "When we were told not to tell anybody, we could tell our significant other. But I'm a rule follower. My judge tried to get me to tell, but I told him, 'you tell jurors all the time not to go home and tell your people about the case.'"
The reaction after the show aired was, as expected, overwhelming, as people congratulated Marshall, receiving a lot of attention Marshall said wasn't used to, "but it was nice."  
Plans with the money are to do some remodeling of their home and take the Bahamas trip early next year to celebrate Stephen's birthday. Marshall receives the car in about four months.  
Lashawn Marshall of Olive Branch, court reporter and stenographer by day, "Wheel" watcher and now winner among thousands who have appeared, played, and won big on one of the most popular game shows ever.  
Marshall said she's never won that much before, adding, "I did win Bingo one time."