Southaven to ask lawmakers for "Penny" tax extension
The funding mechanism for the parks and recreation improvements that have taken place the past several years in Southaven is up for renewal in the state Legislature this session and city officials want to see it continue.
Tuesday night, the Southaven Board of Aldermen voted to ask the one-percent tax on restaurant bills be extended through mid-2032.
Since what many consider as the "Penny for the Parks" levy on restaurant bills paid in Southaven started, the Legislature has instituted "repeal dates" on such local and private legislation. When the current program was initially passed in 2011, the repeal date was three years, until 2014.  State lawmakers extended it another three years until 2017, but the House failed to extend it in 2017 in response to local legislators' opposition to other local and private initiatives.
The program was renewed again in 2018 with a four-year repeal date. Now, the Legislature must extend the repeal date again, or else the program would end in July.
In discussing the resolution Tuesday night, Mayor Darren Musselwhite pointed to the many improvements funded by the one-percent tax on gross proceeds of food and beverages consumed in the city.
Greenbrook Softball Gift Shop and Cooking Pavilion;
New Scoreboards for Snowden Grove, Greenbrook, and Cherry Valley;
BankPlus Amphitheater Stage Enclosure;
Pine Tar Alley Road Extension at Snowden Grove;
Senior Center at Snowden Grove;
Snowden Grove Mini-Stadiums and Bathroom/Concession Additions;
Tennis Expansion (8 New Courts with Pavilion and Bathrooms);
Turf for Greenbrook and Snowden Softball and Baseball Fields;
Snowden Grove Soccer Fields
Indoor Training Facilities at Greenbrook Softball Complex
Improvements to Southaven Arena for Volleyball
"This has not only been a quality-of-life benefit for our citizens, but our parks have become an economic driver," Musselwhite said. "People will tell you they would not have invested in the city of Southaven without it. It's been a great thing for our city."
The resolution passed on a 7-0 vote, but not before Alderman William Jerome asked why the request was for a 10 year period, instead of the 3-4 year repeal dates of the past.
"Since our last extension in 2018, several cities have received longer repeal dates," Musselwhite replied. "When you do big projects like we have done, it takes a larger amount of revenue, but if you have a guaranteed revenue stream that's a lot longer than four years, it allows you more flexibility in getting big projects done quicker."
Musselwhite added the city is asking for a 2032 repeal date but the city is agreeable for whatever term the Legislature would give the city.
The mayor also took the opportunity to provide an update on accomplishments the city has seen in the past year, the list of which is shown below.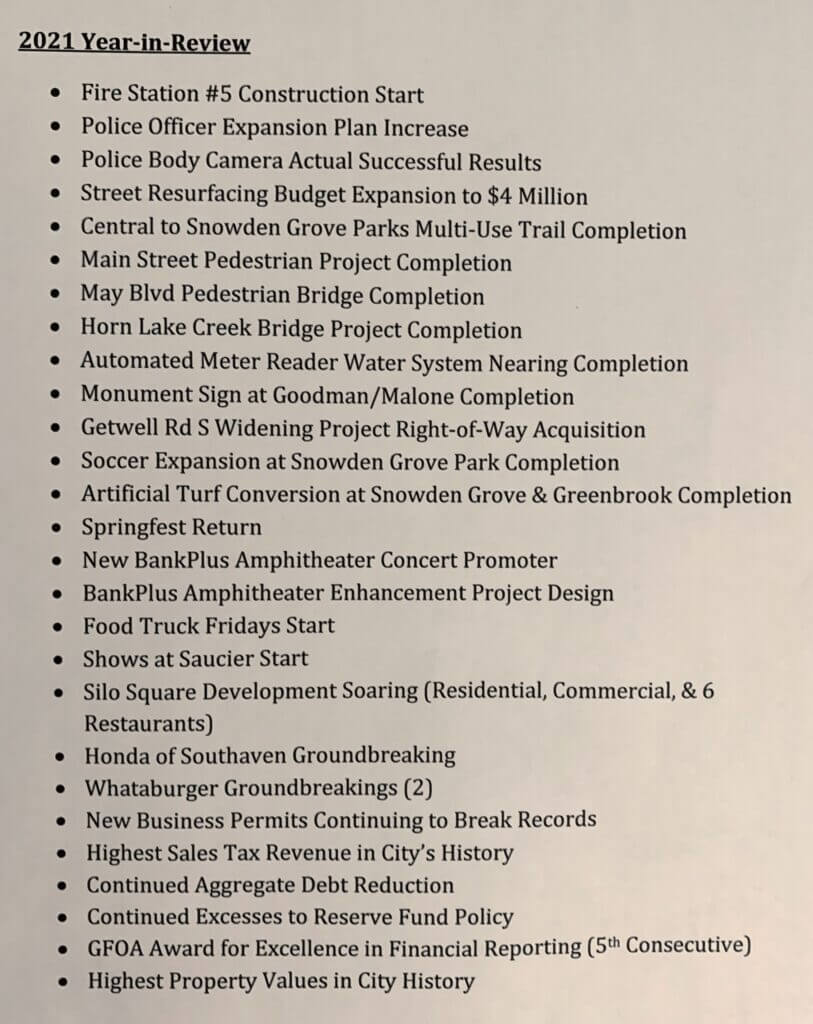 The mayor listed items that have been or are actually taking place, but added there are other projects started last year that will "bear fruit," as he said, in the coming year.