Snowden pedestrian bridge span in place
Photo: Snowden Pedestrian Bridge span being lifted into place. (Bob Bakken/DeSoto County News)
The connecting span of the new Snowden Pedestrian Bridge across Getwell Road in Southaven was installed Thursday. Mayor Darren Musselwhite calls the new bridge "iconic" and says it will spur growth in that sector of the city in several ways.
"The first thing it is going to do is connect two huge pedestrian paths at Snowden Grove and the other one coming down Tchulahoma and May Blvd. from Central Park," Musselwhite said Thursday as he watched the span being put into place.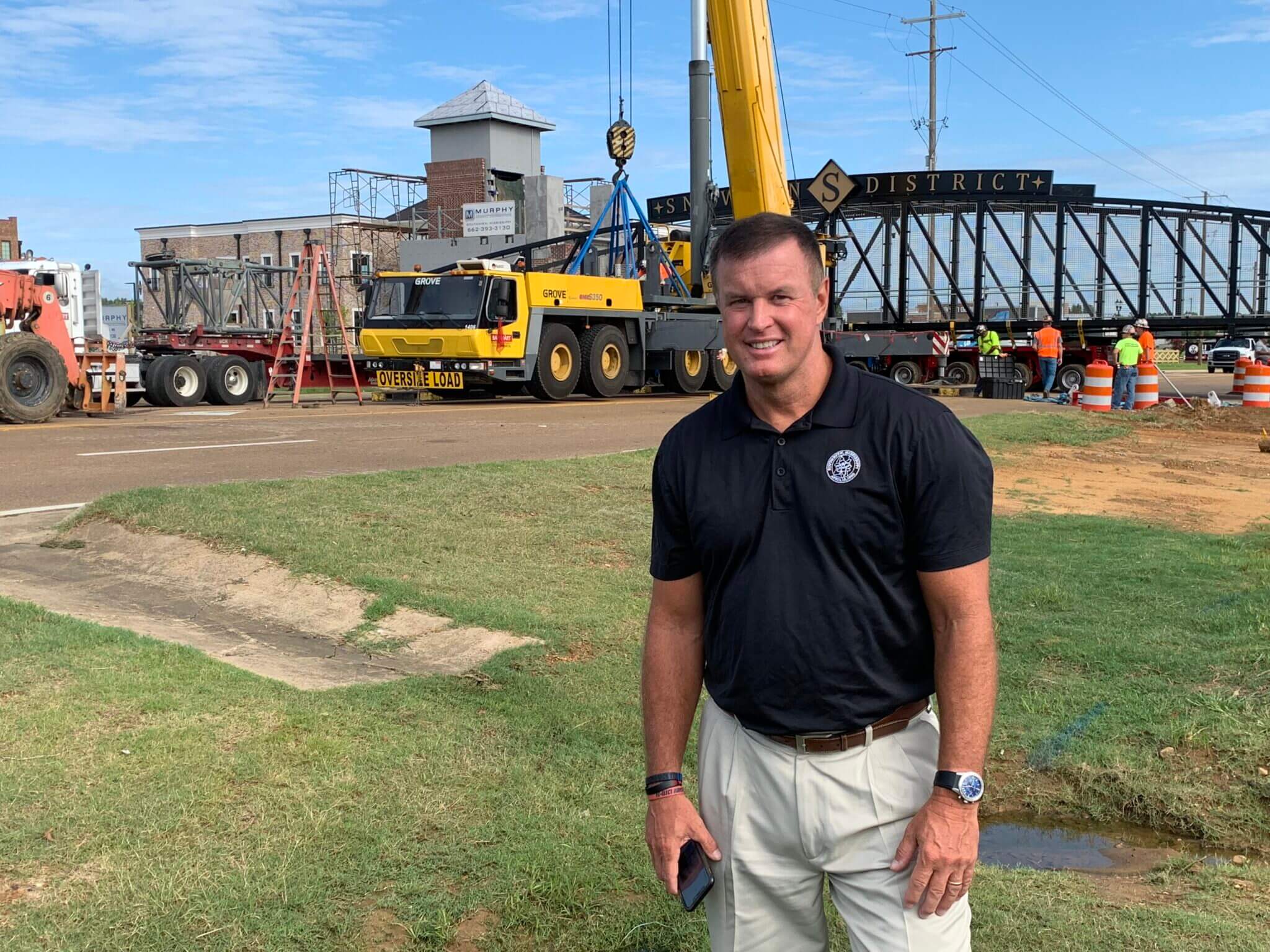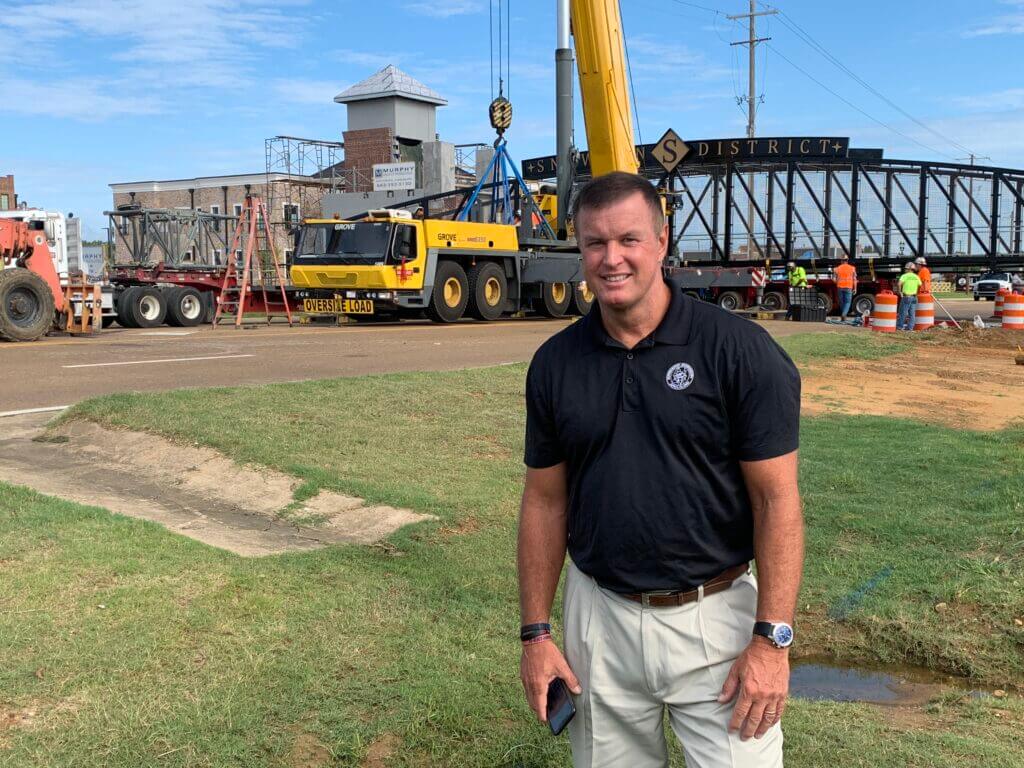 "It's going to be a connecting piece to those pedestrian trails, making it the longest pedestrian route in DeSoto County history. The second thing for safety, by separating pedestrian and vehicular traffic on Getwell Road at events. And, it's going to link commerce on both sides. You've got pending developments on the east side and you've got Silo Square on the west side. A lot of the businesses are aware of the bridge and it played a part in getting them here."
Musselwhite said the bridge becomes another piece in making the Snowden District the first entertainment district in DeSoto County, and specifically Southaven.
"A ton of hours went into planning it, getting us ready for this day," Musselwhite noted. "It's an exciting day for the city as you can tell by the people who are here."
And there were several people viewing the installation, a video of which you may find on the DeSoto County News Facebook page.
Built at a cost of approximately $1.9 million, the Southaven bridge inspiration came from similar structures at Nashville's Vanderbilt University, in Foley, Alabama, and in Columbia, Missouri at the University of Missouri.
Construction on the bridge began back in January and October is still the approximate date for completion.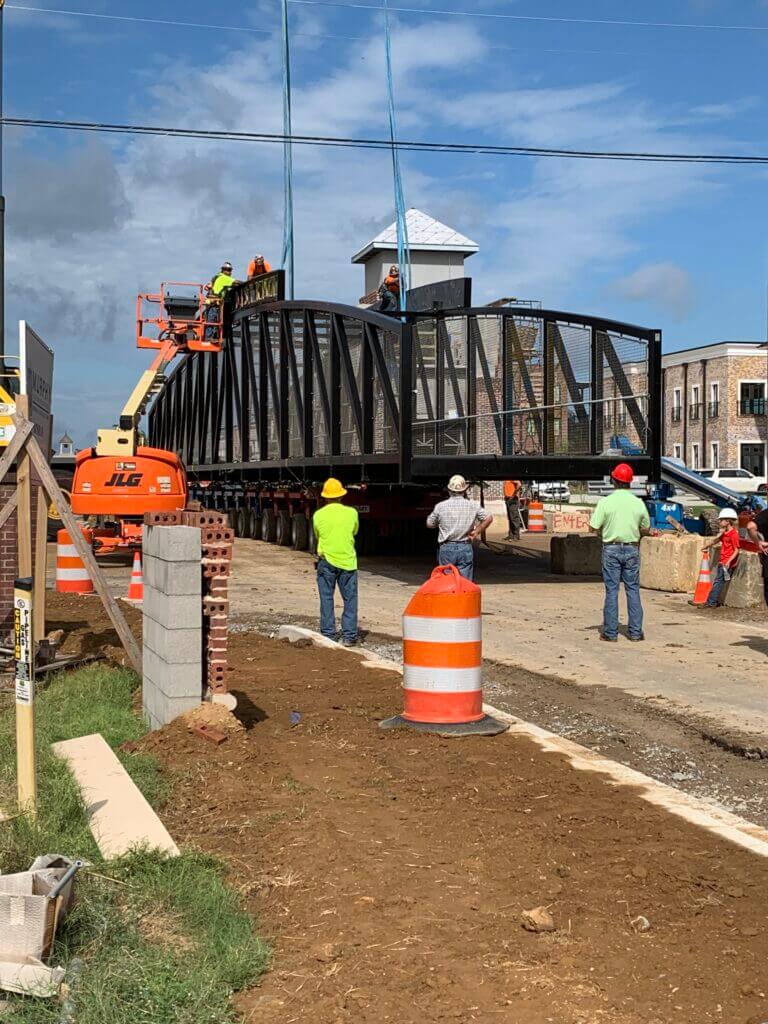 Traffic had to be diverted around the area Thursday to allow for the overhead span to be moved into place and then lifted up into position. Police Chief Macon Moore said about 16 officers were used to direct northbound traffic off Getwell Road at Nail Road to Snowden Lane and then north from there. Northbound traffic also had the option of continuing on Nail Road to Malone and then north to Goodman Road if needing to head west on Goodman. Southbound traffic from Goodman Road went west from Getwell on the north edge of the Silo Square development and through to the south edge where it re-routed to Getwell Road.
"You can see that it's going to be talked about and improve the quality of life for so many people," Musselwhite said. "The wedding proposals that are going to happen there, the senior photos, it's just going to be an iconic place for our city."