Pastor, teacher, charged with child exploitation
Photo: Kyle Hilleary (Courtesy DeSoto County Jail)
An Olive Branch pastor and instructor is facing charges of child exploitation after an arrest announced on Friday morning by the DeSoto County Sheriff's Department.  
Kyle Hilleary, age 30, was arrested on Tuesday, Nov. 7, and was charged with exploitation of a child. He has since bonded out of the DeSoto County Adult Detention Center on $250,000 bond.
Hilleary's LinkedIn page lists him as a Pastor in Residence at Cedar View Baptist Church in Olive Branch and as ESL instructor with VIPKid. He was an instructor at Cross Creek Christian Academy but his name is no longer listed among the staff members at the Olive Branch school.
The school, on Wednesday, Nov. 8, did issue a statement about Hilleary.
According to the Sheriff's Department, the case is being investigated by the Mississippi Attorney General's Office with assistance from the Sheriff's Department and Olive Branch Police.
Cedar View Baptist Church has also posted the following statement on its website about Hilleary's arrest.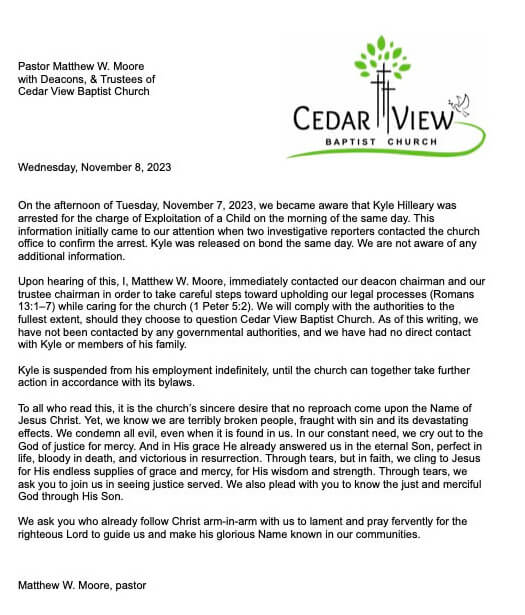 We have reached out to the Mississippi Attorney General's office for further information, if they are able to provide it at this time.