No field hospital decision yet for DeSoto County
State health officials Wednesday said no decision had yet been made about installing an emergency field hospital in DeSoto County to address stressed hospital beds treating coronavirus victims, but they are looking into it.
During a Zoom media briefing Wednesday, Jim Craig, Senior Deputy and Director, Office of Health Protection for the Mississippi State Department of Health (MSDH), stated that his office has been in talks with county officials about the county's request for a field hospital.
"We are aware of the request from DeSoto County and we've been visiting with their leadership, as well as their emergency management team up there," Craig said. "We're trying to identify some potential ways to bring some additional resources into the DeSoto County area."
Craig said there's a lot that goes into starting a field hospital, including manpower and equipment.
"A field hospital takes a lot of things beyond just the tent you see when you come by," Craig said. "There's a lot of equipment, beds, and the staffing required to do it. One of the big problems we're having with a lot of the field staff is in staffing. Our real priority right now has been to make sure staffing of those beds that are in brick and mortar hospitals that we're just not able to staff right now."
Craig did say his department is looking to find solutions to assist DeSoto County with a field hospital.
One item Craig said would be critical in operating a field hospital is the need for oxygen. A field hospital in Jackson at the University of Mississippi Medical Center is directly supplied by oxygen from the main hospital itself, for instance, because it is located in an adjacent parking garage.
As far as a testing site, which was another request approved by state health officials for DeSoto County, Craig said there should be something operational in front of the MSDH Southaven location beginning next week, but he wasn't sure about the exact date when that would begin.
"We're hopeful it will be the early part of next week," Craig said.
Wednesday, state health officials announced that Mississippi has had 4,085 more cases of COVID-19 in Mississippi, 36 deaths, and 182 ongoing outbreaks in long-term care facilities. State COVID-19 totals are now 396,394 cases, 7,916 deaths, and 1,088,155 persons fully vaccinated.
In DeSoto County, four additional deaths were reported from between July 24 and Tuesday, Aug. 17, making for a total number of fatal victims from the virus in the county to 294.
The number of cases reported during the pandemic from DeSoto County has now reached 25,274. Complete details are available on the MSDH website.
Elsewhere on the COVID-19 front today, two vaccination events have been planned in DeSoto County to try and get more people vaccinated.
State Rep. Hester Jackson-McCray (D-Horn Lake) said she is hosting "A Date to Vaccinate" on Sunday, Aug. 29 at Living Word Ministries in Walls. It is being done with MSDH and the Mississippi Black Legislative Caucus. Hours are from 1-6 p.m. that day.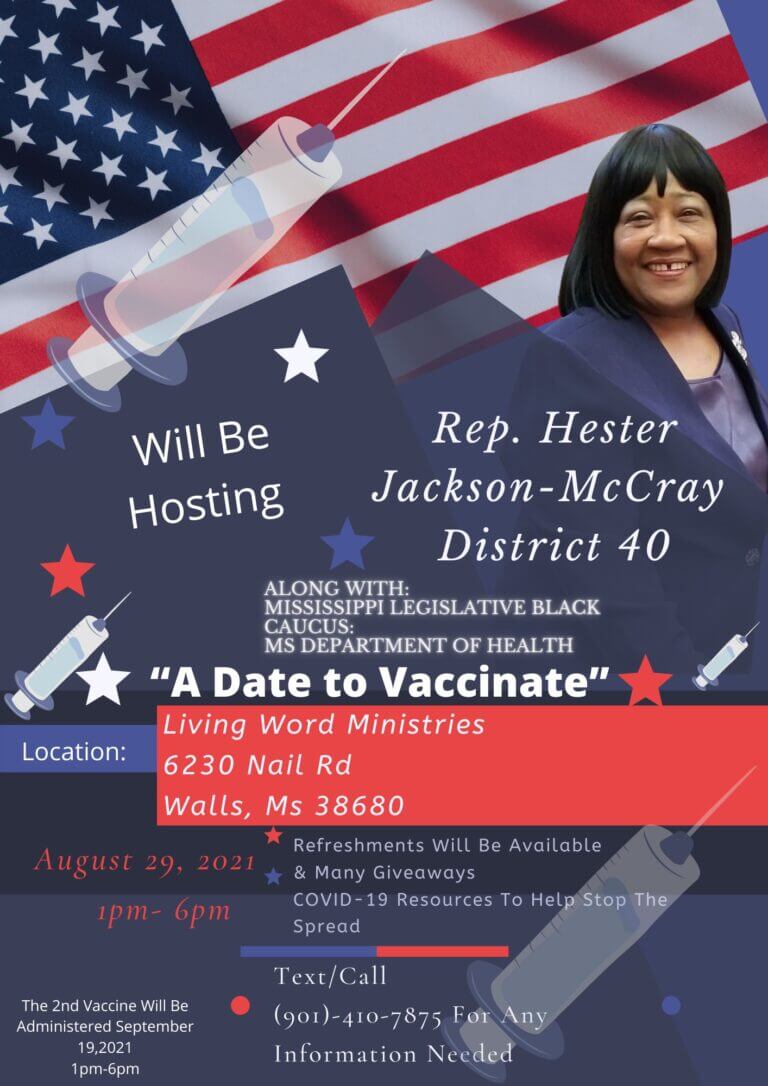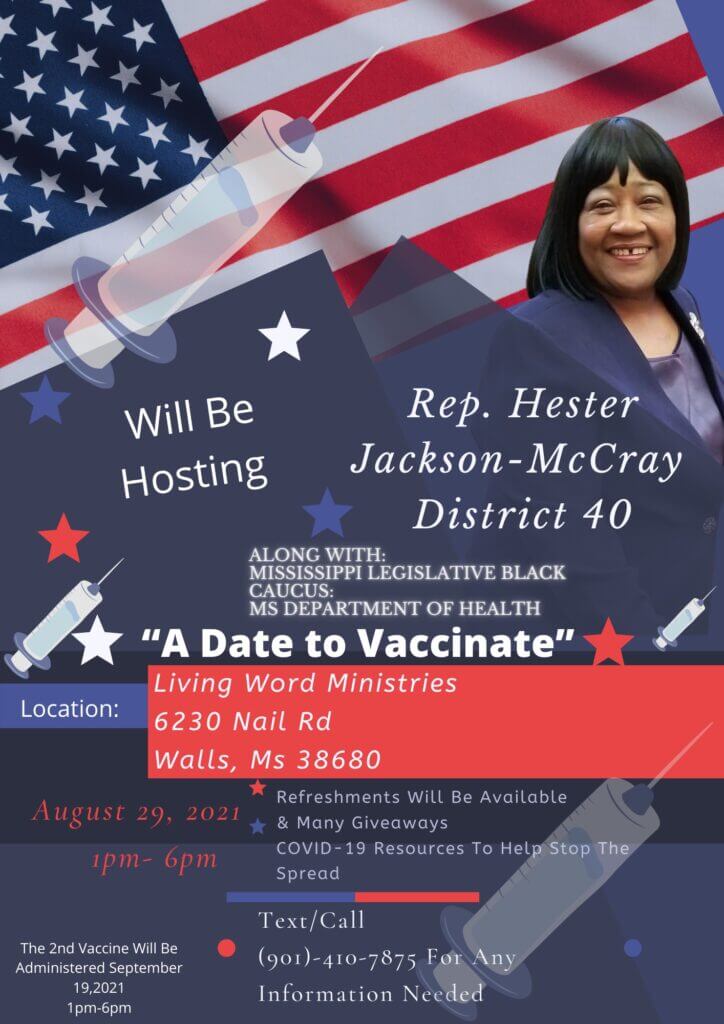 Another free vaccination event, done in partnership with MSDH, Essential Health and Wellness, the Horn Lake Chamber of Commerce and the City of Horn Lake will be held on Friday, Sept. 10 in the parking lot of Horn Lake City Hall from 10 a.m.-2 p.m. Pre-registration forms are available at the Chamber office inside City Hall.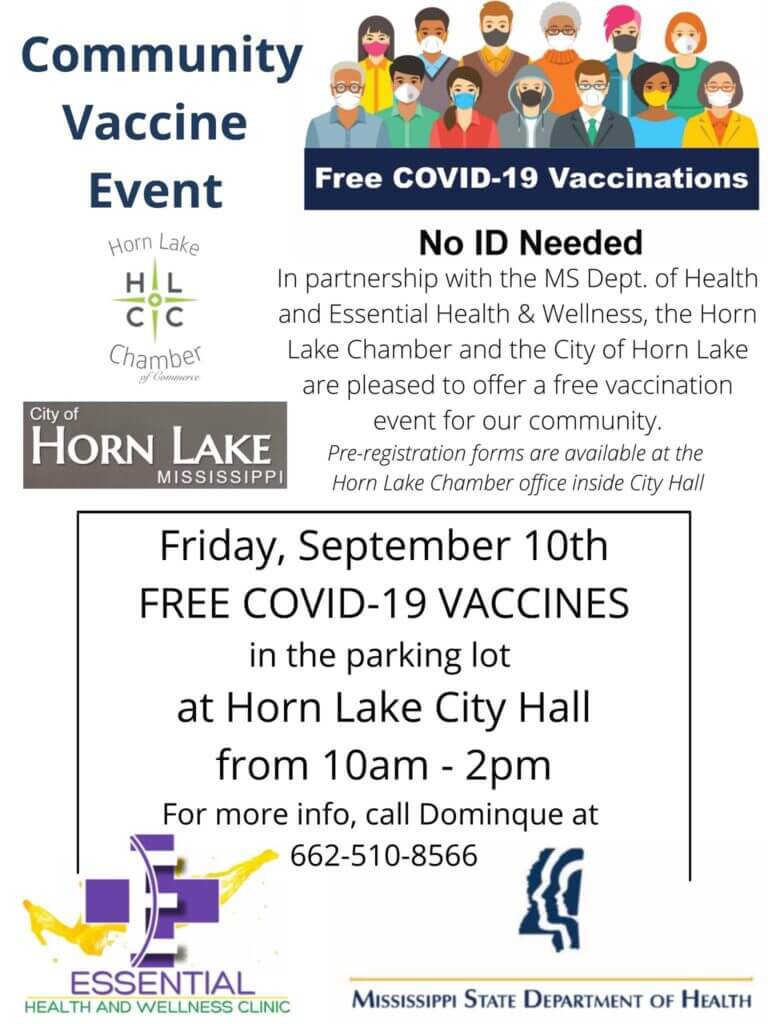 U.S. health officials Wednesday said it was recommending Americans get booster shots to improve their protection against coronavirus. The Centers for Disease Control suggests a third booster shot eight months after the second of the two-dose Pfizer or Moderna version of the vaccine. Those doses could begin as early as Sept. 20. Health officials are awaiting more data about a possible booster shot for the one-dose Johnson and Johnson vaccine.
Shelby County, Tennessee health officials announced Wednesday it is re-instituting a mask mandate in the county for all indoor settings, starting Friday morning at 7 a.m. The Shelby County mandate affects all people over the age of two. The health department there said masking in outdoor settings would be optional because the risk of transmission there is lower, although it is still recommended for unvaccinated individuals in crowded outdoor settings.