Nearly steady COVID numbers from schools
The past week's report on new COVID-19 cases and quarantines among DeSoto County's more than 40 public school attendance centers show relatively stable numbers compared to the previous week. However, the number is still slightly lower than the previous week, according to Monday's report released by the DeSoto County School District, or DCS.
There were 35 new cases reported by DCS for the school week ending Friday, Oct. 29. That is two fewer than the previous weekly report, which numbered 73 new quarantines for the more than 34,000 students in DeSoto County Schools. That number is one fewer than the previous week's report.
Center Hill High School came in with the most number of new cases in the district's schools with six, followed by DeSoto Central Elementary with four. DeSoto Central Middle and Southaven Middle schools each had three new case reports.
Walls Elementary had one new positive case of coronavirus among its students, but had 21 new quarantines, the most among any DCS school. DeSoto Central Elementary recorded 11 new quarantines, followed by Southaven Middle with 10.
There were nine new positive cases reported among DCS staff and teachers and there were 20 schools that had no new cases and new quarantines.
The complete report is shown below and is also available on the official DeSoto County School District website.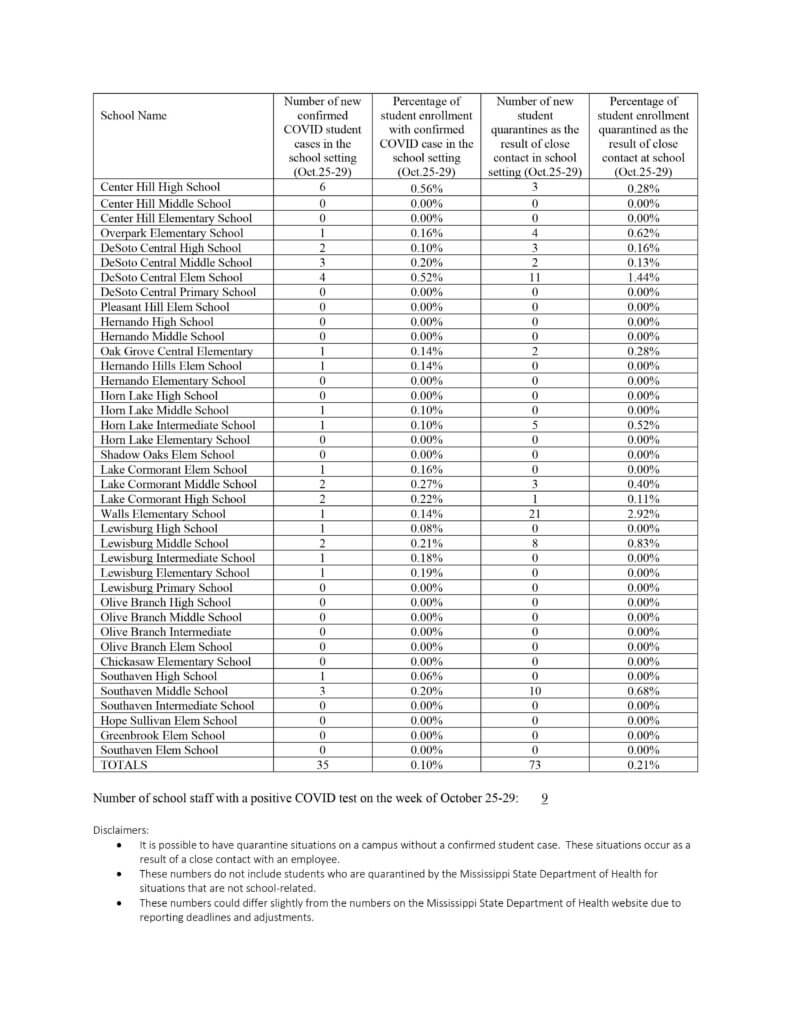 WEEKEND COVID-19 REPORT FROM HEALTH DEPARTMENT
There were no additional COVID-19 deaths reported in DeSoto County over the weekend, according to the update from the Mississippi State Department of Health. County totals now are as follows: