More vaccine being made available in county, state
Photo: Dr. David Hooker getting the COVID-19 vaccine at Baptist Memorial Hospital-DeSoto in Southaven, when the vaccine was first rolled out in DeSoto County at the hospital in December 2020. (Bob Bakken/DeSoto County News)
Mississippi Gov. Tate Reeves Tuesday announced on social media that additional first-dose appointments for coronavirus vaccine through the Mississippi State Department of Health (MSDH) had been made available. He urges those seeking dose appointments to go to the MSDH appointment web page at http://covidvaccine.UMC.edu. You may also call the MSDH COVID-19 hotline  (7 days a week, 7 a.m.–7 p.m.): 877-978-6453.
Reeves also said vaccine appointments are now being made available through pharmacies at several Walmart Supercenters in Mississippi, including three located in DeSoto County in Southaven, Olive Branch, and Horn Lake. Those seeking appointments through the Walmart option will need to go to the following website to make an appointment: https://www.walmart.com/cp/1228302.
Here is the list of participating pharmacies, as of Tuesday, Feb. 9.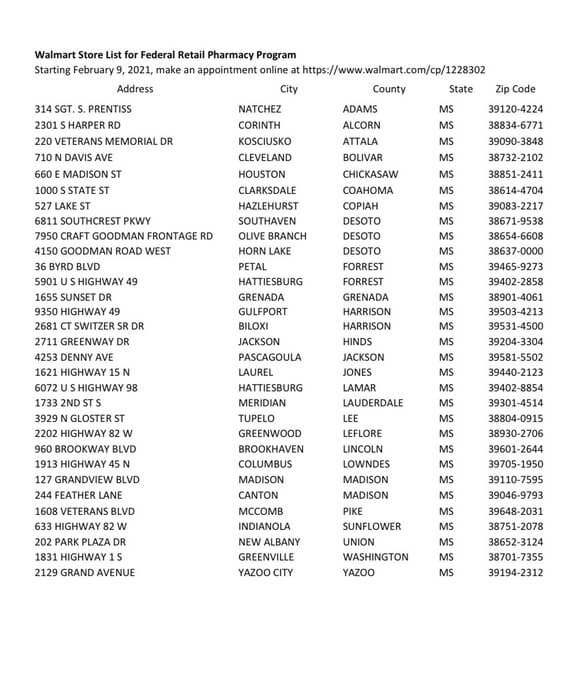 Right now, those eligible for the vaccine, according to MSDH, remain:
Adults aged 65 and older. Adults in this age group can be vaccinated at any of our drive-through locations below, or at some private healthcare providers. See below for appointment information.
Anyone 16 to 64 years old with a chronic health condition that may put them at higher risk from COVID-19. (18 or older at our drive-through sites.).
On Tuesday, MSDH added 656 new positive cases of coronavirus in Mississippi with 73 new COVID-19-related deaths. DeSoto County has 43 added cases and three additional death reports. County totals for the pandemic are now at 18,881 positive cases and 220 deaths.