UPDATE: Mississippi Task Force 1 aids in Ida recovery
TUESDAY, Aug. 31 (3 p.m.) update: DeSoto County EMA Director Chris Olson tells us that Mississippi Task Force 1 has been released from its duties and is heading home.
TUESDAY, Aug. 31 update: Mississippi Task Force 1 (MSTF-1) worked overnight on the Highway 26 collapse in George County.  Two people died and 10 others were injured, three critically, when a 75-foot span of the highway collapsed around 10pm last night.  Seven vehicles plunged into the 20-30 feet deep ditch.
MSTF1 was called in to help with the challenging recovery of two deceased victims from a mangled vehicle. Task force members used ladders and ropes to get down to the ravine. They also worked alongside the crane company to rig and remove the seven vehicles. Many of the vehicles were stacked on top of each other, making the recovery process extremely difficult.
The incident was reported on local television WLOX and members of Mississippi Task Force 1, wearing blue shirts with Mississippi Task Force on the back, can be seen throughout the story. The link to their internet posting is FOUND HERE.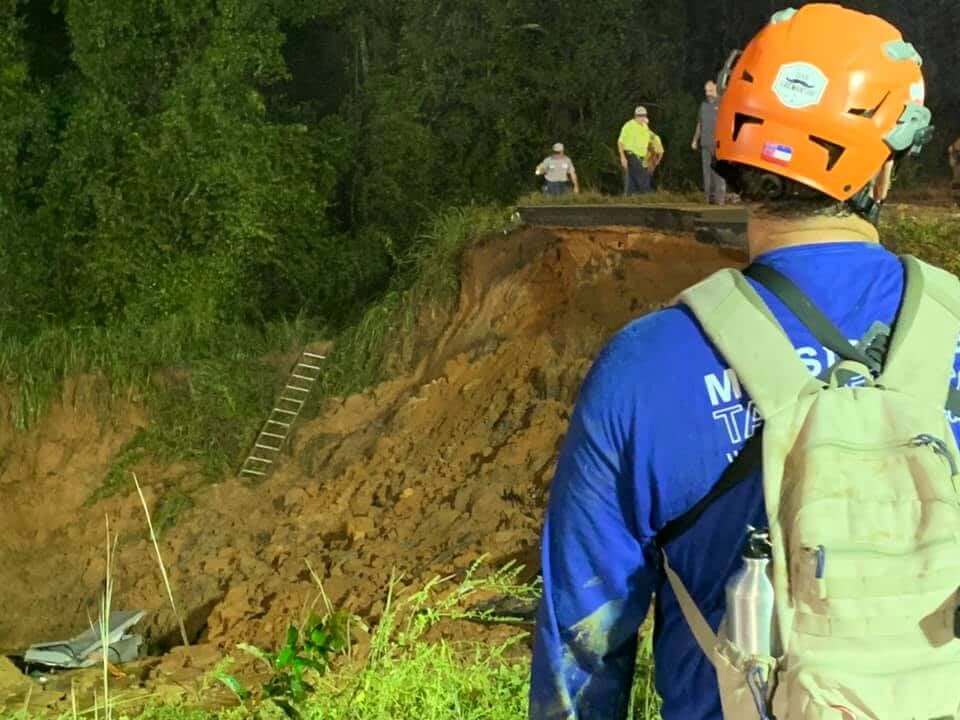 The team is currently driving back to the staging area after working all night. MSTF1 should begin the demobilization process Wednesday if the river and flash flood threat subsides.
MONDAY, Aug. 30 update: Members of Mississippi Task Force 1, stationed along the Gulf Coast, has been active in search and rescue operations in the aftermath of Hurricane Ida.
A update was posted on the group's Facebook page late Monday night.
"Our team conducted several missions today in Hancock County," according to the post. "In addition, the two boat squads we sent to Pearl River County integrated into local response and began operational planning to address any needs that arise in that area. The team is doing well and is prepared to address any needs that arise overnight."
They have performed several water rescues from homes and vehicles – they have also helped people who were trapped in homes by fallen trees.
The 35-member team includes personnel from the DeSoto County and Lafayette County Emergency Management Agencies, fire departments in Southaven, Olive Branch, Lafayette County, Tupelo, Corinth, Water Valley, Amory, and the Mississippi Fire Academy. The team is led by DeSoto County EMA Director Chris Olson and Deputy Task Force Leader Ben Mcminn.