Hernando receives community grants for Mobile App and "Dickens" holiday event 
Photo: From left, Hernando Community Development Director Gia Matheny is with Mississippi Hills National Heritage Area Executive Director Mary Cate Williams after the City of Hernando received a $10,000 Community Grant. (Courtesy photo)
Funding to support the City of Hernando's Mobile App and for its holiday tourism event "Dickens of a Christmas" has been received by the Mississippi Hills National Heritage Area's (MHNHA) Community Grant Program.  
Community Development Director Gia Matheny announced on Wednesday, March 22 that Hernando is receiving $10,000 in grant funding as part of the MHNHA's Fiscal Year 23 program. The awards were announced at a public ceremony following the board meeting in Starkville.  
Hernando was awarded the grant to support cultural and heritage components of its fifth annual "Dickens of a Christmas" Victorian-Era holiday event, and for additions/enhancements to its event mobile app, which highlights local cultural sites. The app also helps promote the Dickens program that includes the involvement of Civil War interpreters/reenactors.
"The funds we receive from the MHNHA grants increase tourism which benefits our local businesses and community," said Matheny. "It is the cultural entertainment that makes our event attractive, and although visitors come for a weekend of fun they leave with a better understanding of our Mississippi heritage."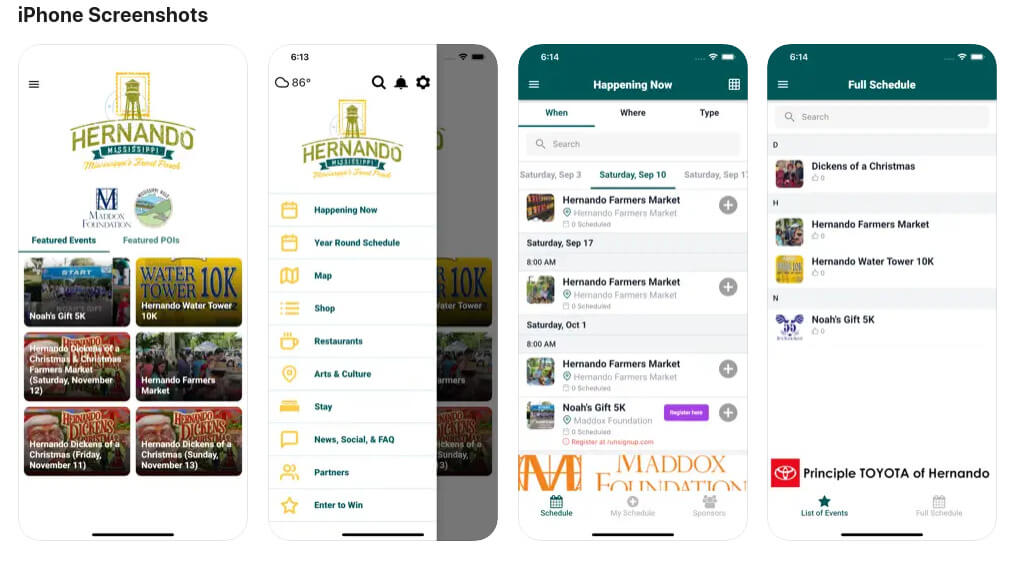 The city's mobile app may be found at "Visit Hernando MS" in the Apple App Store and Google Play. 
"The mobile app is a convenient way for the city to provide access to our cultural attractions, local businesses, and events," said Mayor Chip Johnson.
This year, MHNHA received 38 applications, totaling $387,879 in requests.
"We received many strong proposals this year and were glad to be able to fund the majority of them," said Mary Cates Williams, executive director of the Alliance. "We look forward to working with grantees on their projects."
Since the Community Grant Program was initiated in 2016, almost $2,000,000 in grants and designated special projects has been awarded in area communities.
Matheny said if people find city events they feel should be on the Mobile App, but are not, they should contact her at gmatheny@cityofhernando.org.