Hernando aldermen approve parks improvement plan
Funding mechanism must pass voters in November vote
Hernando aldermen have given city residents a better idea of what the city can have if it approves its Penny for the Parks proposal in the November general election.
At Tuesday night's board meeting, aldermen approved a plan for improvements in the Renasant Park area that would include four baseball and four softball fields, six tennis courts, eight pickleball courts, three basketball courts, and a disc golf course. The proposal also includes improvements at Milton Kuykendall Field and Phase 2 lighting at the Hernando Soccer Complex.
The total cost of the proposal is $13.73 million, the majority of which would be paid for through funding received by the Penny for the Parks plan that is up for approval in the Nov. 8 general election.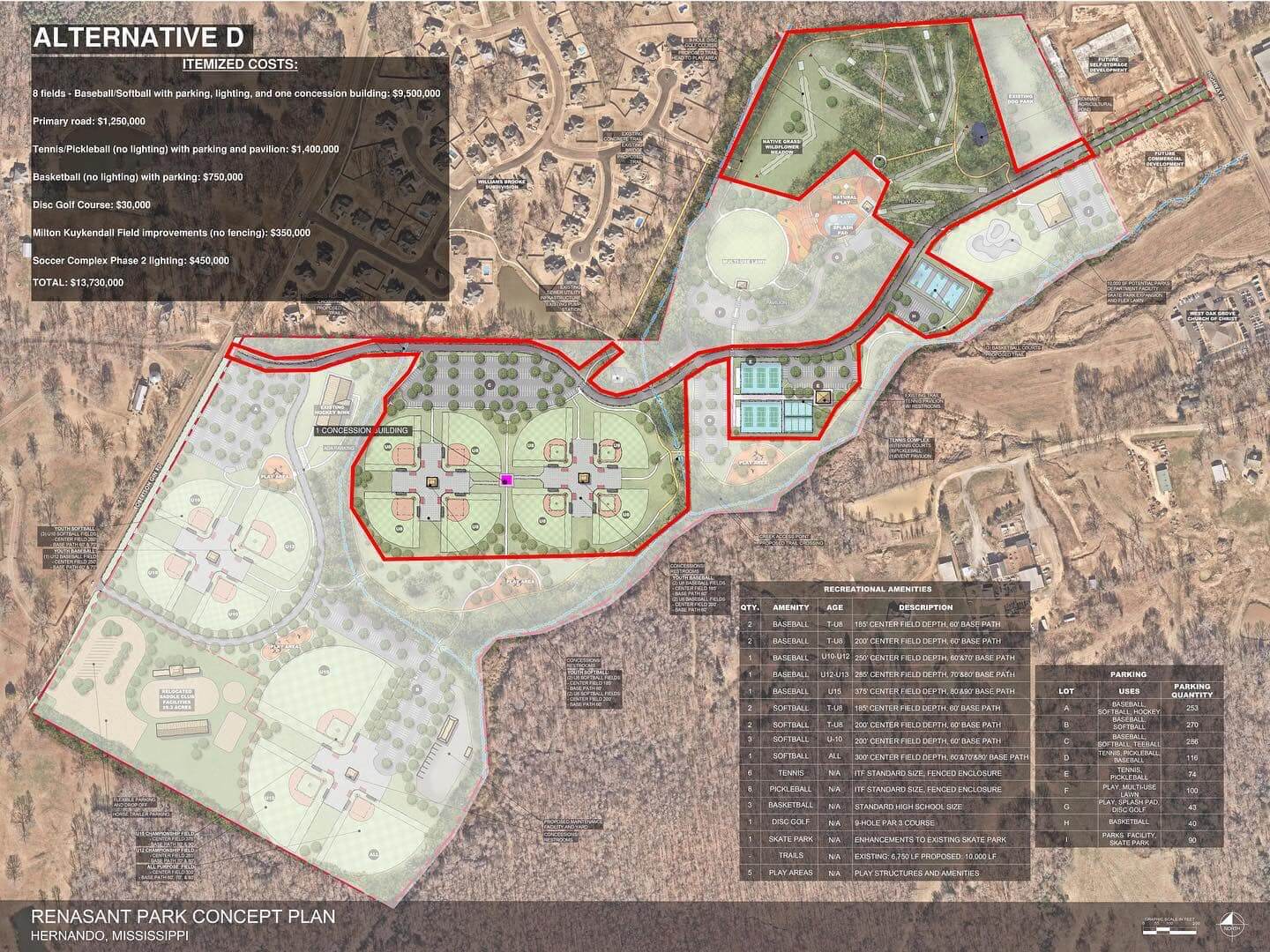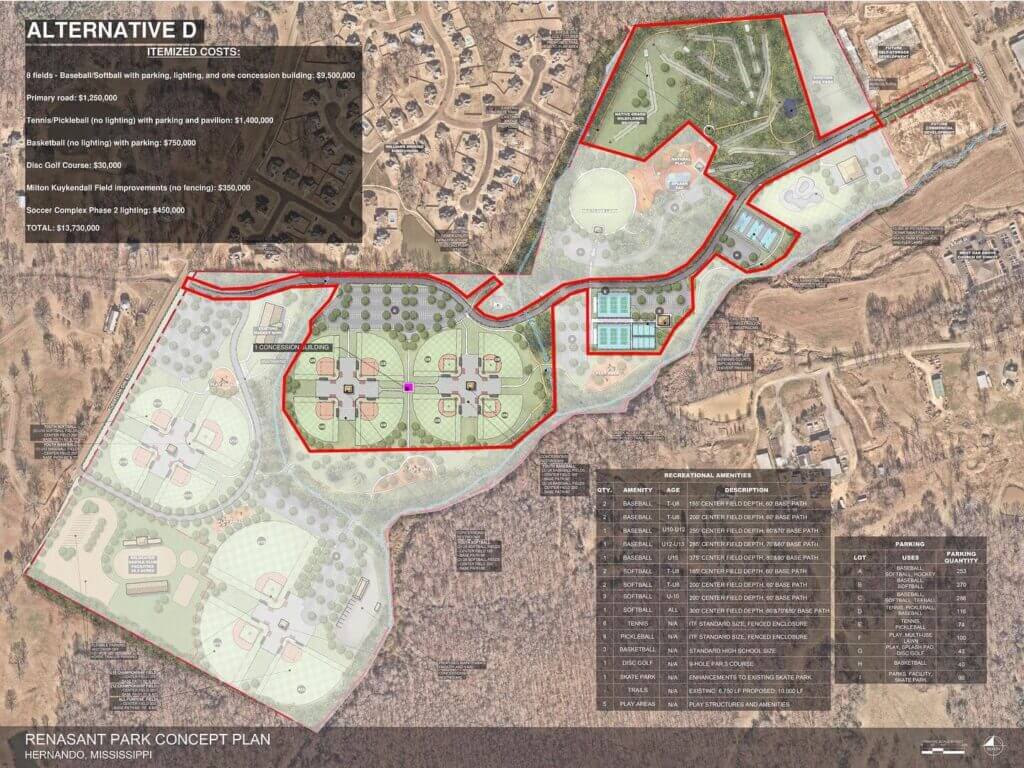 The plan has eight baseball/softball fields with parking, lighting, and one concession building at a cost of $9.5 million.
Tennis and pickleball courts with parking and a pavilion but no lighting comes at a cost of $1.4 million. Basketball courts without lighting and parking is about $750,000, and a disc golf course would cost $30,000. The improvements at Milton Kuykendall Field would come from $350,000 and the soccer complex lighting comes with a $450,000 price tag.
"We're offering tennis, pickleball, disc golf, baseball, softball. That's something for everyone," said Alderwoman Beth Rone Ross. "We also get improvements to the soccer field and to Kuykendall Park. We're able to offer more to the public. I think it's a longer term fit."
It's believed "Penny" would bring in about $800,000 in revenue which could get at least a $12 million bond over 10 years, or a $9.8 million bond over 20 years. General funding would have to cover the difference.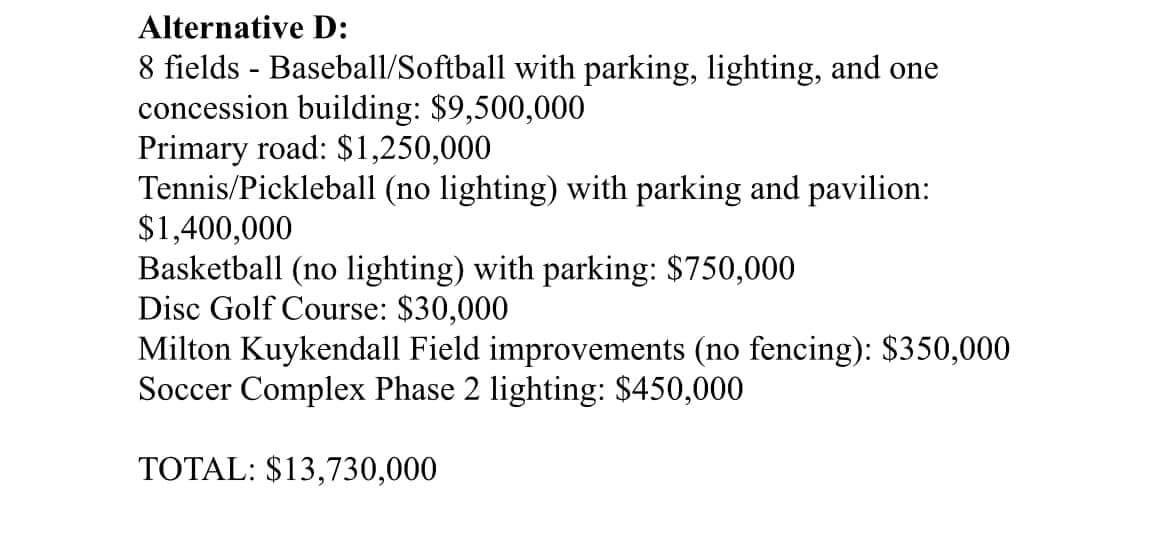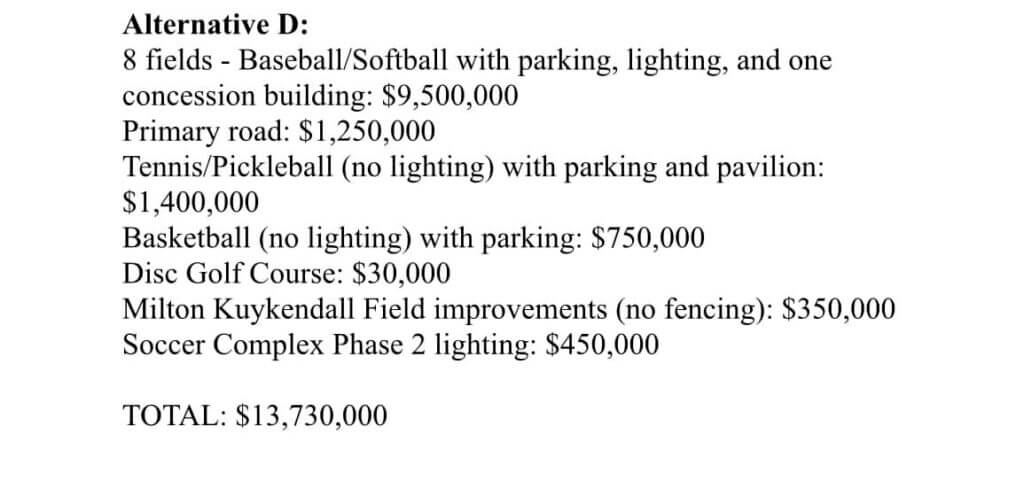 "That would still put you with a $5 million note you'd still have to carry," said Alderman Andrew Miller about the difference in funding.
"I think we're getting a little ahead of ourselves," replied Alderman Chad Wicker. "What we're trying to do tonight is settle on a conceptual plan. We'll have plenty of time to consider how we're going to pay for this project. This is something the citizens of this city want and we need to move forward with it."
A ballot with the tax proposal on it separate from the general election ballot will be given to Hernando voters to consider. It must get 60 percent approval from voters to be approved. The local private bill passed in the state Legislature requires that, if approved, the penny legislation must come up for renewal every four years.  
If approved, one cent per dollar of gross sales in city restaurants would go to the city for parks and recreation improvements.