Hernando aldermen approve Ward district changes
Hernando city aldermen have approved changes to its ward district map set up during its meeting on Tuesday, March 21.
Aldermen have sought to adjust the ward district map to more evenly distribute the voting population in the DeSoto County city. As Alderwoman Beth Rone Ross added, the board also wanted to avoid splitting neighborhoods.
"We tried to look at whole neighborhoods being in one ward versus splitting them down the middle," said Ross. "It only has to do with trying to make it simpler for the voters."
Under the present ward set up, populations ranged from 2,496 in Ward 3 to 3,199 in Ward 1 and the variance from the ideal became 24.1 percent. That maximum variance needed to be under 10 percent.
Averaging out the total voting population into the six wards, the ideal population of 2,856 in each ward was the ideal goal that was sought.
Under what was labeled as Plan 3, the plan aldermen approved Tuesday night, the new wards will range from 2,763 in Ward 5 to 2,944 in Ward 6. The maximum variance is now -6.34 percent against the 24.1 percent variance in the present ward setup.
As far as the racial makeup, the new wards will range from 57.6 percent White in Ward 2 to 86.5 percent White in Ward 3.  
Five areas will see changes in the new ward setup. An area bounded by Starlanding Road, I-55, Nesbit Road and Gwynn Road will move from Ward 1 to Ward 6. The area inside a boundary of Mount Pleasant Road, East Oak Grove, and along and past Railroad Avenue will join Ward 5. Another area bounded by West Robinson Street, Elm Street, West Commerce Street moves west from Ward 4 to Ward 1. The area surrounded by Tara Drive, Dogwood Drive, Pontotoc Street, and Byhalia Road to Mount Pleasant Road will now become part of Ward 4. And, Ward 3 will have added the area that has Green T Road West, Palmer Drive, to Clubhouse Drive and McIngvale Road.
Here is a map of the new Wards with the changes circled.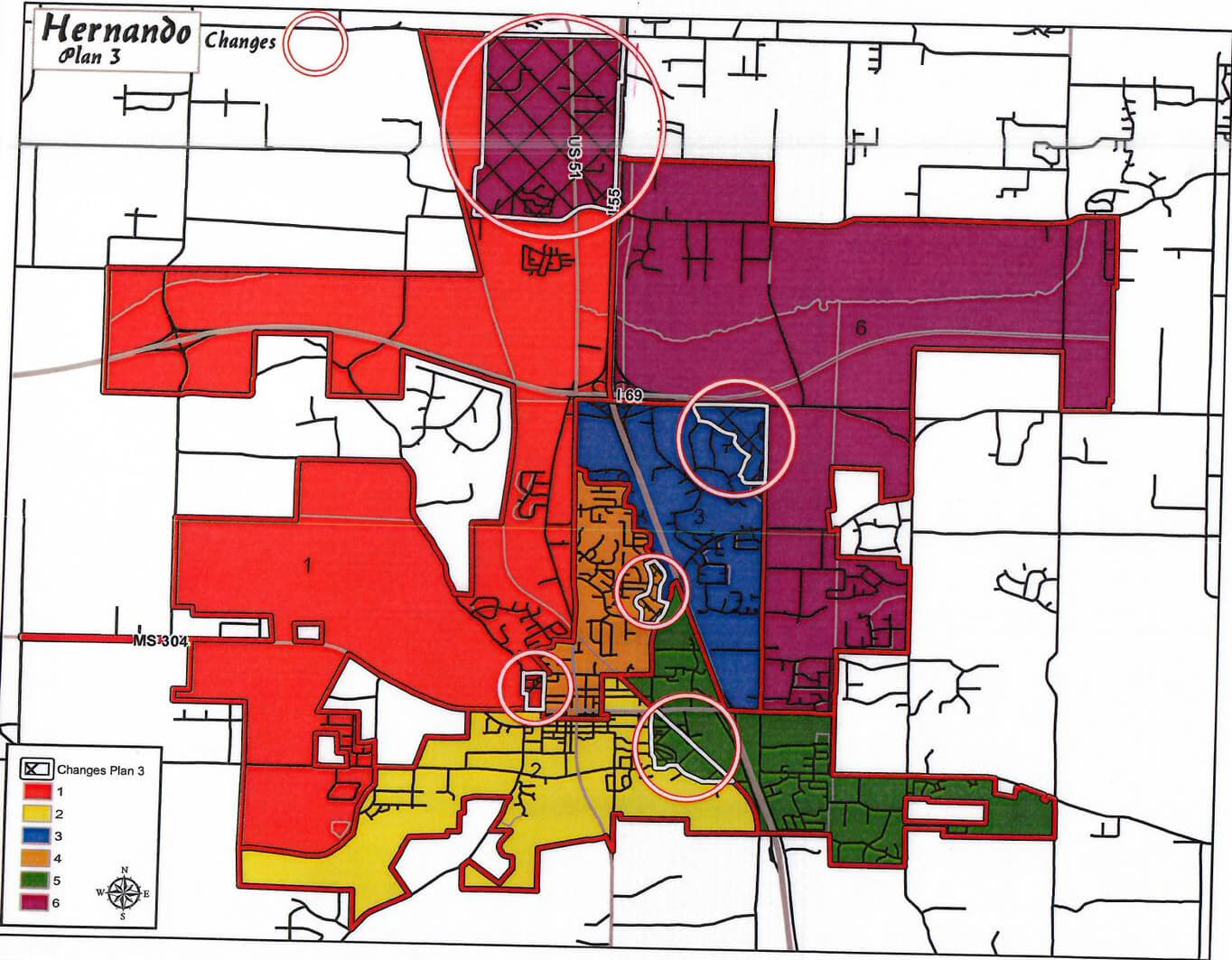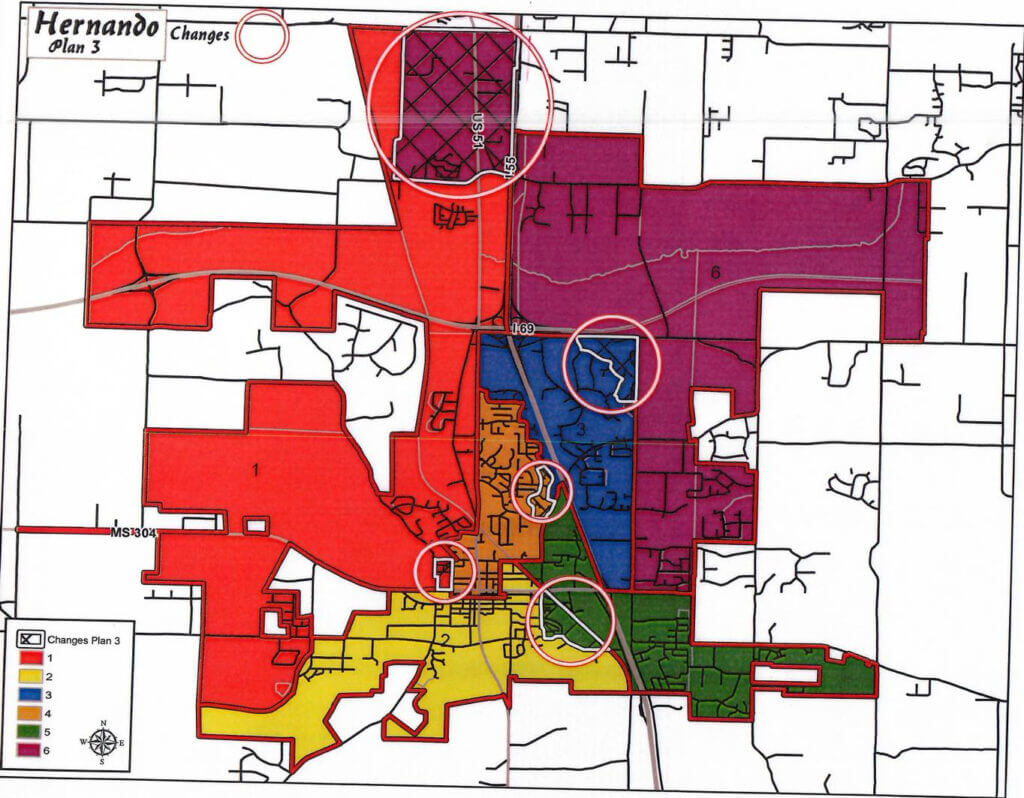 In other items from Tuesday's board meeting, aldermen heard an update on the city's Paving Plan progress. Engineer Joe Frank Lauderdale said warmer weather and asphalt plants making products will move the plan forward.
"We still have over $900,000 of paving under contract, or will have after you approve the next item on the agenda, (Dogwood Hollow and Trapper Drive paving project)," Lauderdale said. Mayor Chip Johnson asked the board to approve a plan to bid out some projects of over $75,000 or outside of the quote range in packages to get the best bid on them.
The Dogwood Hollow and Trapper Drive paving project was awarded to American Services LLC with its low bid of $202,550 in a separate agenda item.
Johnson also read and the board accepted a proclamation making April 14 "Blue and Green Day" for Organ and Tissue Donation Awareness, for the Mid-South Transplant Foundation.