Note: Keep coming back to this page for updated information and vote totals as they are come in and are reported from the DeSoto County Circuit Clerk's Office tonight.
CLICK THE LINK BELOW FOR VOTE TOTALS:
(10:11 p.m.) Final unofficial totals are on the link above. Voter turnout in DeSoto County was 50.92 percent, with 61,953 ballots cast.
(10:05 p.m.) Up to 39 precincts reporting. Link is updated again.
(9:56 p.m.) Updated totals on the link with 38 precincts reporting.
(9:33 p.m.) We now have 37 of 41 precincts reporting in DeSoto County. Updated totals in the link above.
(9:25 p.m.) 36 precincts of 41 are now in, we're closer to the end. Vote totals are on the file link above.
(8:55 p.m.) Latest vote totals in link above. 31 precincts have reported. One of the surprises in tonight's vote so far has been DeSoto County's solid support for medical marijuana Initiative 65 over the legislative Alternative 65A. There is also a strong support for allowing either initiative to go forward. The backing comes despite opposition from several official levels in the county, including law enforcement, as Sheriff Bill Rasco came out against medical marijuana period and also against Initiative 65, if either measure could go ahead.
Of note, with 31 precincts in, Kanye West has received 133 votes from DeSoto County for president.
(8:15 p.m.) 23 precincts are now reported. Updated numbers in the file above. Registered voters in DeSoto County for this election are 121,674. As of the latest report, there had been 30,430 ballots cast, of 25.01 percent.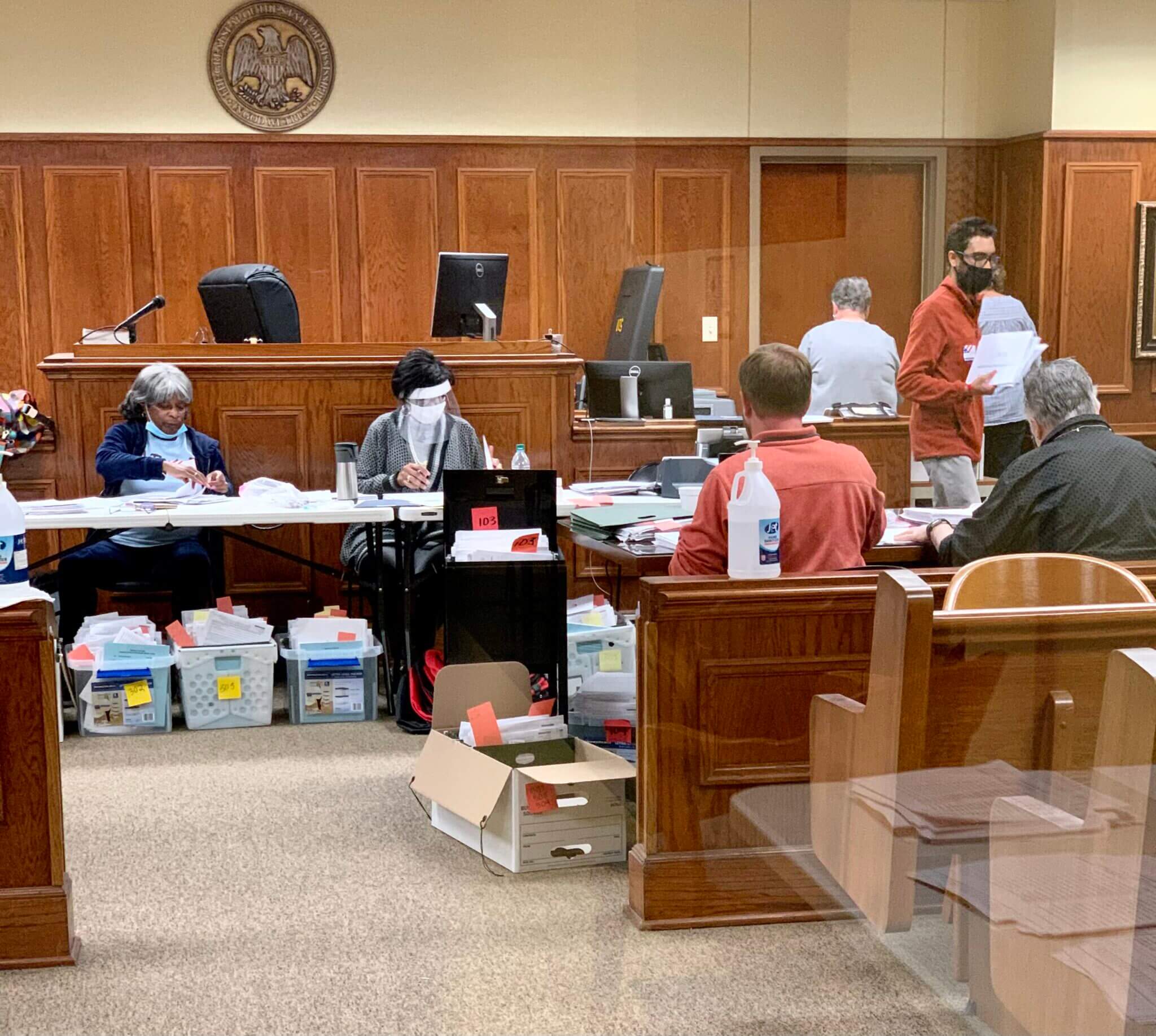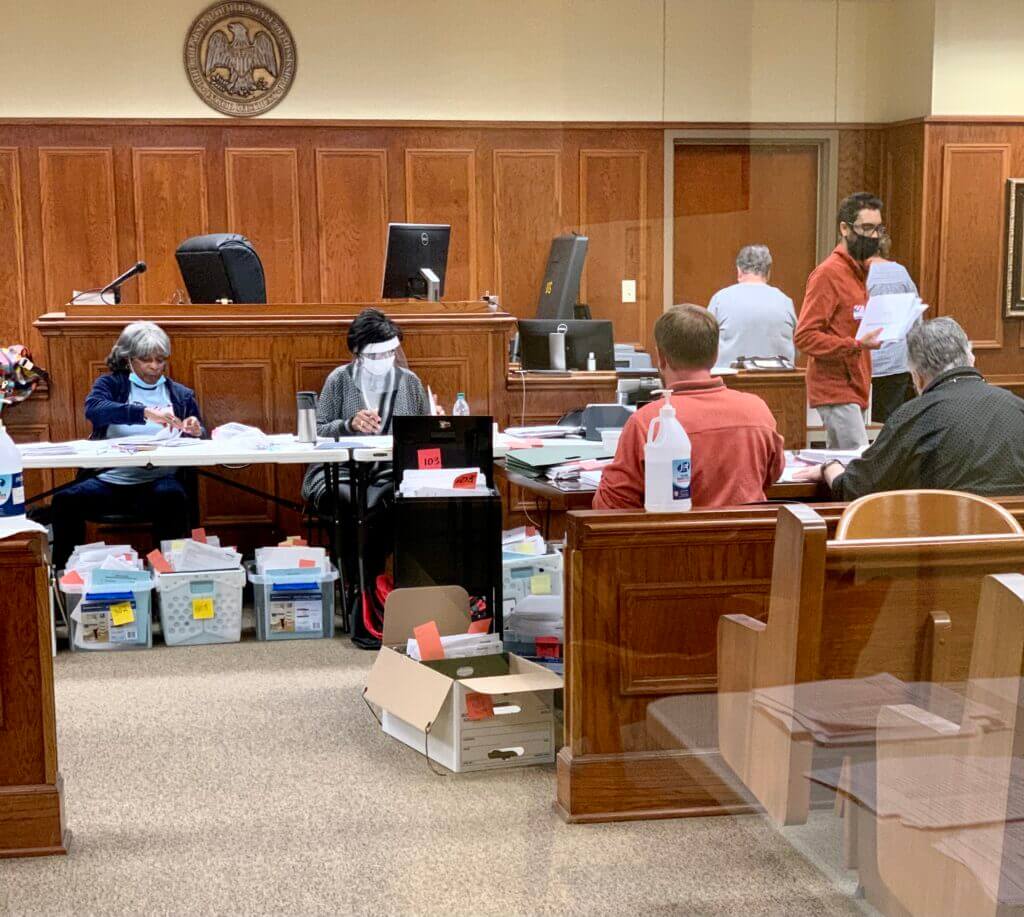 (8:06 p.m.) 22 precincts are now in. Updated numbers in the file above.
(7:45 p.m.) First DeSoto County totals have come in. Nine of 41 precincts. Click on the link above for the totals.
(7:35 p.m.) Y'all Politics is projecting Rep. Trent Kelly as the re-elected winner in the First Congressional District race over Democrat Antonia Eliason.
(7:00 p.m.) Polls have now closed in DeSoto County and Mississippi. Voters who were still in line at 7 p.m. are to be allowed to vote. Associated Press and Y'all Politics have already called Mississippi for President Donald Trump over former Vice President Joe Biden.
(6:30 p.m.) We are a half hour from close of polls in DeSoto County and in Mississippi. Election officials have already warned us that vote tallies will be slow in coming this evening, so get ready for a long night. A new reporting system is being used that brings the results from the precinct immediately to Courtroom A, which is Election Central of sorts. They are then tabulated before they are given to the Circuit Clerk's office who then will distribute the results.
We're also hearing the absentee ballots for this election should exceed 14,000 and possibly reach 15,000 absentee voters for DeSoto County.
(3 p.m.) There are 113,631 active voters in DeSoto County for the 2020 general election, according to the DeSoto County Circuit Clerk's office. According to the Secretary of State's last report, as of Sunday, DeSoto County has received 13,637 absentee ballots. A total of 14,627 absentee ballots were sent and an equal number were requested.
A voter to the Nesbit polling location reported a 20 minute wait to vote at about 2 p.m. However, some other reports had as long as a three-hour wait at their location, such as Goodman Oaks Church of Christ. However, it appears the average time to wait in line has been about an hour.
(1 p.m) Voting continues to be heavy across DeSoto County as polls continue to be open until 7 p.m. this evening. Mississippi Secretary of State Michael Watson reminds us that if you are in line at 7 p.m., you will be allowed to vote.
Watson also said that no voter can be prevented from voting because he or she is not wearing a mask, which are strongly encouraged to be worn but not wearing masks can prevent a voter from casting a ballot.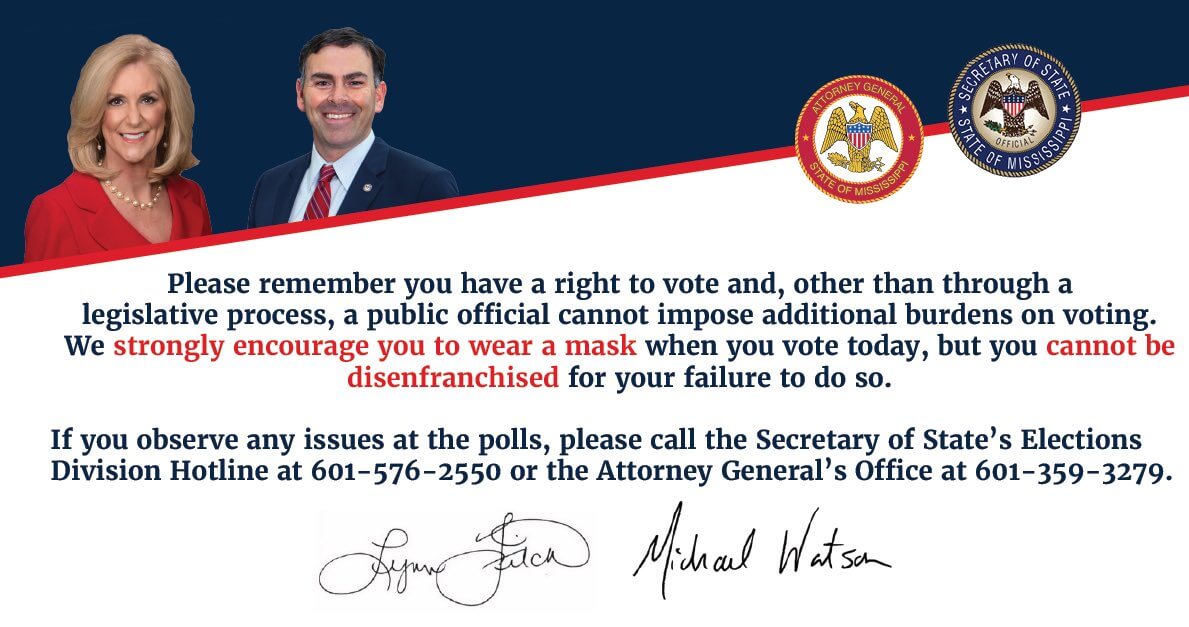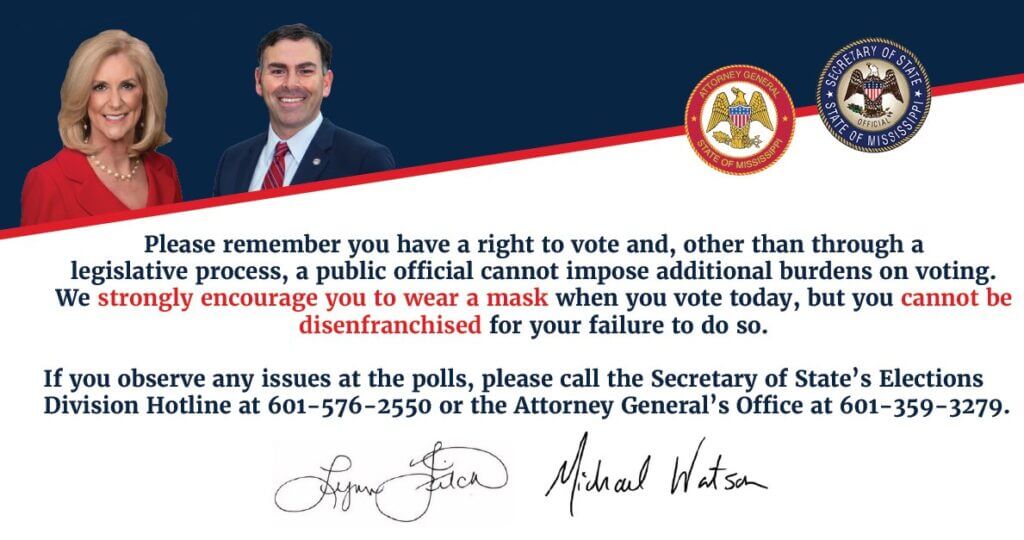 Any issues or irregularities about voting should be phoned into the Attorney General's office and the number listed on the photograph.
A couple of the polling locations this morning. DeSoto Central High School and the Summershill Fire Station in Olive Branch.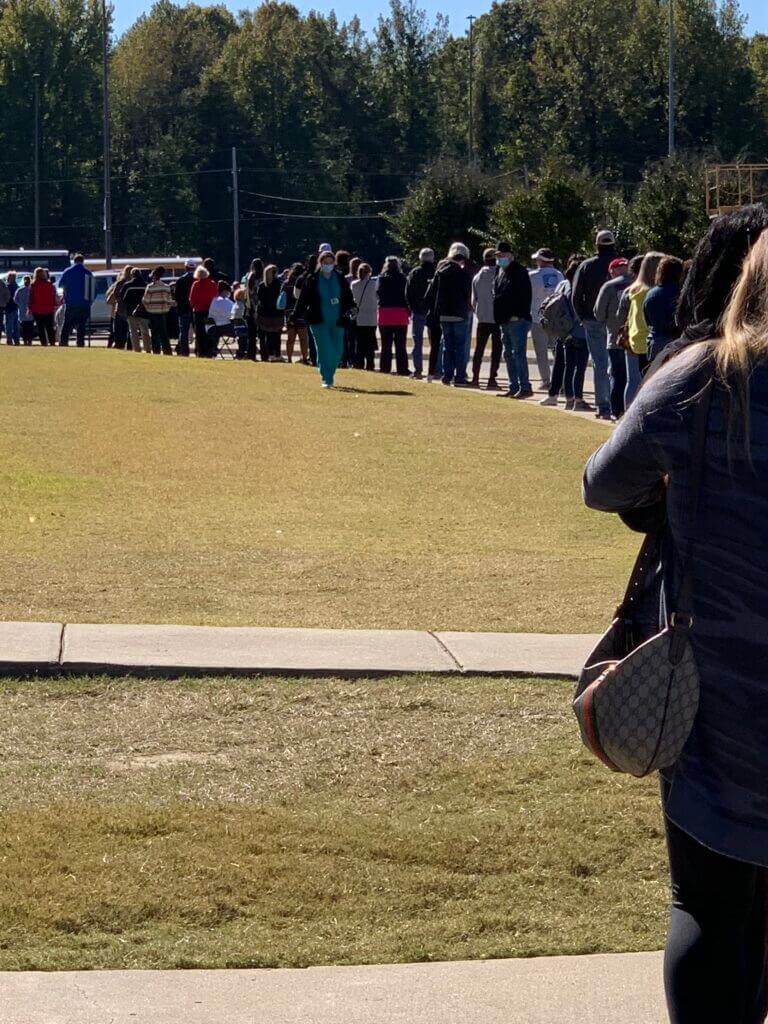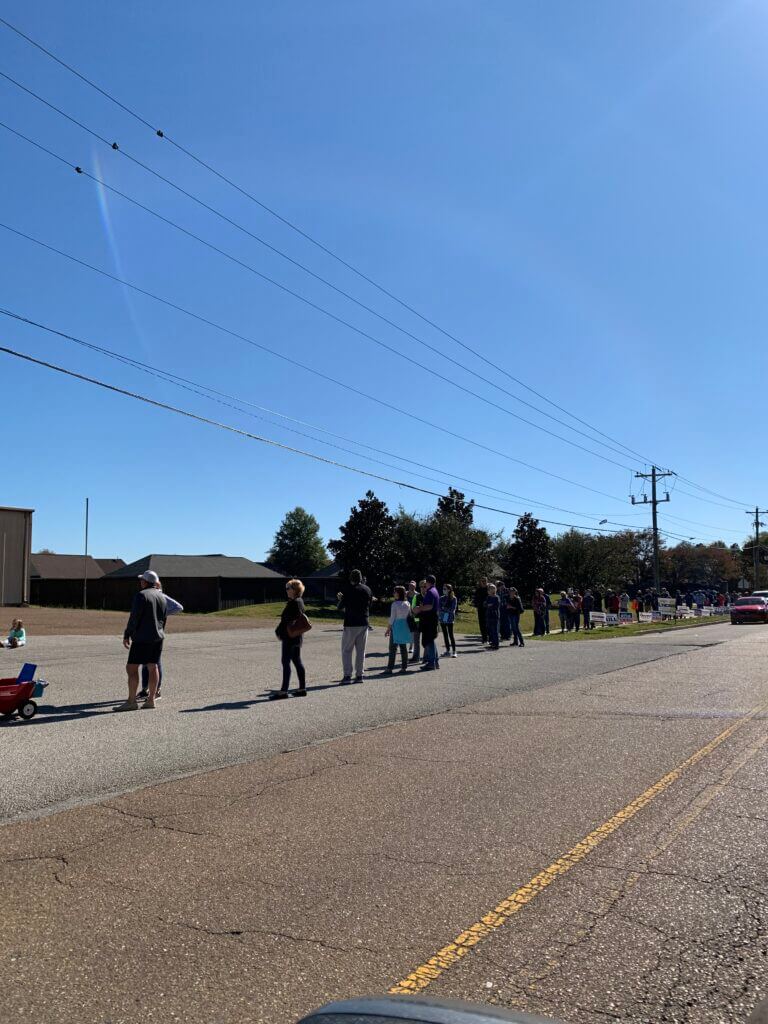 One comment to our DeSoto County News Facebook page this morning was from a voter who said there was a long line at 10 a.m. and that she usually just "walks in" to cast a ballot. Today, she left her line with her 91-year-old mother and said she would come back later.
Other locations saw as long as an hour and a half to two-hour wait, depending on the time of day, but lines typically were moving along well for the process.
Meanwhile, a Bridgetown polling place saw only a 10-15 minute wait to vote.