Dickens of a Christmas awarded for economic impact
Photo: Last year's Dickens of a Christmas on the Hernando Courthouse Square brought Victorian-era events and atmosphere, along with increased tourism. (Photo credit: Joey Brent/Dickens of Christmas Facebook)
Hernando Community Development Director Gia Matheny and Hernando Main Street Chamber of Commerce Executive Director Sibonie Swatzyna took a trip to Jackson Thursday and came back with a "Dickens" of an award for a "Dickens of a Christmas."
The event, which last year became one of the top holiday activities in North Mississippi, earned the Mississippi Main Street Economic Vitality Award for Outstanding Economic Impact. The award was presented to Swatzyna and Matheny at the Mississippi Main Street Association's (MMSA) annual awards luncheon.
Last year's attraction drew people from 79 different ZIP Codes during its four hours, according to data collected by the city and Chamber. Fourteen new part-time jobs were also created that weekend, said Matheny.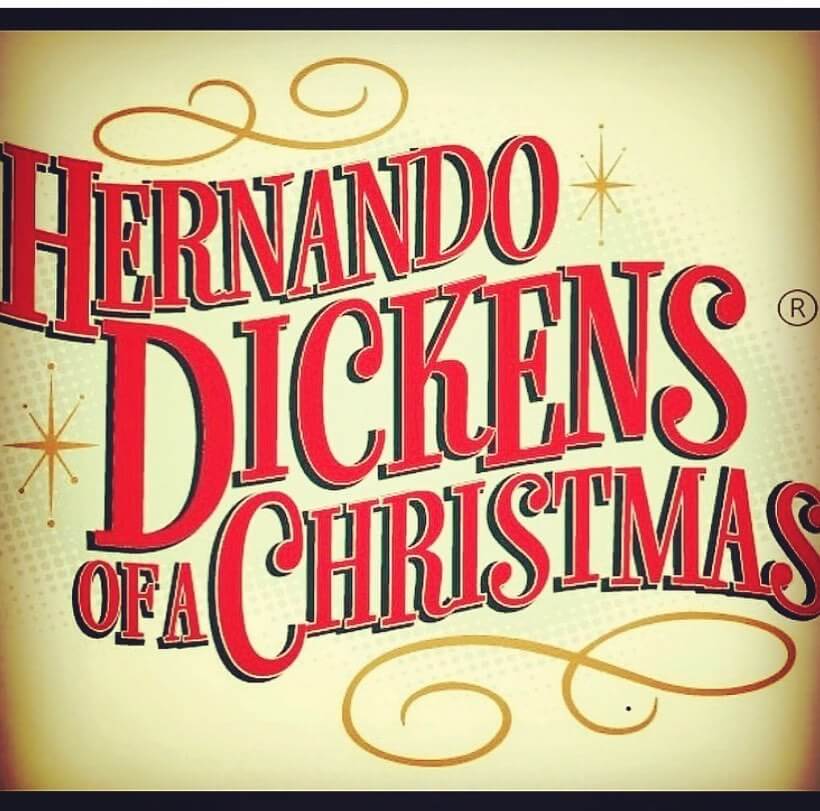 Thursday's awards luncheon annually recognizes the most outstanding downtown development projects and events from Main Street communities in Mississippi.
"After a year without face-to-face meetings, we are excited to celebrate the achievements of our Main Street communities again in person," said Thomas Gregory, MMSA State Coordinator. "As difficult as 2020 was for our communities, we still saw economic growth in our downtowns and resiliency from the small businesses in our downtown districts."
Dickens of a Christmas was held the weekend of Nov. 13 last year and coincided with the city's Christmas Open House. It was meant to recreate a Victorian-era atmosphere in the city's Courthouse Square when the downtown businesses also put on their holiday finery to signify the start of the holiday shopping season.
"Two years ago, we started Hernando Dickens of a Christmas and we wanted to partner with the Chamber of Commerce during their Christmas Open House," Matheny said. "We wanted to provide some holiday cheer, but also to increase tourism and help our local businesses. We were able to expand upon the first year in our second year."
Unique to North Mississippi, Swatzyna said she and Matheny visited a similar holiday event in Franklin, Tennessee when they first decided to do Dickens of a Christmas.
"We thought what better place to do it than downtown on the (Courthouse) Square," Swatzyna said. "It brought more tourism, it brought more shoppers, and it brought more people onto our Square."
Swatzyna said the event also showcased local non-profits, such as the DeSoto County Museum and the DeSoto Arts Council.
Expect Dickens of a Christmas to grow even more this year, with help from a $5,000 grant from the Mississippi Hills National Heritage Area to allow the continuance of the cultural programming of the event. That includes a number of items related to the early years of Hernando, which coincide with the Victorian period Dickens wrote about.
"Hernando was founded in the late 1800s during the Victorian era," Matheny said. "With this grant we're able to expand our event from a half-day to a full day. We will have free historic carriage rides, an old-fashioned holiday trolley tour of home, which will be new."
Another grant being received that will also help grow the "Dickens" experience is coming from Visit Mississippi, worth another $4,000.
"This grant will allow us to do additional advertising for all of our sponsors and increase tourism to Hernando," Matheny said.
As part of the event this year, the official city Christmas Tree lighting ceremony will become part of the activities and will be held on Friday evening, Nov. 12. There will also be a Family Movie Night held with the First Regional Library sponsoring Jim Carrey's "A Christmas Carol." Additional activities are still in the works.
In its brief history, Dickens of a Christmas has become an anticipated beginning to the Christmas season, something Swatzyna and Matheny believe can only grow.
"We knew we had something that was just only going to get better," Swatzyna said. "It is so fun and so exciting."