DeSoto County Supervisors set millage rate, budget to be finalized
19th straight year millage rate has stayed the same
Photo: From left, Supervisor Ray Denison, Board Attorney Tony Nowak, and Board President Michael Lee study screens and listen to County Administrator Vanessa Lynchard's budget presentation. (Bob Bakken/DeSoto County News)
DeSoto County property taxpayers will again not have an added millage rate to deal with on the county side of their tax bill. The board's decision Tuesday to hold the millage rate at 41.02 mills also reflects what the county's cities and the DeSoto County School District have also done in holding the line in millage as they, too, set their budgets for the fiscal year that starts Oct. 1.
Supervisors are expected to finalize the budget during a special meeting Thursday, Sept. 15 at 1 p.m. It marks the 19th straight year for DeSoto County to not raise millage, according to County Administrator Vanessa Lynchard.
"The Board of Supervisors has an incredible list of progressive projects for this year, both for buildings and in roads," Lynchard said. "We're also trying to address a problem with economic issues all over the place from dealing with the cost increase of fuel which transcends into just about any supply that you need."
Lynchard said the board remains very conservative in their spending, but increased revenues from the county's growth has helped to give the county more funds to work with.
Some of the revenue impacts:
A 6.16 percent increase in assessed values, resulting in a 4.18 percent increase in overall budgeted revenue
The value of a county mill, reduced by exemptions and homestead, grew to $2.021 million.
The DCS reimbursement for school resource officers (SROs) increased, but so did the number of SROs also rose to 27.
Business investments kept taxes low
ARPA funding
Additional smaller additions to fees and fines.
The number of sheriff's deputies that are now school resource officers grew by 12, along with three jailers or guards, two juvenile jailers or guards, and a fugitive officer.
There is also an added deputy tax assessor, a new accounting specialist, a new helpdesk administrator in the IT department and a new staff attorney in Circuit Court.
Major additions in Fiscal Year 2023 road projects are highlighted here: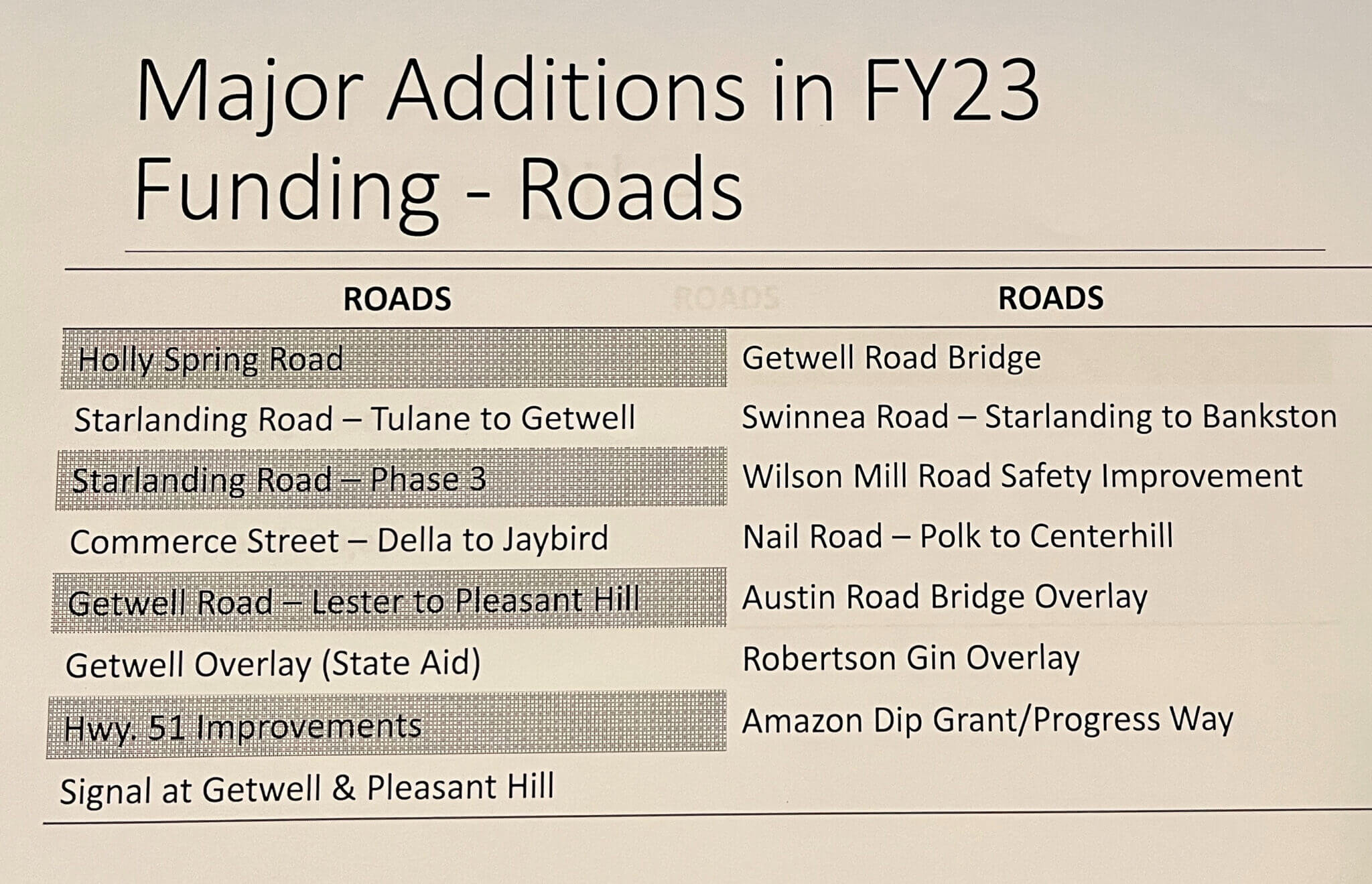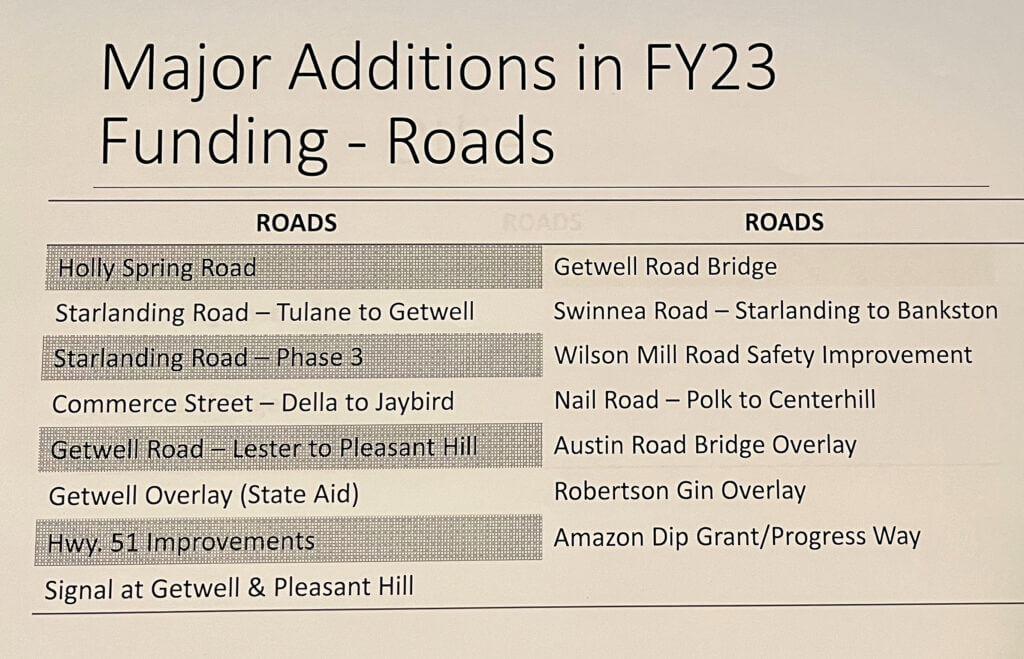 Several projects are also detailed among parks and recreation areas for the coming fiscal year.
In the budget proposal, supervisors have also detailed the current plan for spending the more than $36 million in ARPA funds the county has received.
ARPA stands for American Rescue Plan Act and is the federal money meted out through the state to assist in the recovery from the COVID-19 pandemic. Total anticipated ARPA funds for DeSoto County were $36,172,430, including $36,122,430 cash in hand and projected interest income of $50,000.
Much of the funding has yet to be spent with the belief that the more than $36 million was going to be doubled, but the line item areas set for the funding includes broadband and road construction in the Fiscal Year 2023 budget.
For instance, a total of $11.851 million is slotted for Nail Road construction between Polk Lane and Center Hill Road. About $10 million is earmarked for improved broadband availability in the unincorporated areas of the county, and $3 million is pegged for the Horn Lake Creek Interceptor Sewer District.
Another $2.5 million is for the county's Emergency Operations Center building and another $500,000 is for the EOC Safe Room.
Supervisors had more than $2.4 million for Starlanding Road sewer improvements. There's also $1 million for E911 tower construction, although Tuesday it was believed more than just that amount of money may be needed in that area. That additional money may likely come from the $4.878 million in unallocated funds still to be spent from the ARPA funds.