COVID-19 numbers are back up in county, state
The Mississippi State Department of Health Tuesday reported 1,452 new cases of coronavirus had been reported up to 6 p.m. Monday evening, making for a total in the state of 266,598 COVID-19 cases. There have been 75 additional death reports in the state, adding up to 5,852 victims related to coronavirus.
Four of the deaths were from DeSoto County and are from the time period of Dec. 26-Jan. 21, identified from death certificate reports, MSDH reported.  
There have now been 17,928 cases and 195 deaths connected to COVID-19 in DeSoto County, according to MSDH, and there have also been a total of 113 long-term care (LTC) facility outbreaks and 24 deaths in LTC facilities in the county.
There were 128 new cases of the virus reported from DeSoto County up through Monday evening at 6 p.m.
Tuesday morning in its report to MSDH, Baptist Memorial Hospital-DeSoto in Southaven had 56 coronavirus patients and an additional nine COVID-19 patients in its intensive care unit, where there were two open ICU beds. Baptist-DeSoto had 16 available staffed beds in its report to the state health department.
Methodist-Olive Branch hospital reported 16 coronavirus patients being treated at its location and there were two more in intensive care, where the hospital had one ICU bed open. Methodist-Olive Branch had two available staffed beds at its facility.
Monday, DeSoto County Schools issued its weekly report on new coronavirus cases and quarantines among its campuses.
Center Hill Middle and Lewisburg Middle schools are where the most number of new cases were reported last week at 10. Center Hill High School had nine new cases and no school had more than five new cases after that.
Lewisburg Middle also had the most number of new quarantines reported in the school district with 147 and Center Hill Middle reported 94 new quarantines. There were 83 new quarantines at Southaven Middle School, which had four new COVID-19 cases.
As a district, DeSoto County Schools had 73 new coronavirus cases last week, a four-day week for schools because of Martin Luther King Jr. Day holiday, and 613 new quarantines. There were 38 staff people who had a positive test for coronavirus in the past week, ending Friday, Jan. 22.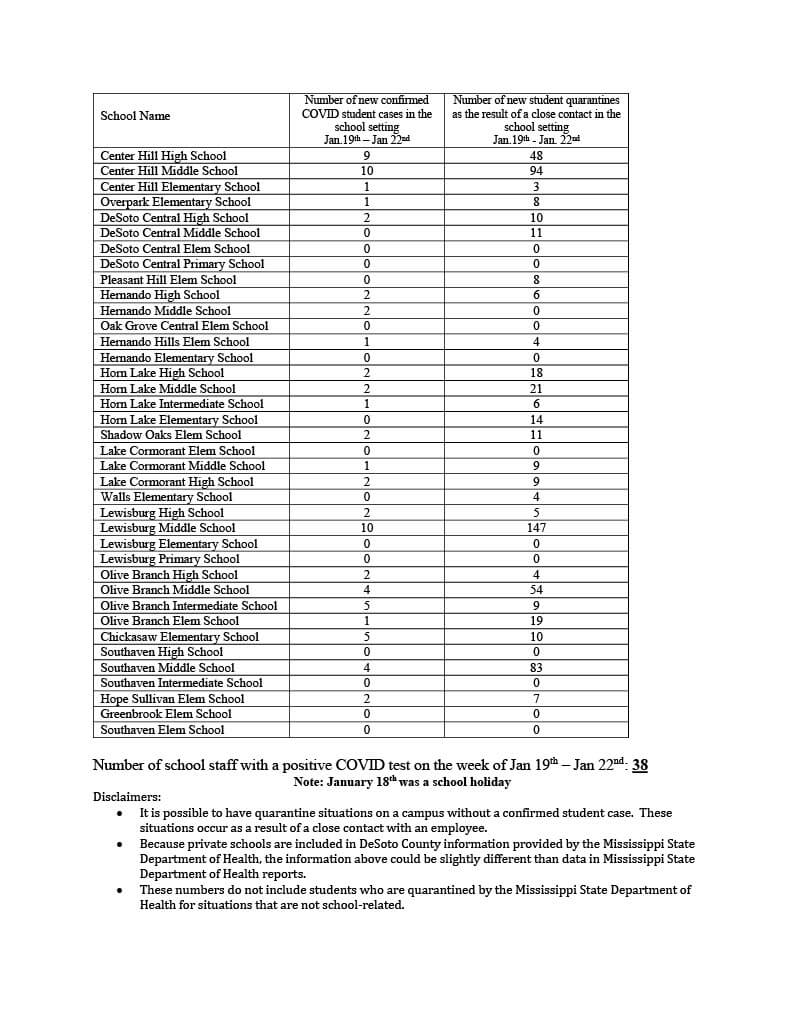 Eligible residents are reminded that vaccinations through MSDH for coronavirus in DeSoto County are now being done at the Landers Center in Southaven and not at the county health department in Hernando. Appointments are required for the vaccine and may be made through https://covidvaccine.umc.edu/ or by phone at 877-978-6453.
Mississippians age 65 and older or those with underlying medical conditions are eligible to be vaccinated. DeSoto County officials said the number of dose appointments per week is expected to grow to 800 by Feb. 1 with the goal of further increasing that number to 1,000 after that.
The number of available doses is dependent on what the state receives from the federal government.