County reports no additional COVID deaths Monday
After a weekend that saw a total of seven additional COVID-19 related deaths reported from DeSoto County, Monday's update from the Mississippi State Department of Health (MSDH) indicated no further victims from the county.
At the same time, the DeSoto County Board of Supervisors Monday has continued its emergency declaration for another month, until Jan. 19, 2021.
DeSoto County has been in a state of local emergency since the pandemic was first declared in March and the declaration has been reviewed on a continuing basis since then. Monday's action by the Board of Supervisors continued the proclamation because of what it called "conditions of extreme peril to the safety of persons and property (that) have arisen within" the county.
The proclamation by the Board of Supervisors orders all county agencies and departments to render all possible assistance and discharge their emergency responsibilities as set forth in the DeSoto County Emergency Operations Plan.
According to County Administrator Vanessa Lynchard, the emergency declaration allows leave for mandatory testing when a person can't work. The county is able to make special purchases for cleaning products and related items without having to go through the normal purchasing process.
Lynchard added the declaration allowed the county to reduce risks from the virus during the November election.
The declaration is found below.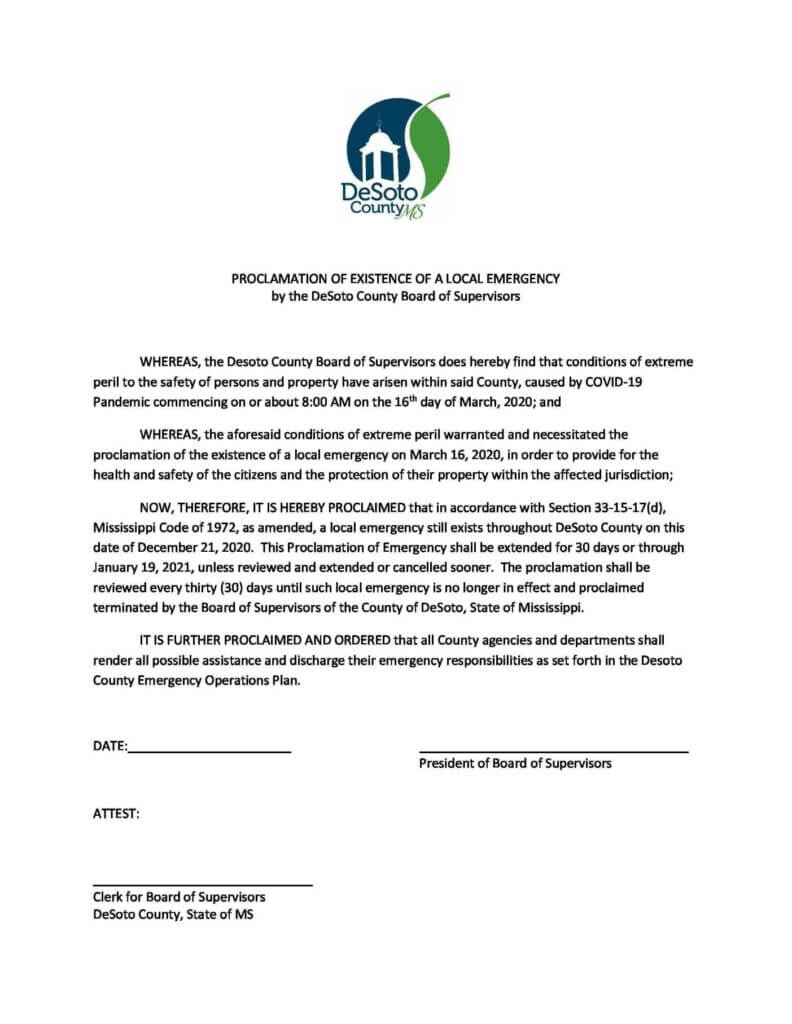 In its weekend updates, MSDH reported six death reports for DeSoto County on Saturday and an additional death in Sunday's update. That brings the total of deaths recorded by MSDH in the county to 128 out of the state's total of 4,411.
DeSoto County's positive case numbers on Monday grew by 84 to a total of 13,165 cases of the virus. On Sunday, the county had added 228 positive cases.
The positivity rate for coronavirus has continued to rise in DeSoto County and is now at 19.1 percent for the week ending Dec. 12. That compares to the 18.7 percent positivity rate recorded for the week ending Dec. 5.
Mississippi, as a state, on Monday added 1,167 cases of the virus but only two additional COVID-19 related death reports. The state now has, according to MSDH, a total of 195,500 cases of coronavirus.
There have been 8,864 COVID-19 outbreaks in state long-term care (LTC) facilities and 1,616 related deaths in Mississippi. The number for the state grew by 233 in Monday's update.
DeSoto County has recorded 103 LTC outbreaks and 20 deaths.
While DeSoto County has had the most number of coronavirus cases, Hinds County remains the location where the death toll for the virus has been the greatest at 236. Hinds County's positivity rate is lower than DeSoto County at 17.1 percent as of Dec. 12.
Health officials continue to be concerned about the number of hospital beds and ICU beds available in the state. As of Monday, Baptist Memorial Hospital-DeSoto reported no beds and no ICU beds open.
Out of 36 ICU beds, there are 11 COVID-19 patients occupying beds at Baptist-DeSoto. Out of 192 available staffed beds, 74 of them have COVID-19 patients.
Methodist-Olive Branch Hospital reports four hospital beds and three ICU beds were open at their facility.
Out of 42 total hospital beds, Methodist-Olive Branch had 15 COVID-19 patients and of the 12 ICU beds, three patients are being treated for coronavirus.
While bed space remains at a premium, hospital officials continue to stress that does not mean there is no room available and patients who need to be treated will be seen.
The reports are done once a day and the figures fluctuate and change during the day, due to discharges and admissions that come in during the course of the day.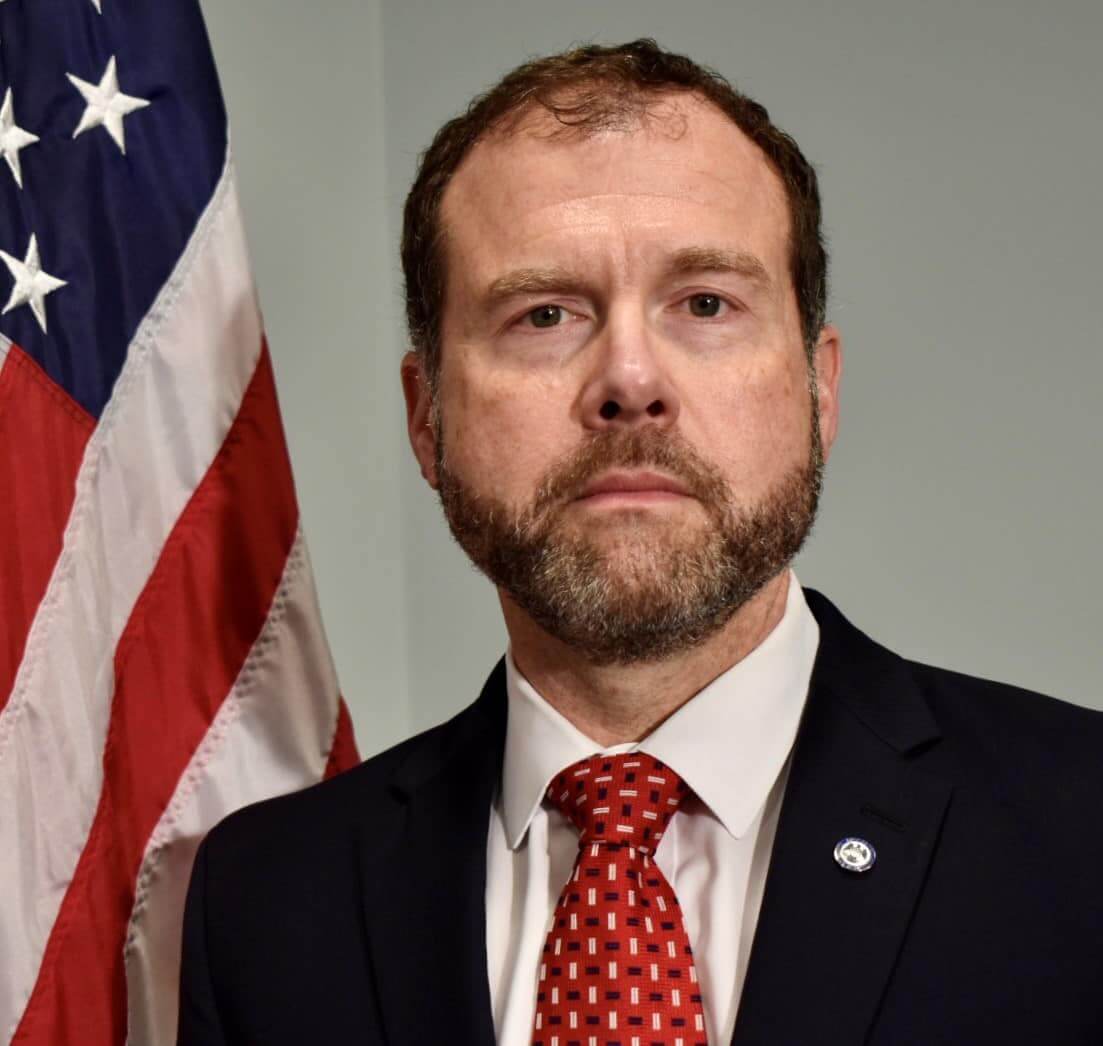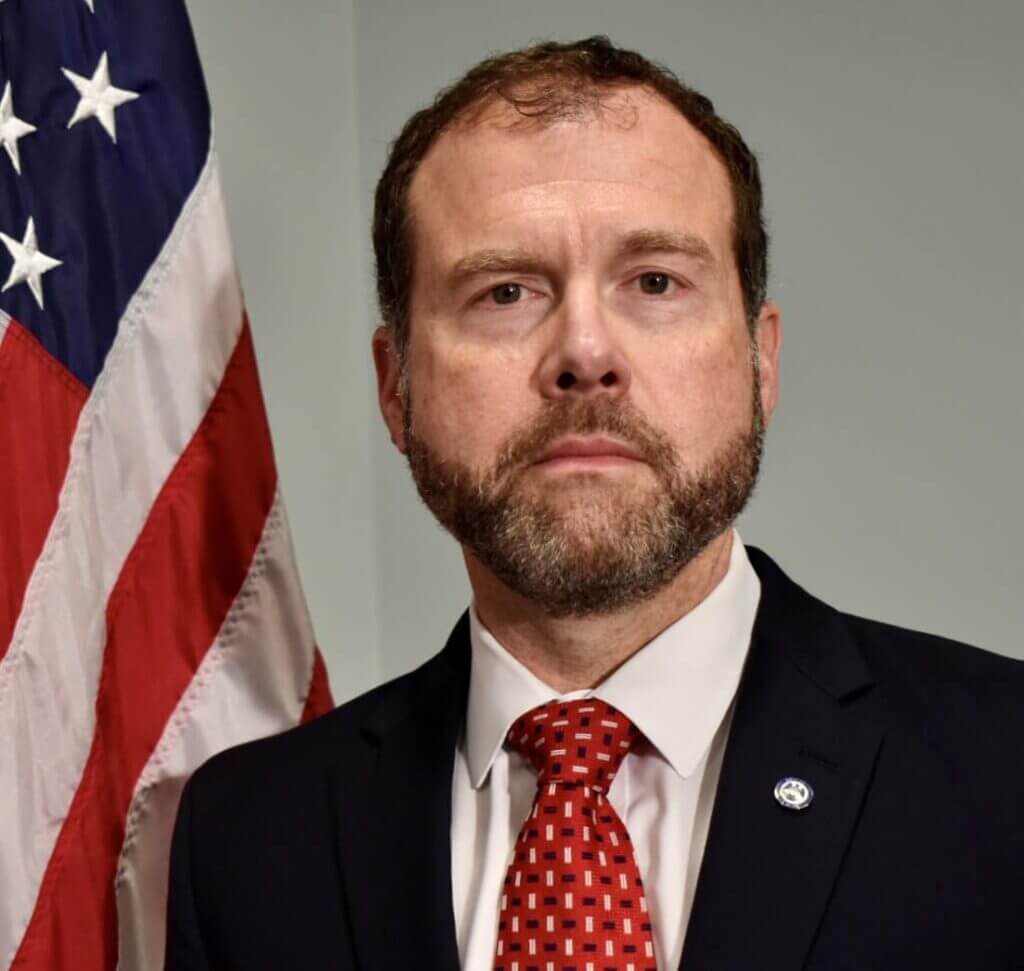 In state COVID-19 news Monday, Mississippi Emergency Management Agency (MEMA) Greg Michel has been hospitalized with pneumonia complications from contracting COVID-19, according to a department social media post.
"The director remains in good spirits and is grateful to the medical staff treating him and all those suffering during this pandemic," said Malary White, MEMA Director of External Affairs. "MEMA continues to operate as usual while taking every precaution necessary to protect our staff. Our thoughts are with the director as he fights this virus."
More information on Mississippi and COVID-19 is found on the MSDH website.