Championship life skills learned in JROTC
Photo: Members of the Lake Cormorant JROTC team in training for the stretcher carry relay, part of Saturday's state All Services Championships. (Bob Bakken/DeSoto County News)
We all know about a high school's football or basketball team, the debate team, track team, band or choir. They all come under the title of extracurricular activities at your favorite high school. 
But, if asked what the largest extracurricular activity at school might be, none of these would be the answer for one DeSoto County high school.
In the case of Lake Cormorant High School, in the westernmost part of the county, the answer would be its Junior Reserve Officers' Training Corps, or JROTC.
The U.S. Marine Corps JROTC program at Lake Cormorant, under the leadership of Lt. Col. (Ret.) Gregg Johnston and Sgt. Major (Ret.) Tom Herman not only attracts students, but it has attracted championships.
The 92-member unit at one time before the COVID-19 pandemic struck had as many as 150 members at the nearly 900-student campus.  
"We're the biggest extracurricular program in the school," says Herman. "Other kids see what we breed, which is that we breed success. We win state championships and we win national championships, but more importantly, we create an atmosphere that's conducive to learning."
Lake Cormorant is one of three Marine Corps JROTC programs in DeSoto County. The others are at Horn Lake and Olive Branch high schools.  
The championships are certainly there for the Lake Cormorant JROTC. They have won three straight Mississippi All Services JROTC Athletic State Championships, in 2017-2019. Johnston and Herman were confident a fourth straight title would have come their way last year, but the pandemic canceled the event. They are now expecting a four-peat can occur this Saturday, April 10, when the team goes to Germantown High School in Madison for the 2021 competition.
The Mississippi All Services event can attract as many as 83 similar units from around Mississippi.
But you will also find a lot of Gator Pride in the national championship Lake Cormorant brought home from the recent All Services Raider Challenge Championships, held Feb. 26 in Molena, Georgia.
The Raider competition, or simply Raider, as it is called, is the JROTC's equivalent to the college Army ROTC's Ranger competition, something less dangerous but still as challenging to the cadets who take part.
It is a timed event of four activities and the fastest combined time is the winner. The events are a Physical Team Test or PTT, The Gauntlet, a five-kilometer run up and down a hill that has as much as a 15 percent grade, and an event called the Rope Bridge. Competitors are doing each event dressed out in full military cadet gear, boots and all.
Johnston said the Lake Cormorant team this year was first in the PTT and Gauntlet, second in the five-kilometer run, and third in the Rope Bridge.
Johnston and Herman were quick to point out, however, that each event is not an individual performance, but rather a team event. Each activity has 10 team members and the time is based on all 10 finishing. Herman said it is the best team that wins, not the best athletes.
"In the past, we've always been superior athletically," Herman said. "We would have been four times state champions in physical fitness but COVID canceled it. It's the teamwork part of it. These seniors this year finally put it together and won a national championship."
When talking with the cadets about JROTC, teamwork is one of the two words each one says about their experience in the program. The other word used consistently is "leadership."
"You have to be a leader here to get everyone to follow you," said cadet Corporal Scarlette Roberts. "Being accountable for yourself for sure. If you mess one thing up the whole team goes down with you."
Roberts also knows about winning championships, in JROTC and in powerlifting. The sophomore has already placed her name in the record books for USA Powerlifting competitions.
"I have several national records as well as the state for Mississippi," Roberts said. "I am going to the world event this August and am going to Romania to compete."
Leadership is the reason two senior captains began in JROTC, as well as familiarity with it through older brothers who were also participants.
"The reason why I joined is because my older brother was a captain before I joined," said cadet Capt. Adrian Richmond. "I looked up to him and liked the workout program. That's really the real reason why I joined, for the work out and for the leadership."
"My older brother was in the program, so I started coming around when I was in eighth grade," added cadet Capt. Joshua Beckman. "I started going to the workouts and I really liked the environment of it. I felt ROTC was more like a family than just a team. We learn a lot about leadership and how to become a better person overall."
However, Herman admonishes those who believe the program is only about teenagers playing soldiers. The life lessons learned in JROTC are invaluable, he says.
"We're trying to make good citizens," said Herman. "The purpose of our program is that, when you sit kneecap to kneecap with someone of influence, you can look them in the eye, you can articulate your thoughts, and you can have the confidence that you have the ability to articulate yourself in a professional manner."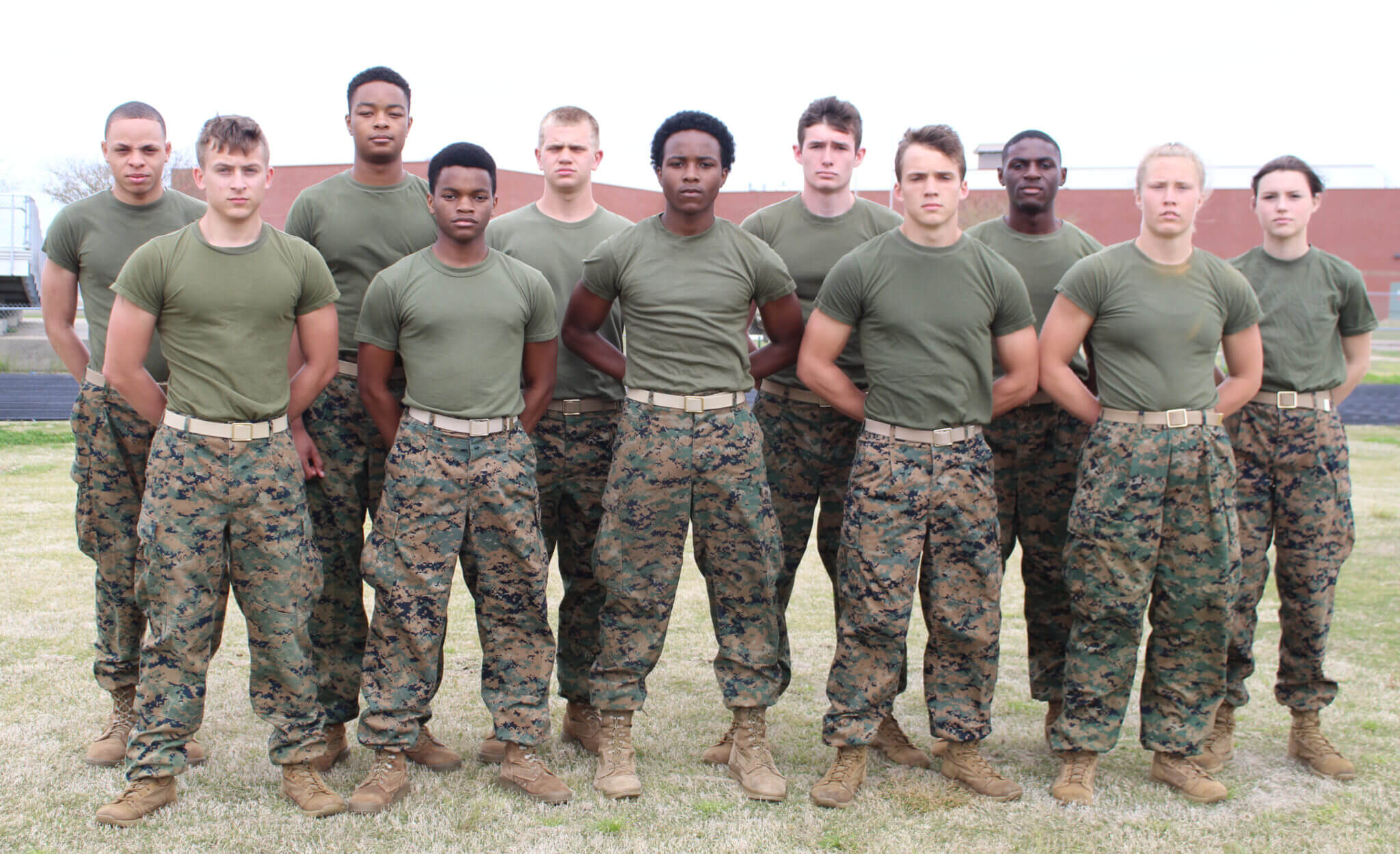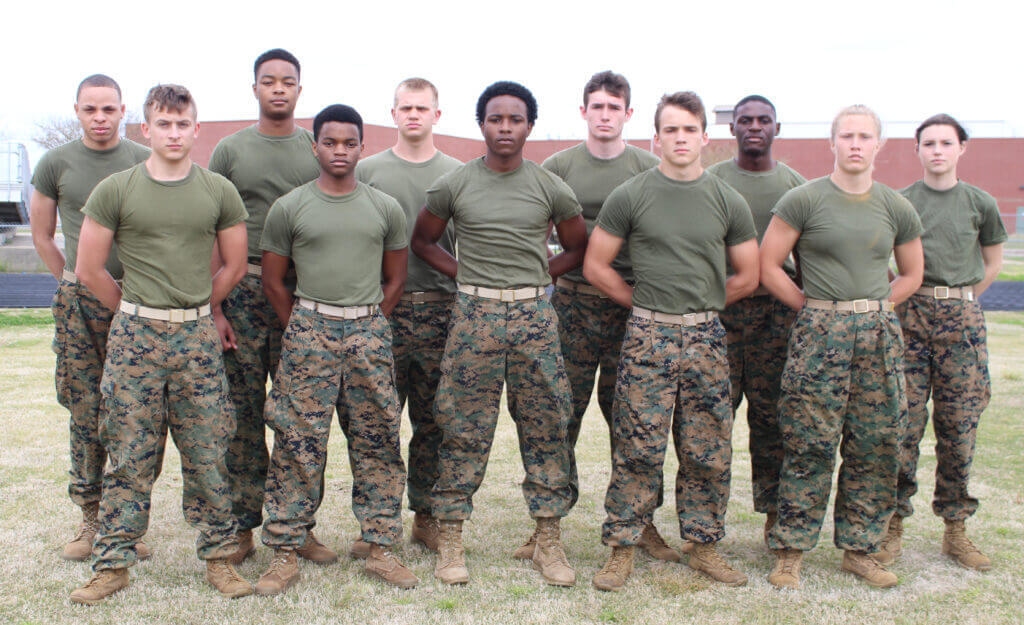 Richmond, who plans to join the U.S. Air Force after graduation, knows that he is building a better resume with his JROTC experience.
"Colleges look at this because I'm a captain and they like to see that I'm in charge of a lot of students," Richmond said.
Beckman will join the Army National Guard and go to boot camp in South Carolina before attending Ole Miss, and said he'll take away many leadership skills learned in JROTC.
"You learn how to deal with a lot of people by getting them to follow what you tell them to do, so they respect you and learning how to be a responsible leader," Beckman said.
When Lake Cormorant competes in the state All Services Championships this Saturday, they will compete in six events. Ten cadets are required for each event and there must be at least three females in each event. Each unit can consist of up to 15 cadets, so not every cadet has to compete in every event. The 10 events include pull-ups, a one mile run, tire flip relay, ammunition can relay, stretcher carry relay, and a 10-by-100 yard relay.
At the end of the day, the Lake Cormorant JROTC wants to be the squad bringing home the championship trophy.
But, the biggest victory is conquering the leadership traits for the future leaders of America, or as Herman said, "It's figuring out what motivates a human being and then using that as a trigger to get the best out of that person."