IN THE CHANCERY COURT OF DESOTO COUNTY, IN THE MATTER OF PHILLIPS VS ROACH, ET AL
THE FOLLOWING WAS PUBLISHED FOR PUBLIC NOTICE ON JUNE 7TH, 2021 ON DESOTOCOUNTYNEWS.COM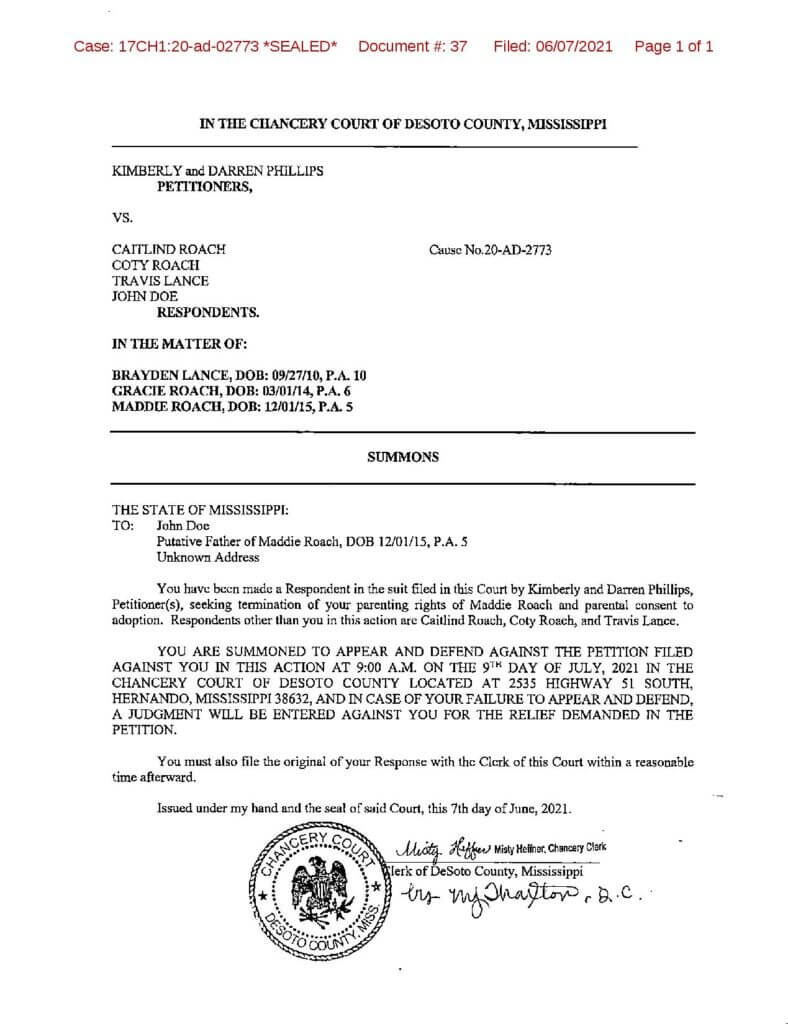 IN THE CHANCERY COURT OF DESOTO COUNTY, MISSISSIPPI
_______________________________________________________________________________
KIMBERLY and DARREN PHILLIPS
PETITIONERS,
VS.
CAITLIND ROACH Cause No.20-AD-2773
COTY ROACH
TRAVIS LANCE
JOHN DOE
RESPONDENTS.
IN THE MATTER OF:
BRAYDEN LANCE, DOB: 09/27/10, P.A. 10
GRACIE ROACH, DOB: 03/01/14, P.A. 6
MADDIE ROACH, DOB: 12/01/15, P.A. 5
SUMMONS
THE STATE OF MISSISSIPPI:
TO: John Doe
Putative Father of Maddie Roach, DOB 12/01/15, P.A. 5
Unknown Address
You have been made a Respondent in the suit filed in this Court by Kimberly and Darren Phillips, Petitioner(s), seeking termination of your parenting rights of Maddie Roach and parental consent to adoption. Respondents other than you in this action are Caitlind Roach, Coty Roach, and Travis Lance.
YOU ARE SUMMONED TO APPEAR AND DEFEND AGAINST THE PETITION FILED AGAINST YOU IN THIS ACTION AT 9:00 A.M. ON THE 9TH DAY OF JULY, 2021 IN THE CHANCERY COURT OF DESOTO COUNTY LOCATED AT 2535 HIGHWAY 51 SOUTH, HERNANDO, MISSISSIPPI 38632, AND IN CASE OF YOUR FAILURE TO APPEAR AND DEFEND, A JUDGMENT WILL BE ENTERED AGAINST YOU FOR THE RELIEF DEMANDED IN THE PETITION.
You must also file the original of your Response with the Clerk of this Court within a reasonable time afterward.
Issued under my hand and the seal of said Court, this ___ day of June, 2021.
________________________________
Clerk of DeSoto County, Mississippi