Tyson donates to food pantries
Tyson Foods Thursday morning donated a truckload of poultry protein to products and about 152,000 meals for the Mid-South Food Bank to help alleviate hunger in Northwest Mississippi. 
Congressman Bennie Thompson (D-Miss.) was on hand at the GW Henderson Recreation Center in Tunica to help participate at the site as products were unloaded from the Tyson truck.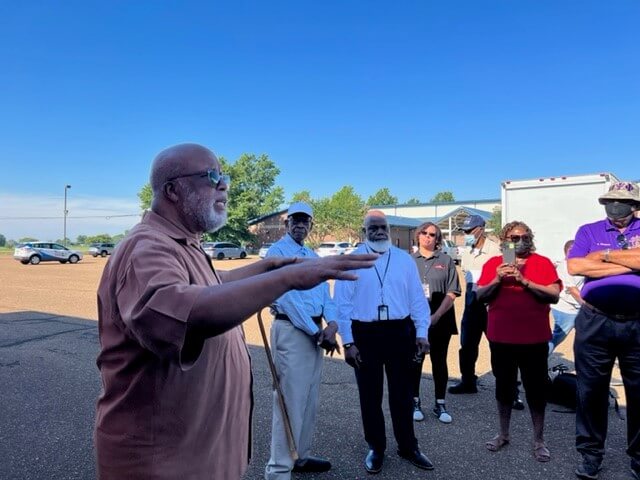 The donated food will be distributed among the Food Bank's partners that provide daily meals and food pantry services to food insecure residents, including:
• Lampton Street Church of Christ, Mound Bayou
• Mississippi Delta Council Food Pantry, Clarksdale
• Armstead Chapel Food Pantry, Coahoma
• Silver Cloud M.B. Church Food Pantry, Coahoma
• New Rehoboth COGIC Food Pantry, Clarksdale
• Charleston Food Pantry, Charleston
• St. James Temple Food Pantry, Clarksdale
• Boss Lady Crisis Food Distribution, Cleveland
• Friendship Baptist Church Food Pantry
• Quitman County Food Pantry
• We 2gether Creating Change Pantry
"I have participated in the Tyson Foods Mid-South Donation for years and each year, I am filled with excitement," said Thompson. "I am pleased that Tyson Foods, Inc. is assisting in the fight against hunger in Mississippi. Statewide our food insecurity rate is frightening. I am thankful for Tyson's service and encourage other organizations to follow their lead."
The event is significant because:
• Mid-South Food Bank provides food for hungry children, families and seniors across 31 counties.
• Mississippi has a food insecurity rate of 18.7 percent, the highest in the nation
• Last year, Tyson Foods donated 64 million meals to fight hunger
• The food donations, valued at $36 million, were distributed to food banks, pantries and hunger relief organizations in plant communities and across the nation
• Tyson Foods employs approximately 3,450 team members in Mississippi