Republicans voice opposition to Trump indictment
Former President Donald Trump Tuesday was arraigned in a Manhattan courtroom and heard for the first time that he was being charged with 34 felony charges that related to his alleged role in a hush money deal with porn star Stormy Daniels. Former President Trump 
The indictment Tuesday also charged the former president allegedly for trying to pay off another woman and a doorman during his 2016 presidential campaign. He becomes the first former president to be indicted. The indictment and statement of facts in the case are found here.
Trump has called the investigation that led to the indictment as a "witch hunt" and at Mar-A-Lago Tuesday night said the action placed a "very dark cloud over our beloved country."
Among those reacting to the indictments on Tuesday was state Sen. Kevin Blackwell (R-Southaven), who faces a primary challenge for reelection in August by Walter Hopper and would have a November challenge from Democrat Sandy Kerr in the general election.
Blackwell quickly came out with a statement following the afternoon indictment, which he posted on his social media accounts: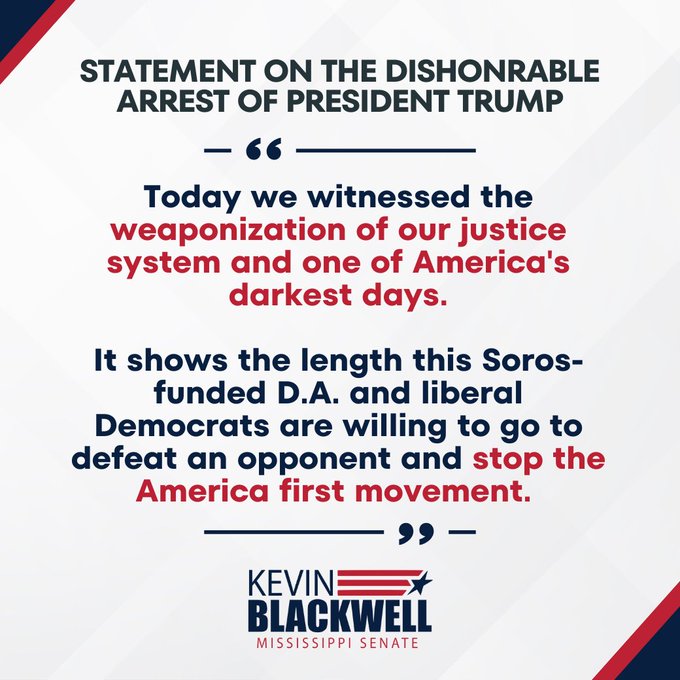 Other Mississippi political figures have come out with statements about Tuesday's indictment.