Republican women against funding curriculum proposal
The Mississippi Federation of Republican Women (MFRW) has come out opposing state and federal funds being used to promote or teach Critical Race Theory (CRT) in K-12 schools.
Kimberly Remak of Olive Branch is president of the MFRW. The organization had voted at its October 2021 convention to support state and federal legislation that would prohibit funding for programs that support CRT.
"The MFRW advocates teaching K-12 students American History and Civics based solely on facts and our nation's founding documents as written, neither ignoring the scars of our past nor promoting hatred via the destructive view of inherent racism taught in Critical Race Theory," as stated in a news release.
In late December, the Mississippi Department of Education proposed a new social studies curriculum to be implemented for the 2022-23 school year.
Notice of the proposed changes was given on Dec 16 and sent to the Mississippi Secretary of State's office as required. No hearing was planned prior to the adoption of the new standards at this time, but if 10 or more persons file a written request by Wednesday, Jan. 5, a public hearing would be needed.
Reports were that a primary source for the new framework, the National Council for the Social Studies, is a supporter of Critical Race Theory.
"We stand firmly opposed to mandating curriculums and educational standards at the federal, state, and local levels that include Critical Race Theory and discredit the values which our nation was founded on," Remak said.
The news release MFRW provided is found here.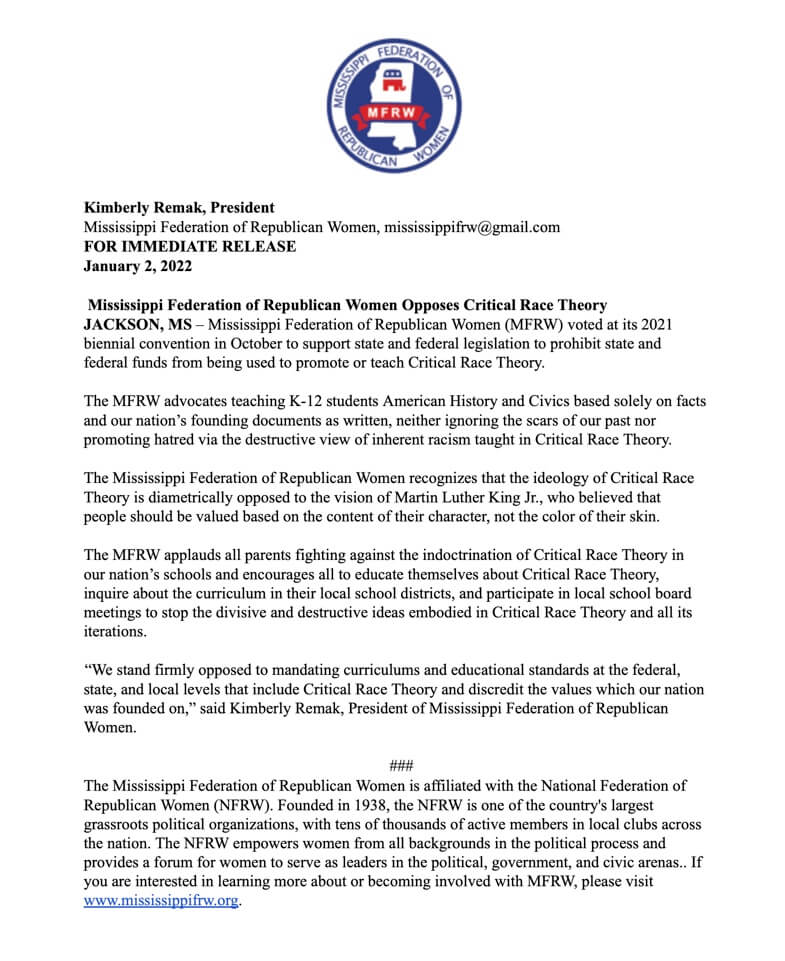 JAN. 5 UPDATE: Mississippit Secretary of State Michael Watson has announced that a sufficient number of parents have asked for a public hearing on the matter, so one will be held on Jan. 28 in Jackson.