Parker touts legislative successes for county as session ends
Two words lawmakers may likely look forward to hearing, "sine die," were heard in the chambers of the Mississippi state legislature around 2 a.m. Saturday morning, when the 2023 session came to an end.
Legislators will tell you a lot was accomplished, but will add that several items were also left on the table as a result of the session that began in January.
State Sen. Dr. David Parker (R-Olive Branch) Saturday morning offered some reflections, as he returned home, on what was accomplished and what it means for DeSoto County.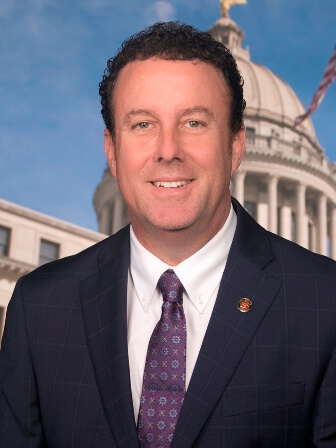 Parker said that local schools will see an increase of $8 million to their budget due to funding and formula adjustments, which he called "huge for our school system."
Sen. Parker said $25 million was designated for I-55 in Senate Bill 3043, "This was set specifically for our project which only happened on two capacity projects," Sen. Parker wrote. "Although it is not as much as we need to have designated, Commissioner (John) Caldwell and (MDOT Executive Director) Brad White will be able to more effectively leverage for Federal funds with this designation."
The DeSoto County District Attorney's office will have one permanent assistant district attorney added, and will also have $275,000 available in House Bill 603 for costs to hire two more assistant district attorneys.
Sen. Parker said Southaven and Horn Lake are receiving $2 million for the Horn Lake Creek Basin Sewer District. Horn Lake is also receiving $250,000 for the Small Horn Lake Water district that could apply for American Rescue Plan Act, or ARPA, funds.
In Southaven $500,000 is going to Snowden Grove Tennis Center improvements, $350,000 for a traffic signal at Church and Tchulahoma roads, and $300,000 for a traffic signal at Stateline and Swinnea roads.
Olive Branch officials will see $1.5 million for improvement and expansion of airport hangars. Hernando will get $1.5 million for a roundabout construction at Highway 51 and Oak Grove Road. Walls will receive $250,000 for the Walls Volunteer Fire Department, and DeSoto County will see $500,000 for a parking lot, staging improvements. In addition fire departments in Ingrams Mill, Lewisburg and Love districts will each receive $25,000.
"This is the largest list of needs I have ever seen fulfilled for DeSoto County and comes about from the hard work of your Senators and Representatives along with each of you and so many more," Sen. Parker said. 
Also Saturday morning, Lt. Gov. Delbert Hosemann, the President of the Senate, issued a statement also touting the session's successes for the state, as a whole.
"From a $600 million-plus infrastructure plan to legislation strengthening our elections process, providing options for the continued collaboration of hospitals, and increasing the number of doctors and nurses in Mississippi, the Session has been an overwhelming success," Hosemann said. "The State is in excellent fiscal condition, we are paying off debt, our personal and business taxes are decreasing, and we have adopted a conservative budget which funds necessary services."
Hosemann went on to say, "I am particularly proud of the Senate's earlier 52-0 commitment to fully funding the education of our children. Our Senators' leadership on this issue resulted in an additional $100 million for our schools, which will fund local supplements for teachers, classroom supplies, diesel for buses, and all the other things necessary to providing every child in Mississippi with an opportunity for a first-class education."