Mississippi Match 5 Jackpot sets record at $700,000
Drawing Thursday is largest in Match 5 history
The largest Mississippi Match 5 jackpot since the inception of the game has reached an estimated $700,000 for the drawing Thursday night, Feb. 2.
The previous Mississippi Match 5 record jackpot of $665,000 was hit in July 2021 and was split between two winning tickets. The jackpot prize is parimutuel if there are multiple winners. Thursday's jackpot will be the 23rd drawing since the jackpot was last won on Dec. 10, 2022, for $55,000. The jackpot will grow until at least one ticket matches all five numbers.
Since its launch, Mississippi Match 5 has had five jackpots of more than $500,000. Each time there's a jackpot winner, the game resets to a $50,000 jackpot.
Mississippi Lottery Corporation President Jeff Hewitt reminds players it takes just one ticket to win.
"It is very easy to get caught up in the excitement of such a substantial jackpot," said Hewitt. "We love seeing players having fun; but, we also remind them to play responsibly."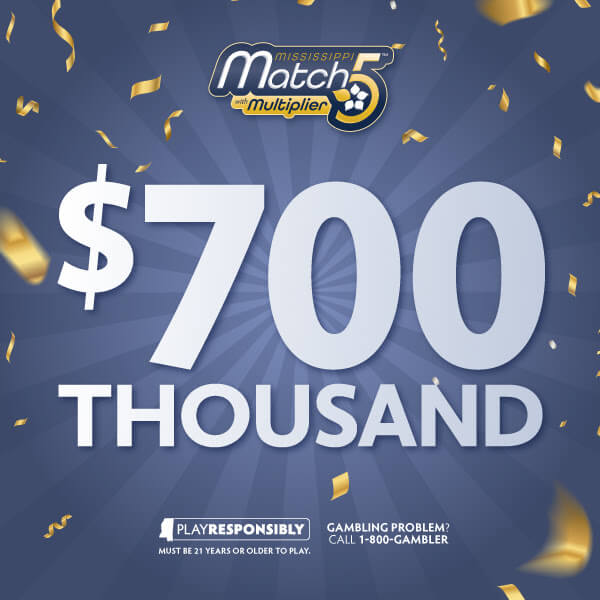 Check Your Numbers
A $50,000 Powerball® winning ticket was purchased at Sprint Mart #38 on West Main Street in Tupelo from the Monday, Jan. 30, drawing. The ticket matched four of the five white balls and the Powerball. The player did not purchase the Power Play option for an additional $1, or they would have won $100,000.
Time is running out for a player who purchased a winning $500,000 Powerball ticket from the Aug. 13, 2022, drawing. They have a little more than a week remaining to claim the winning ticket, which was purchased from Broadway Mart in McComb. It will expire Feb. 9.
Additionally, a player who purchased a winning $4 million Mega Millions® ticket from the Jan. 3 Mega Millions drawing has yet to claim their prize. The player purchased the ticket from Byram Chevron on Siwell Road in Byram and has until July 2 to claim.
Jackpot Update
The Powerball jackpot for Wednesday, Feb. 1, is an estimated $653 million, with an estimated cash value of $350.5 million. The Mega Millions jackpot for Friday, Feb. 3, is now an estimated $20 million, with an estimated cash value of $10.6 million.