Man sentenced for firearms offenses and attempted bank larceny
Credit: U.S. Attorney's Office – Northern District of Mississippi
A Memphis, Tennessee man was sentenced to 15 years in prison for his role in the burglary of a federally licensed firearms store and the attempted burglary of an automated teller machine in North Mississippi.
Court documents indicate that in June of 2020, Lederrius Brown, 27, and two other individuals broke into 2A Armaments, a Federal Firearms Licensee in New Albany, Mississippi, and stole over 20 firearms before leading law enforcement on a multi-county pursuit.
Brown and others also attempted to pry open an ATM that was part of First Byhalia Bank in Byhalia, Mississippi, resulting in over $20,000 worth of damage.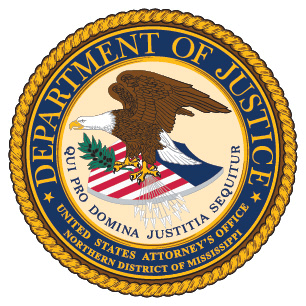 Brown is a prior convicted felon and pled guilty to the prohibited possession of the firearms taken from the business, along with a charge of attempted bank larceny.
Brown appeared for sentencing on these offenses in federal court in Oxford on Friday afternoon. U.S. District Judge Glen Davidson sentenced Brown to a total of 180 months in prison to be followed by three years of supervised release. Brown was also ordered to pay $39,500 in restitution to the victims.
"Our office will continue to do everything in our power to keep guns out of the hands of criminals, and to hold accountable those who illegally possess and use them," said U.S. Attorney Clay Joyner. "Hopefully this sentence will serve as a deterrent to those who would steal firearms or provide firearms to individuals intent on using them to commit acts of violence in our communities."
"The collaborative effort of federal and local law enforcement, including the U.S. Attorney's Office, has led to the lengthy sentencing of this career criminal and is another example of our commitment to fight gun violence," said ATF New Orleans Special Agent in Charge Kurt Thielhorn. "ATF will continue to work tirelessly to protect our communities and hold accountable those who threaten our safety."
The Oxford Field Office of the Bureau of Alcohol, Tobacco, Firearms and Explosives investigated the case, along with the New Albany Police Department and the Marshall County Sheriff's Office. The case was prosecuted by Assistant U.S. Attorney Julie Addison.
This case is part of Project Safe Neighborhoods (PSN), a program bringing together all levels of law enforcement and the communities they serve to reduce violent crime and gun violence, and to make our neighborhoods safer for everyone. On May 26, 2021, the Department launched a violent crime reduction strategy strengthening PSN based on these core principles: fostering trust and legitimacy in our communities, supporting community-based organizations that help prevent violence from occurring in the first place, setting focused and strategic enforcement priorities, and measuring the results.