VOLLEYBALL ROUNDUP: Lewisburg fends off Lady Mustangs
The Vital Statistics
Prep volleyball
Lewisburg 3, Center Hill 0 (25-21, 25-17, 25-13)
Lake Cormorant 3, Saltillo 0 (25-20, 25-9, 25-15)
DeSoto Central 3, Hernando 0 (25-17, 25-19, 25-15)
Northpoint Christian 3, St.George's (Collierville, Tenn.) 2 (25-15, 19-25, 16-25, 25-23, 15-13)
Southaven 3, Olive Branch 0
The details….
A key Region 1-6A volleyball match that featured eastern DeSoto County rivals ended with a 3-0 win for the Lewisburg Lady Patriots over Center Hill on Senior Night Tuesday at the 'Burg.
Set scores for the victory by Lewisburg were 25-21, 25-17, and 25-13.
The first set win for the Lady Patriots started to sway the outcome in their favor, but it didn't come easily.
Lewisburg jumped out to a 10-4 lead in the initial set, but the Lady Mustangs then fashioned a run of five of the next six points to get within 11-9 for the Lady Patriots.
While Lewisburg pushed the lead back to four points, Center Hill had an answer of their own to get within 15-13 after a volley off a block and then tied the set at 15-all when a shot by Center Hill's Madison Maxwell fell off a Lewisburg block in play.
The Lady Mustangs actually took a 19-18 lead and Lewisburg called a timeout when the Center Hill lead became 20-18. At 21-19 Center Hill, however, Lewisburg recovered and scored the last six points for the 25-21 set win. The set-winning run included a service ace by Hailey Stephens.
The opening set, and much of the evening was played in a nearly-full gymnasium with a raucous crowd cheering on both sides.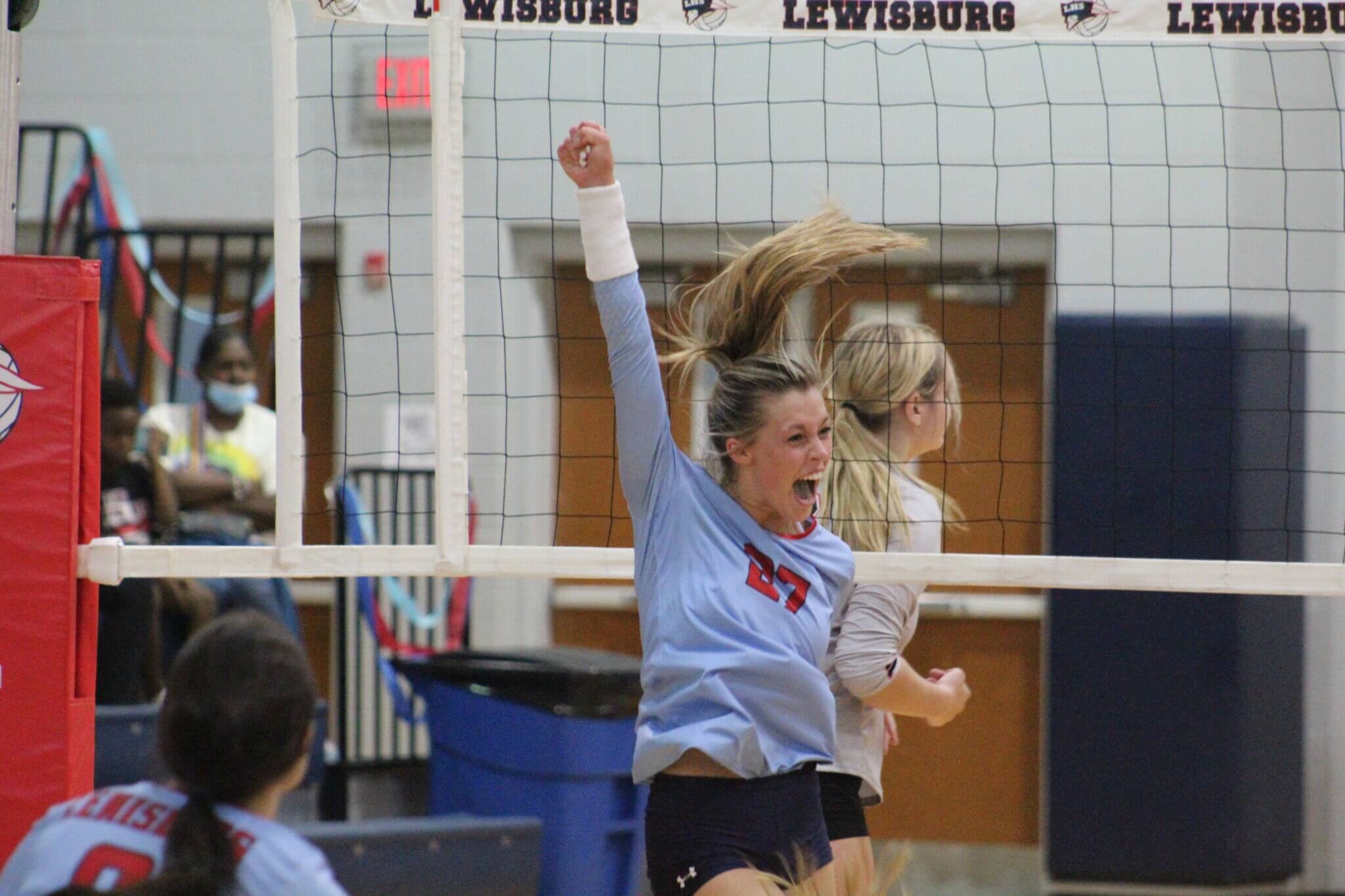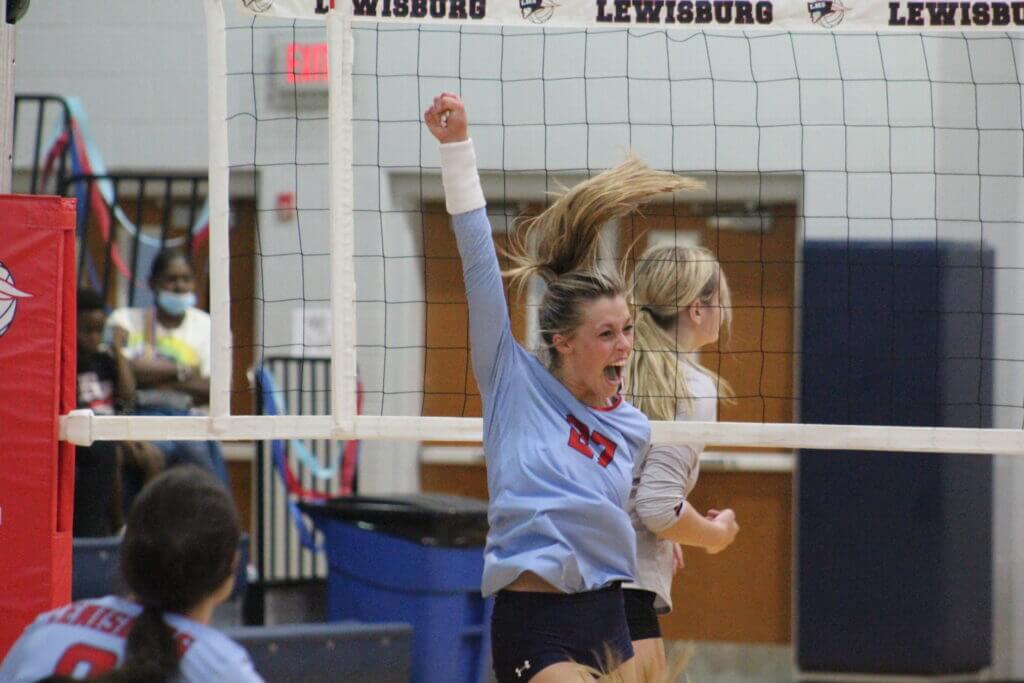 "I think Center Hill came out ready to play," Hendrichovsky said. "They brought a good crowd so both groups had a good crowd. It was a really nice atmosphere and I was proud of our team for responding to that. I think that first set was really pivotal for the match."
In the second set, Lewisburg recovered from an early deficit to take a 3-2 edge on a service ace by Macy Woods. That started a run of eight straight points for an 11-2 lead before Center Hill stopped the run on a side-out.
But the Lady Patriots continued the momentum and at 18-6 in their favor, Center Hill called a timeout and Lewisburg went on to the 25-17 set win.
"I think in the second set was when they made a really big run serving to our one rotation," Veazey said. "We were trying to move our receivers around and got in a hole."
Lewisburg played a solid third set to clinch the match victory, forging an 11-6 lead when Center Hill called the second of its two allowed stoppages, hoping to quell the run.
Seven of the next nine points went the Lady Patriots' way for an 18-8 advantage, a run that featured a kill by Elle Grace Holloway.
Sadie Bridgforth served an ace for a 20-8 Lewisburg lead followed by the teams trading points before a Center Hill serve found its way to the net for the final 25-13 set and match win.
Statistically, Kaley Rikard made 11 kills, seven digs, one block and one ace to lead Lewisburg. Teammate Jayda Bradley finished off eight kills and had three digs. Hailey Stephens offered 29 assists, served three aces and added three digs.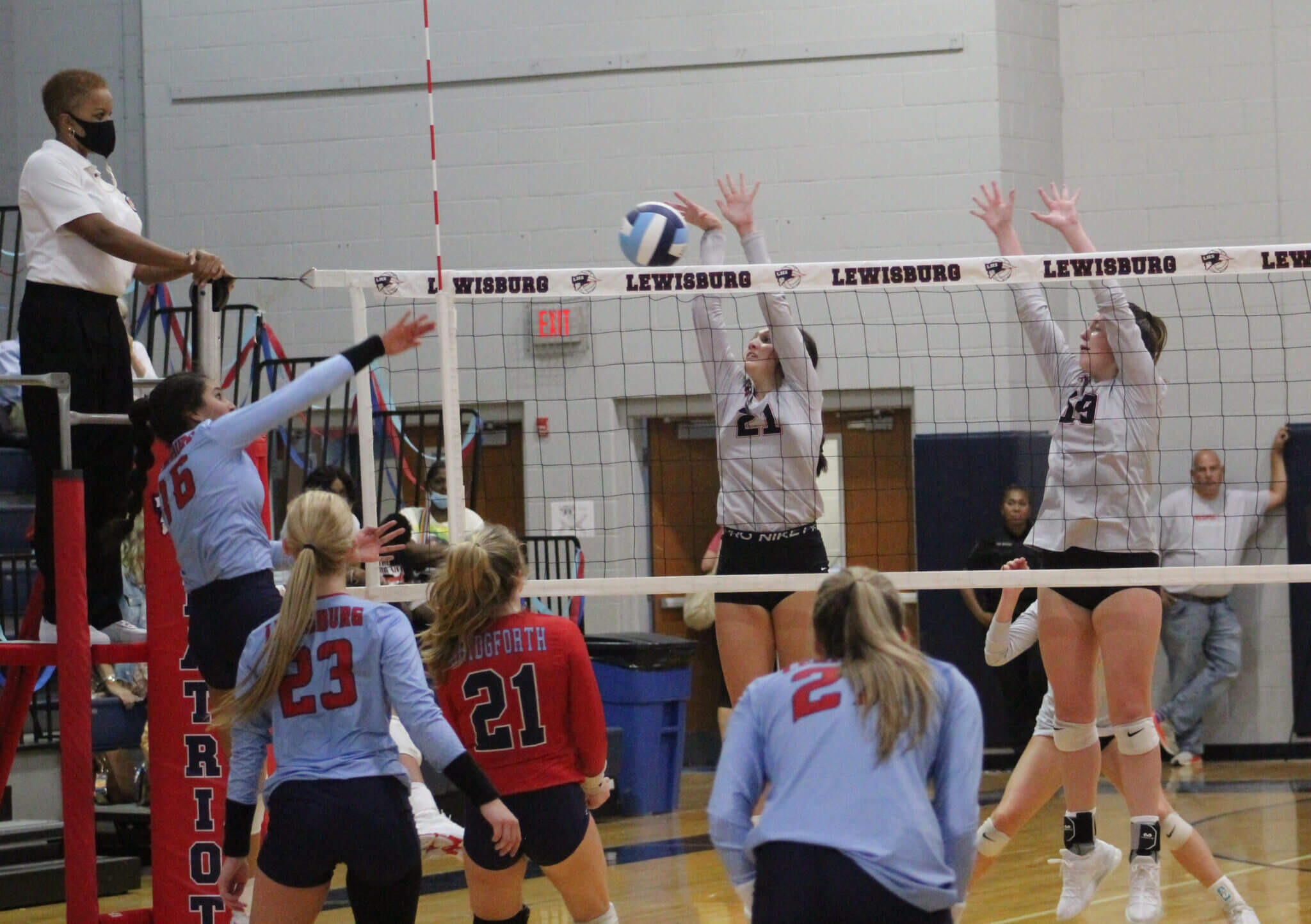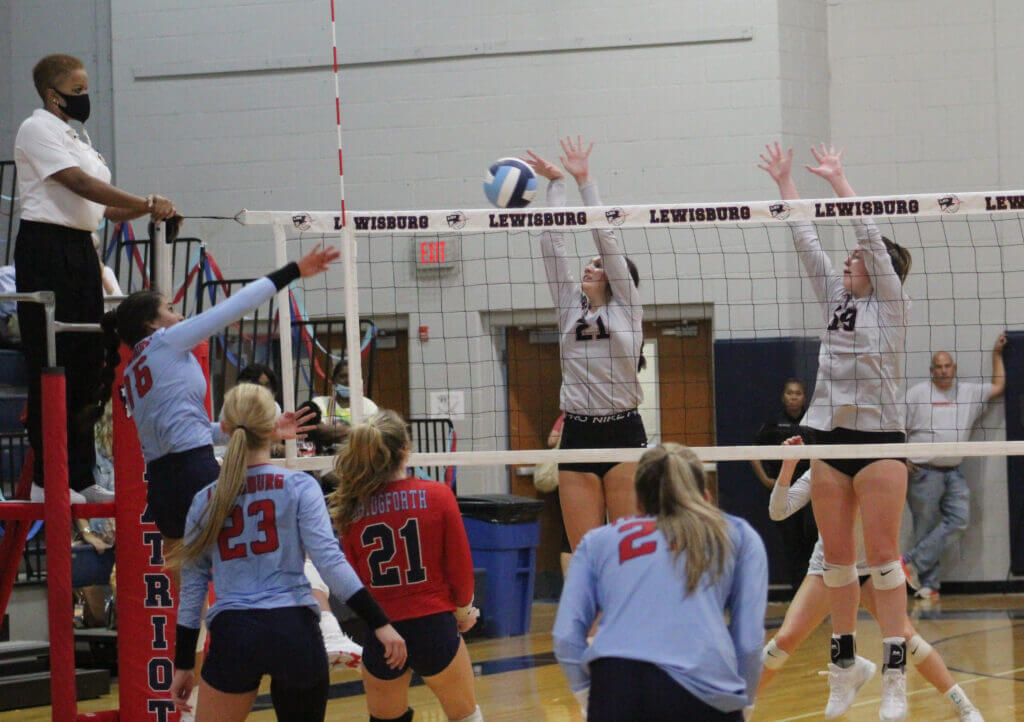 "I thought offensively, Hailey (Stephens) ran a very balanced offense where we're not relying on one attacker," Hendrichovsky said. "We are really trying to be a mult-dimensional team, where you can't depend on just one person."
Tuesday's contest was the 28th meeting between two volleyball schools that between them have won five state championships. Center Hill was the MHSAA 5A state titlist in 2019. Lewisburg won back-to-back state crowns in Class I (2010-11) and again Class II (2014-15).
However, it marked the first time the teams have met together in MHSAA 6A, as Center Hill made the jump up this year from 5A.
"Being the smallest school in Mississippi in 6A, the girls wanted to show that they could compete at this level," Veazey said. "We're in a really tough district with DeSoto Central and them (Lewisburg), but we're not going to just hand the season over to them. We're going to fight every night."
With the win, Lewisburg improved to 6-4 and 2-0 in the region. Center Hill also fell to 6-4 and is 0-1 in the region.
WORTH NOTING…
Kennedy Smith slammed 11 kills and served two aces in DeSoto Central's 3-0 victory over Hernando. Smith added 10 digs. My Young was also effective with five kills, two aces and 11 assists for DeSoto Central, McKenzie Brewer served three aces and made 14 assists for the Lady Jags. Lindsey Cowart added 30 digs in the 25-17, 25-19, 25-15 victory.
Paige Griffin had 14 kills for Lake Cormorant in the Lady Gators' 3-0 MHSAA 5A district victory over Saltillo on Tuesday. Lundyn Wilson added eight kills for Lake Cormorant. Griffin, Wilson and Adajah Morgan each had three service aces, Jania Rose made 13 digs and Griffin added nine. Jasmine Chacon recorded 19 assists in the victory.
Hassie Clare Thurman scored 15 kills, 21 digs, two blocks and a service ace in Northpoint's five-set victory over St. George's (Collierville, Tenn.) Tuesday night. Quinn Thurman knocked down 12 kills, 31 digs, three blocks and a service ace; Brylee Faith Cherry was busy with 10 kills, six blocks, five digs and two service aces; Sophie Bauer made 44 assists, 19 digs and two aces, and Sailor Cole factored with 14 digs for the Lady Trojans.