Volleyball: A five-setter in the Swamp
Photo: Paige Griffin of Lake Cormorant skies for a kill attempt in Tuesday morning's match against Hernando. (Bob Bakken/DeSoto County Sports)
THE VITAL STATISTICS
Regular season
Lake Cormorant 3, Hernando 2 (25-15, 25-27, 25-23, 14-25, 15-12)
DeSoto Central 3, Center Hill 0 (25-9, 26-24, 25-11)
Lewisburg 3, Oxford 0 (25-20, 25-14, 25-18)
TSSAA Division II-A West Region semifinals
Northpoint 3, First Assembly Christian School, Tenn. 0 (25-20, 25-12, 25-16)
JUCO volleyball
Itawamba 3, Northwest 1 (15-25, 26-24, 25-23, 25-19)
A FIVE-SETTER IN THE SWAMP
Volleyball matches have been very tight between Lake Cormorant and Hernando this season and both have been in what is called "school-day games," when the student body is welcome to leave class for a price and check out the action. Teams in DeSoto County have used the "school-day" action to promote the game and fundraise for their programs.
Earlier this season on Sept. 16, Lake Cormorant went to Hernando and survived a five-set thriller 3-2 with the fifth set going to 15-11 for the defending state MHSAA 5A champions.
On Tuesday, Hernando returned the visit with another "school-day clash" and again went to five sets before Lake Cormorant prevailed once again.
Set scores for the Lady Gators were 25-15, 25-27, 25-23, 14-25, 15-12.
The Lady Gators jumped out to a 25-15 victory in the first set, taking a 15-9 lead after Jasmine Chacon served an ace.
When Paige Griffin served an ace, Lake Cormorant had a 21-14 lead and when a Hernando volley went wide, the Lady Gators were at set point with a 24-15 advantage. The set ended with Rylee Eyster's volley attempt being stopped at the net for the set win.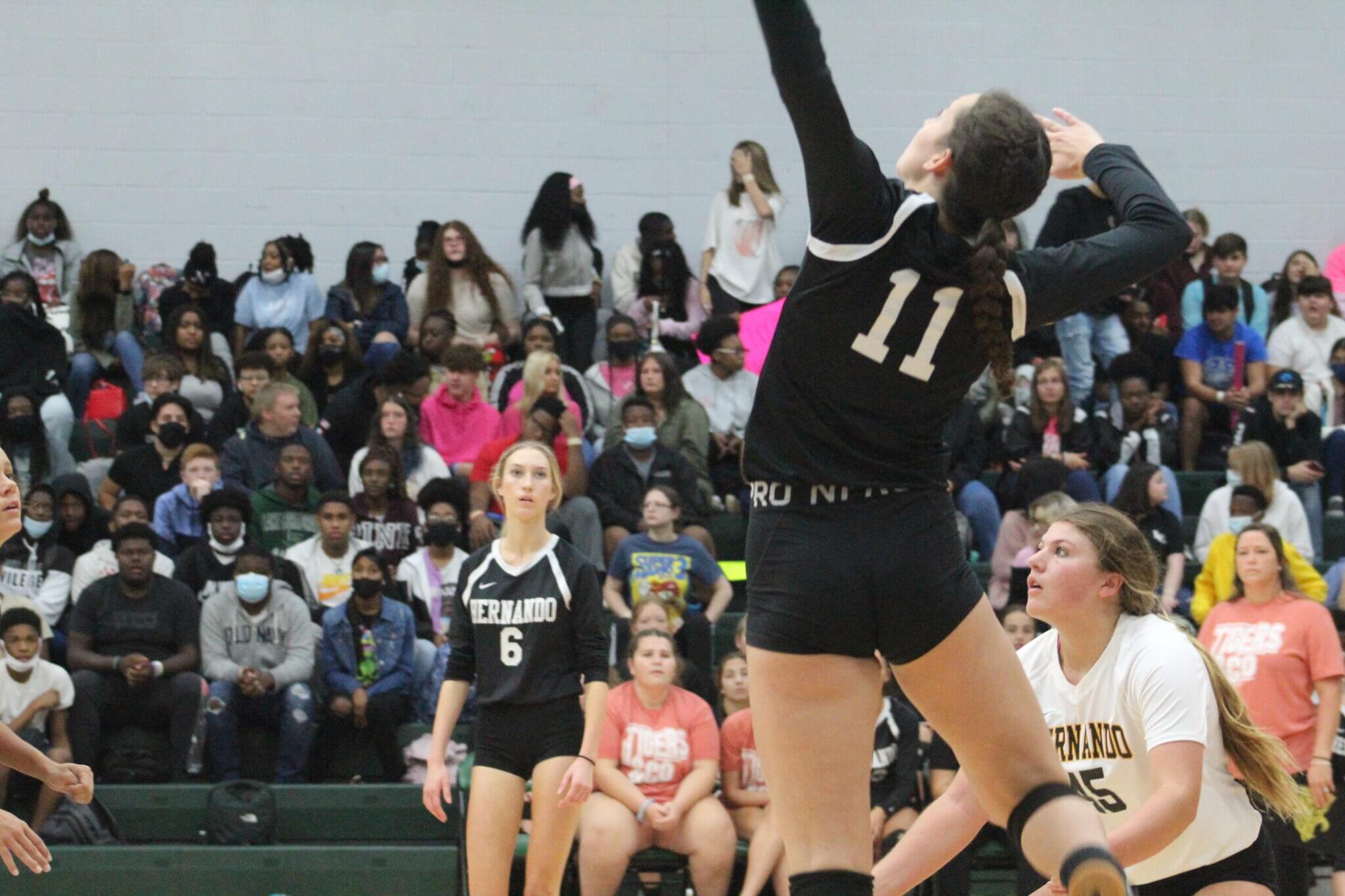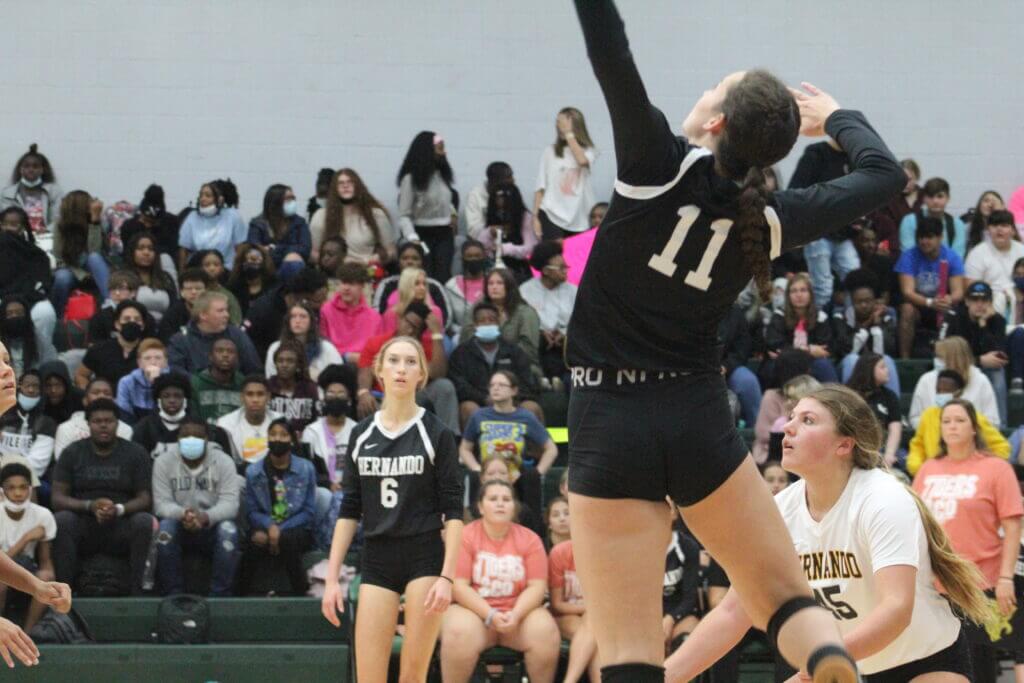 Set two was a very hard-earned victory for Hernando, but they had to come from behind to do it. Trailing 10-3 when a volley went long, the Lady Tigers started to chip away at the Lake Cormorant lead.
A long run of points brought Hernando back from 5-13 to tie the set at 13-13 when a Lady Gator shot was stopped by the net. Lake Cormorant retook the lead for a moment but the set became a back-and-forth tussle.
Anna Claire Callum gave the Lady Tigers a 21-20 lead with a point off a block but Lake Cormorant would tie and take a brief 22-21 lead with a wide volley from a Hernando player. However, a three-point run put the advantage to the Lady Tigers at 24-22, followed by a two-point run for a 24-24 deadlock. The set finally ended when a Paige Griffin attempt found the net for a 27-25 final set score.
The third set was equally close. Hernando took an 11-8 lead in the set, but Lake Cormorant recovered and had a 22-18 set score when Griffin's serve was not returned. The Lady Gators would recover but when a soft shot over the net from Eyster found the Lake Cormorant floor, Lady Gator coach Christina Morgan called a timeout with her team now tied at 23-23.
The stoppage worked as Lake Cormorant scored the final two points of the 25-23 set win when a block from Jillian Malone found the Hernando floor for the deciding point.
Hernando took charge in the fourth set to stay in the match and had a 10-7 lead when Lake Cormorant was called for too many hits. The Lady Tigers' lead grew to 15-10 as Cristen Cleveland served an ace and a Lady Gator violation pegged the count to 20-12 Hernando.
An illegal hit violation against Lake Cormorant got Hernando within two points of winning the set, which they did when Griffin's volley struck the net and went no further for the final 25-14.
The final deciding set to 15 points started out with the home team taking the early 5-2 lead, but the visitors came back for 10-9 lead in the set.
When Lake Cormorant took a 12-11 lead on a drop shot, Hernando kept close but couldn't overcome the Lady Gator advantage and Lake Cormorant won the set 15-12 and the match in five sets.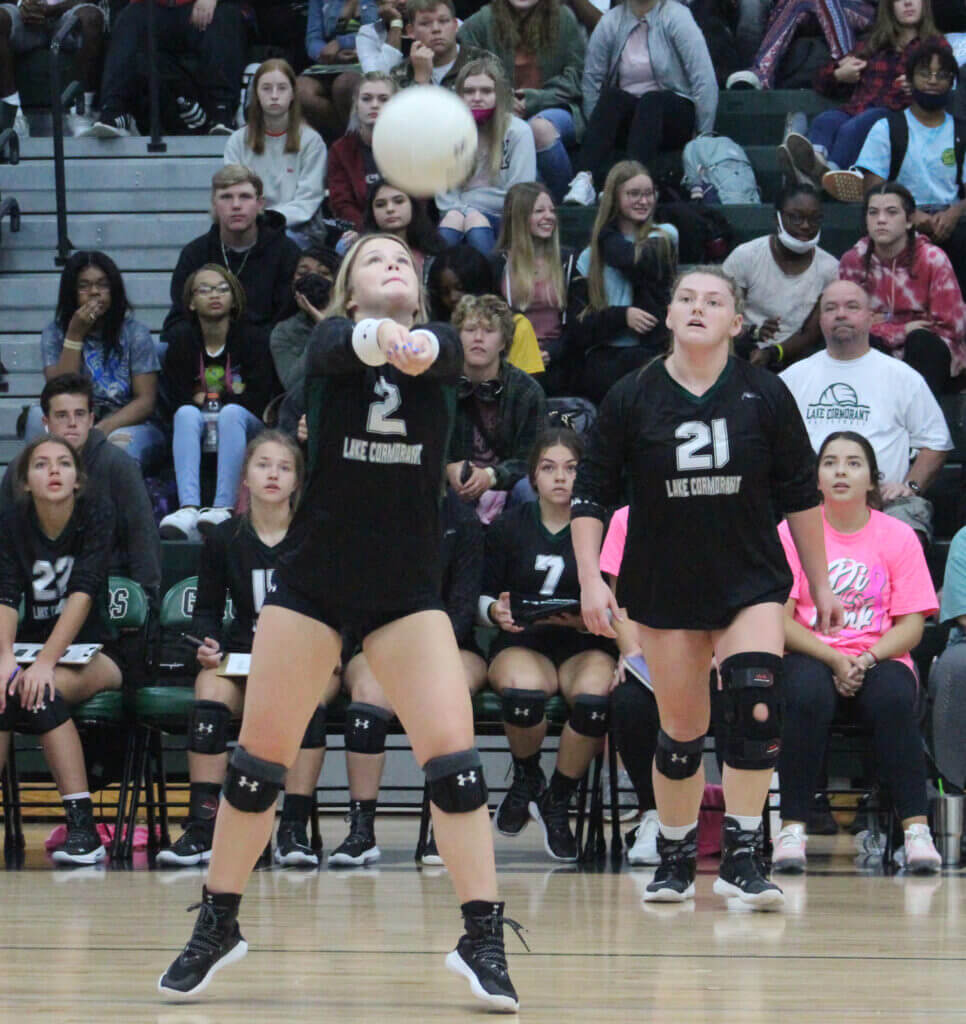 Morgan said her team enjoyed playing before a big and favorable crowd.
"We struggle sometimes with momentum this season when the momentum switches and we're trying to get it back and the crowd helps us with that," Morgan said. "We still had trouble with it at times this morning, but I feel like they gave that little extra to pull it out."
Paige Griffin was a dominant player for Lake Cormorant in the victory with 15 kills, six aces, and 23 digs. Lundyn Wilson scored 10 kills, while Adajah Morgan and Jillian Malone each hammered six kills for the Lady Gators. Freshman Jania Rose served two aces, had 20 digs, and made 15 assists.
Lake Cormorant is back on the home floor tonight (Wednesday), facing Lafayette (Oxford) in a match that will determine the top two finishes in Region 1-5A. It will also determine who and where the teams would play in the first round of the postseason playoffs next week.
WORTH NOTING…
DeSoto Central won its eighth straight 6A region title Tuesday night with a three-set sweep of Center Hill. For DeSoto Central, Kennedy Smith had 13 kills and four digs; Kasey Scruggs had 10 kills and four digs. Mckenzie Brewer had 20 assists and served three aces. Katelyn Day had three blocks; while Avery Wolf had six digs, two blocks, and served three aces. DeSoto Central hosts Tupelo to open MHSAA 6A playoff action on Tuesday evening.
In Lewisburg's three-set victory over Oxford Tuesday night, county MVP Kaley Rikard scored 13 kills and had eight digs; Ella Grace Holloway made 13 kills and had three blocks; Avery Thomas had 6 kills and had three blocks; Hailey Stephens made 34 assists and six digs, and Sadie Bridgforth scored 16 digs. The Lady Patriots travel to Oxford for their first round playoff match next Tuesday night. Lewisburg is expecting Oxford standout Ainsley Tacker, who was held out of the lineup Tuesday, to be on the floor for the Chargers in the playoff match next Tuesday night.
Northpoint Christian moved to the finals of the TSSAA Division II-A West Region volleyball tournament Tuesday night with a three-set victory over First Assembly Christian School. In the victory, Quinn Thurman had 11 kills, eight digs, and served two aces; Sophie Bauer made 30 assists, had six kills and a block; Hassie Thurman had seven kills and nine digs; Brylee Faith Cherry contributed seven kills, three digs, four blocks, and served two aces; and Isis Reid came up with five kills, two digs, and four blocks. Northpoint plays St. George's on Thursday evening at 6:30 p.m. for the region championship.