Tuesday sports: Hernando stops Lady Wave in volleyball playoffs
Photo: Hernando's Amberlee Holley (10) sets as Ainslee Copeland gets ready during Tuesday's playoff victory over Tupelo. (Bob Bakken/desotocountynews.com)
Lake Cormorant, Northpoint Christian also advance in postseason
There was a lot of heavy hitting going on as DeSoto County volleyball teams returned to playoff action Tuesday evening.
For Mississippi public schools, it was second round action in the 6A and 5A playoffs, while in Tennessee, Northpoint Christian had moved into the quarterfinal round of the state playoffs.
Two matches in particular were absolute slugfests, both in 6A. Hernando battled past Tupelo in five sets (25-22, 20-25, 25-21, 19-25, 15-12), while Madison Central traveled to Lewisburg and ended the Lady Patriots in five sets (29-31, 25-23, 27-25, 19-25, 15-13).
At Hernando, the Lady Tigers won the opening set 25-22 as both teams showed the type of match it was going to be. The Lady Wave forged a 15-8 lead before Hernando rallied to get within 21-18 Tupelo, but the home team couldn't get any closer and Tupelo scored three of the final four set points to tie the match.
It was Hernando's turn in the third set, staking the Lady Tigers to a 3-0 and a 10-7 lead. A volley not returned by Tupelo hiked the margin to 15-11 and the Lady Wave took a timeout. The break gave Tupelo a chance to recover and tie the set 15-15 and again at 17-17 before Hernando's Irby Norris pounded a kill for a 22-19 lead. Another kill moved the score to 23-20 and after a double-hit call against the Lady Wave, Hernando was within striking distance at 24-20. Following a Tupelo point, a Lady Tiger shot off a block that fell out gave Hernando the third set.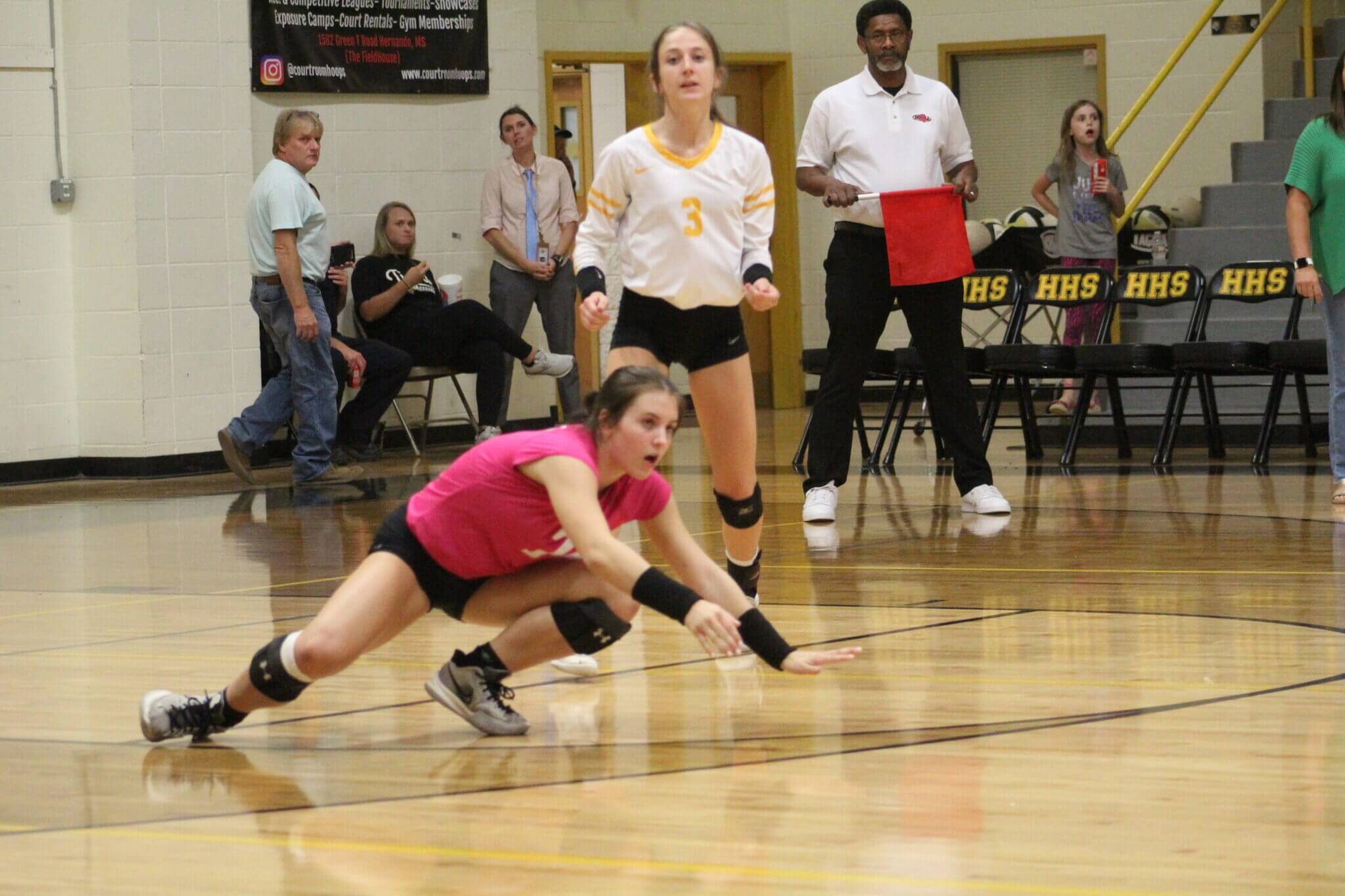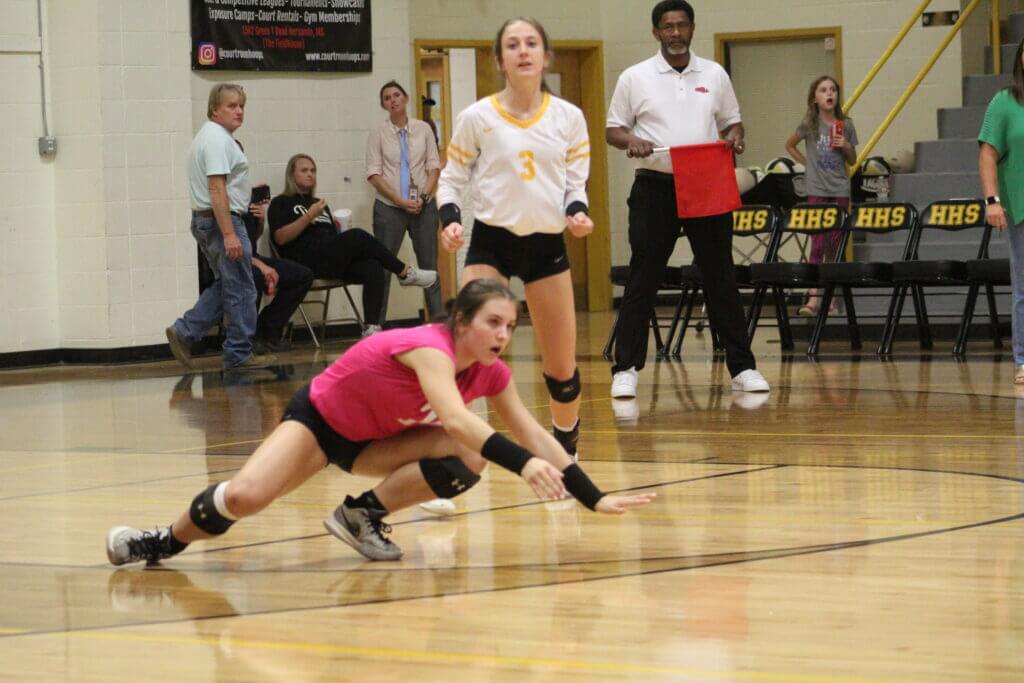 "Offensively we are a great team and defensively we are a great team," Vinson said. "Tonight the difference is that we have been working on blocking and playing, and swinging and playing. I really think we've worked on that the past 10 days, not only for Tupelo but for anybody we play. Tonight, I thought we attacked the ball from all angles."
The toe-to-toe slugfest continued in the fourth set with both teams confidently hitting, diving for errant balls and recovering as the action became even more tense when Tupelo tied the match at 25-19.
Tupelo took momentarily control of the set at 15-10 but Hernando answered to tie it up at 17-17 after Landry Franks ace. The Lady Wave would tilt the set in their favor at 20-18 and scored five of the next six points for the 25-19 set victory.
No team led by more than two points in the deciding fifth set until Hernando took a 9-7 when a Hernando volley was not returned. A service ace from libero Mary Catherine Couch forced a Tupelo timeout at 10-7 and again, the Lady Wave recovered out of the break to get within 10-9 Hernando.
But three Lady Tiger points, including a Hannah Langevin kill for 12-9, got Hernando close to the match at 13-9. A long volley cut the lead to 13-10, followed by another point to close the gap to 13-11 and have Vinson call a timeout.
Tupelo would get one more point with a service error, but Hernando got this final play for the 15-12 set result and the match victory.
"It's been an up-and-down season for us but I think we're finally starting to come together," said Vinson. "The girls came together tonight and never gave up."
Hernando now becomes the only remaining DeSoto County 6A team still in the volleyball postseason, with Tuesday losses by Lewisburg, DeSoto Central, an Southaven, and must travel to Germantown (Madison) Thursday for a third-round match.
Following is the scoreboard from Tuesday's action involving DeSoto County teams.
Prep volleyball
MHSAA 6A second round playoffs
Hernando 3, Tupelo 2 (25-22, 20-25, 25-21, 19-25, 15-12)
Germantown (Madison) 3, DeSoto Central 0 (25-13, 25-14, 25-18)
Hernando to play Thursday at Germantown
Oxford 3, Southaven 0 (25-6, 25-10, 25-8)
Madison Central 3, Lewisburg 2 (29-31, 25-23, 27-25, 19-25, 15-13)
MHSAA 5A second round playoffs
Lake Cormorant 3, Columbus 0 (25-5, 25-6, 25-8)
Lake Cormorant hosts Neshoba Central Thursday, starting at 5:30 p.m. Lundyn Wilson had seven kills, Ariana Woods and Jania Rose each served eight aces, Rose had seven digs and Dallas White offered 15 assists for the Lady Gators.
TSSAA Division II-A sub-state
Northpoint Christian 3, Lakeway Christian 0 (25-17, 25-17, 25-18)
Northpoint to play Saturday at Battleground Academy at 4 p.m. Sophie Bauer had 22 assists, Isis Reid had eight kills, Valerie Hurdle served two aces, and Quinn Thurman had 13 digs for Northpoint.