Thursday sports: Jaguars sweep Hernando in hoops
Photo: Hernando's Eric Taylor (3) skies for a layup in Thursday's game against DeSoto Central. (Bob Bakken/desotocountynews.com)
Wednesday, Nov. 16
NJCAA women's soccer tournament (Pool Play)
Northwest Mississippi 2, Pima, Arizona 1 (2OT)

Northwest will play Phoenix College Friday in the NJCAA national semifinals.
Thursday, Nov. 17
Prep boys basketball
DeSoto Central 52, Hernando 43

Hernando: Justin Hammett 12, Ryan Taylor 11
DeSoto Central: KJ Patrick 11, Bob Dickson 10

Horn Lake 81, Oxford Lafayette 49
Holly Springs at Olive Branch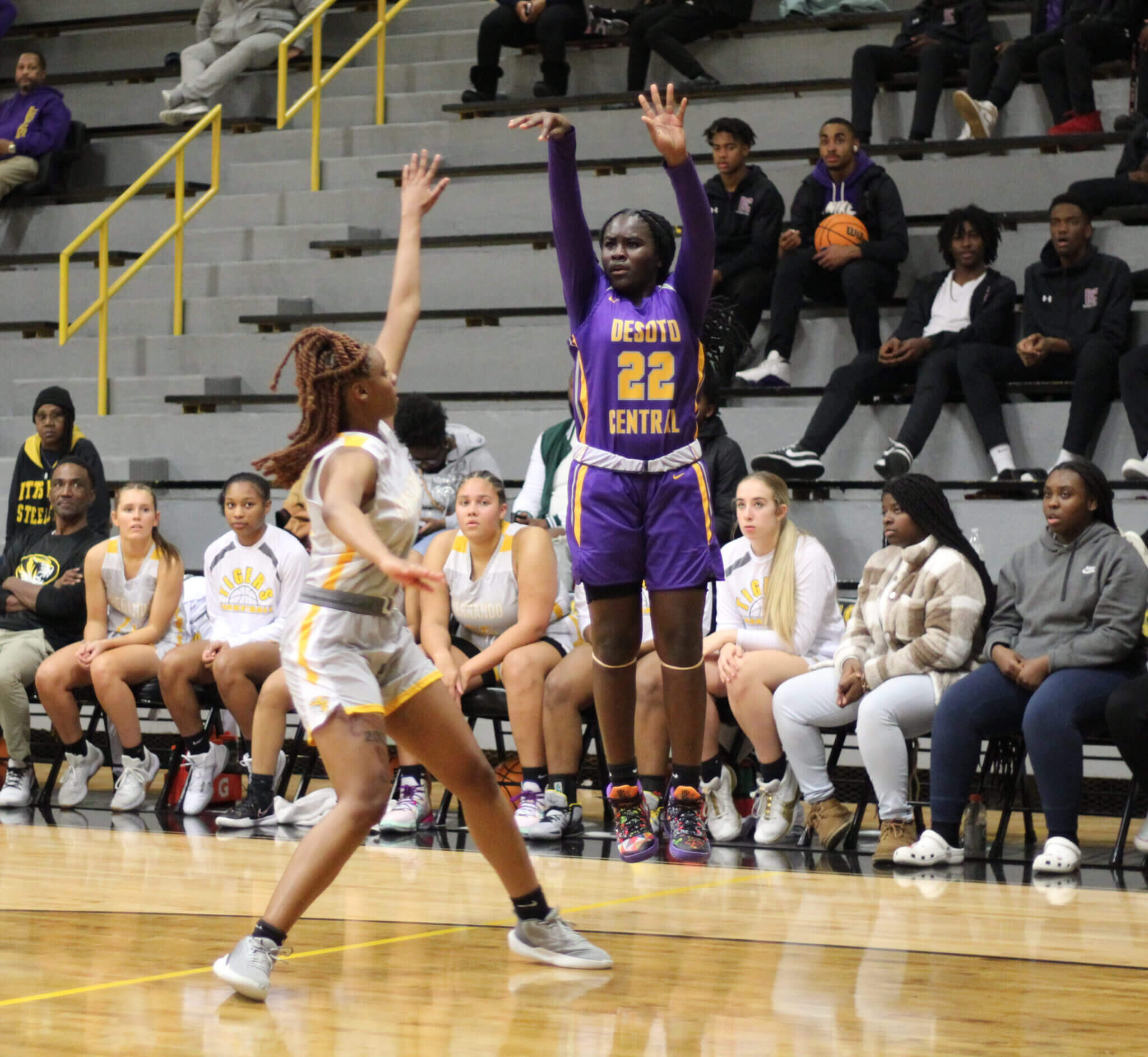 Prep girls basketball
DeSoto Central 51, Hernando 30

DeSoto Central: Jamaiya Hasley 12, Teresa Hayslett 11
Hernando: Damiya Cummings 9, Halann Wallace 8

Oxford Lafayette 40, Horn Lake 36
Holly Springs at Olive Branch
Prep boys soccer
Hernando 1, DeSoto Central 0
Horn Lake 2, Center Hill 1 (Horn Lake wins in PKs)
Lake Cormorant 2, Olive Branch 1
Prep girls soccer
DeSoto Central 3, Hernando 2
Center Hill 7, Horn Lake 0
Olive Branch 4, Lake Cormorant 0
JUCO women's basketball
SAU Tech 73, Northwest CC 60
NBA G League basketball
Rio Grande Valley 149, Memphis Hustle 124

Memphis Hustle: Kenneth Lofton Jr. 29, Xavier Tillman 21
Prep wrestling at Lewisburg
Center Hill 66, Tupelo 18
Lewisburg 42, Center Hill 39
Lewisburg 54, Tupelo 30
SPORTS ETC.: Thursday's soccer games between Hernando and DeSoto Central were another in a series of daytime school day games played at DeSoto Central. Teams are holding these games to give the student body to see them play and ticket prices go to the home team soccer program. Temperatures when Thursday's girls' game started were in the low-to-mid 30s.