Sports roundup: Eagles win season opener in overtime
Photo: Connor Sims of Horn Lake looks to block out Alex Pete of DeSoto Central during Tuesday's contest. (Bob Bakken/DeSoto County Sports)
THE VITAL STATISTICS
Boys basketball
Southaven 79, Lake Cormorant 41
Horn Lake 83, DeSoto Central 69
Grenada 79, Lewisburg 67
Center Hill 69, Pontotoc 66
Girls basketball
Southaven 54, Lake Cormorant 47
DeSoto Central 64, Horn Lake 59
Grenada 52, Lewisburg 46
Pontotoc 67, Center Hill 38
Marion, Ark. 68, Hernando 35
Boys soccer
Tupelo 5, Hernando 2
Lewisburg 6, New Albany 1
Lake Cormorant 5, Cleveland Central 0
Center Hill 3, Southaven 1
DeSoto Central 5, South Panola 0
Girls soccer
Tupelo 5, Hernando 0
Lake Cormorant 7, Cleveland Central 0
Center Hill 1, Southaven 1
DeSoto Central 7, South Panola 0
HORN LAKE BOYS 83, DESOTO CENTRAL 69 (OVERTIME)
Dimp Pernell's game-high 33 points powered a double-digit comeback and helped give the Horn Lake Eagles a come-from-behind 83-69 overtime over DeSoto Central Tuesday night in Southaven.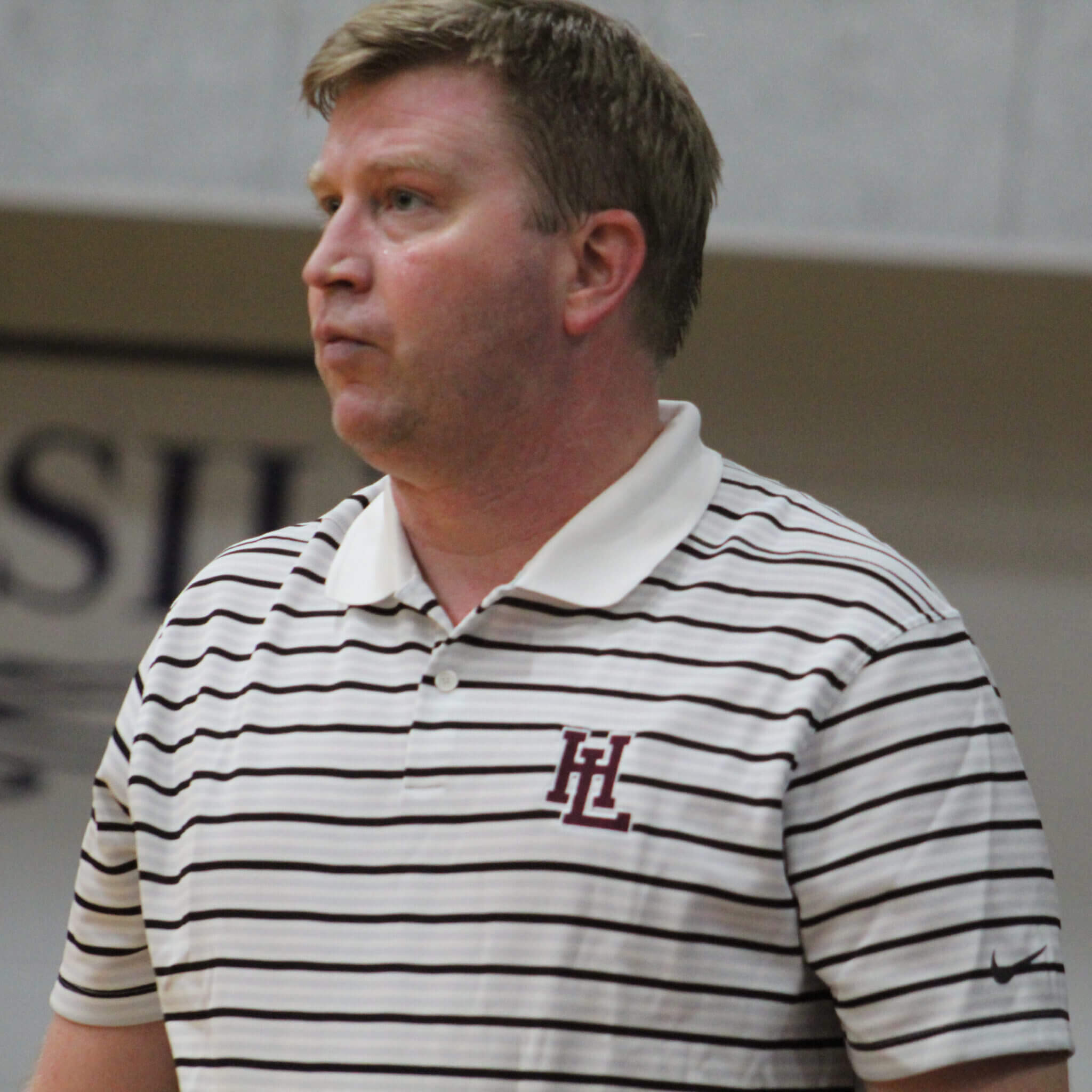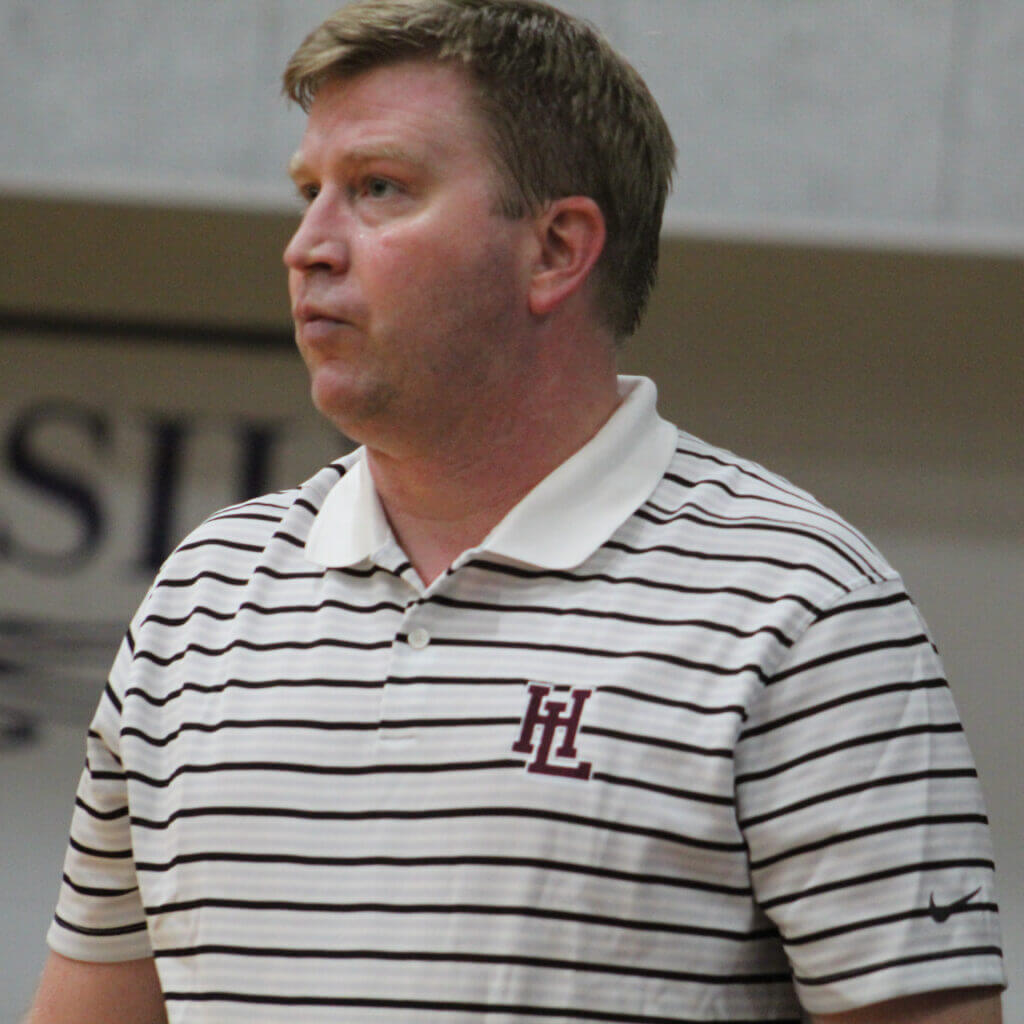 "The kid's going to be special," said Horn Lake coach William Bentley about his shooting guard. "He can just really shoot it and he plays hard, he wants to do everything you ask of him and he wants to be one of our best players."
The win in the Eagles' season-opener came in the same gymnasium where Bentley had been first an assistant and then becoming head coach in 2016 before leaving two years ago to move to Horn Lake.
"I spent 10 great years here, coached some incredible guys," Bentley said. "I've got one of them on my staff and another one is the girls' coach (Darryl Partee)."
Pernell was nearly unstoppable in the second half for the Eagles, scoring 26 of his 33 points after halftime. He had some help from twin brother Ky Pernell, who finished with 21 points, but 10 of those points came in the extra session.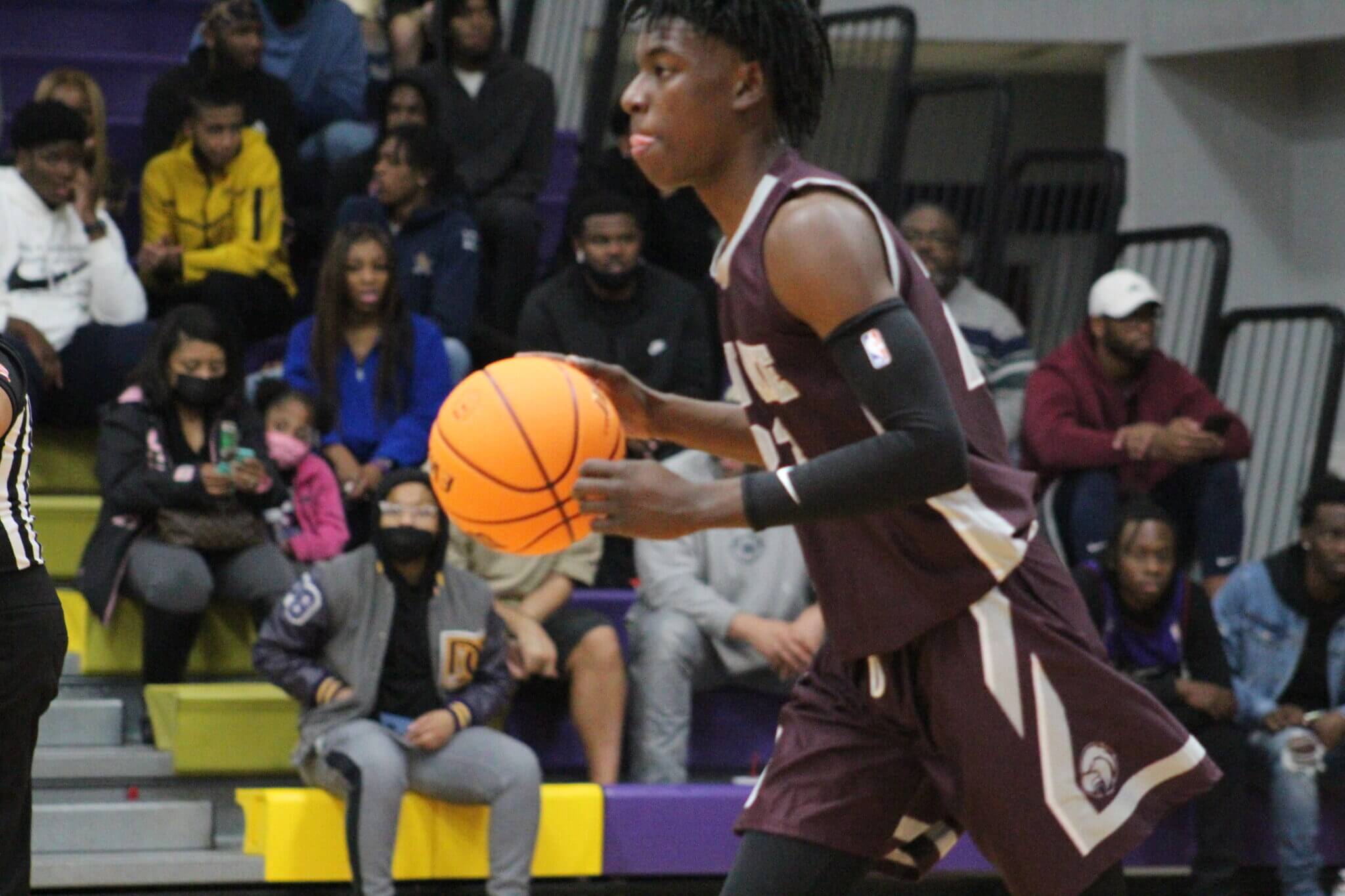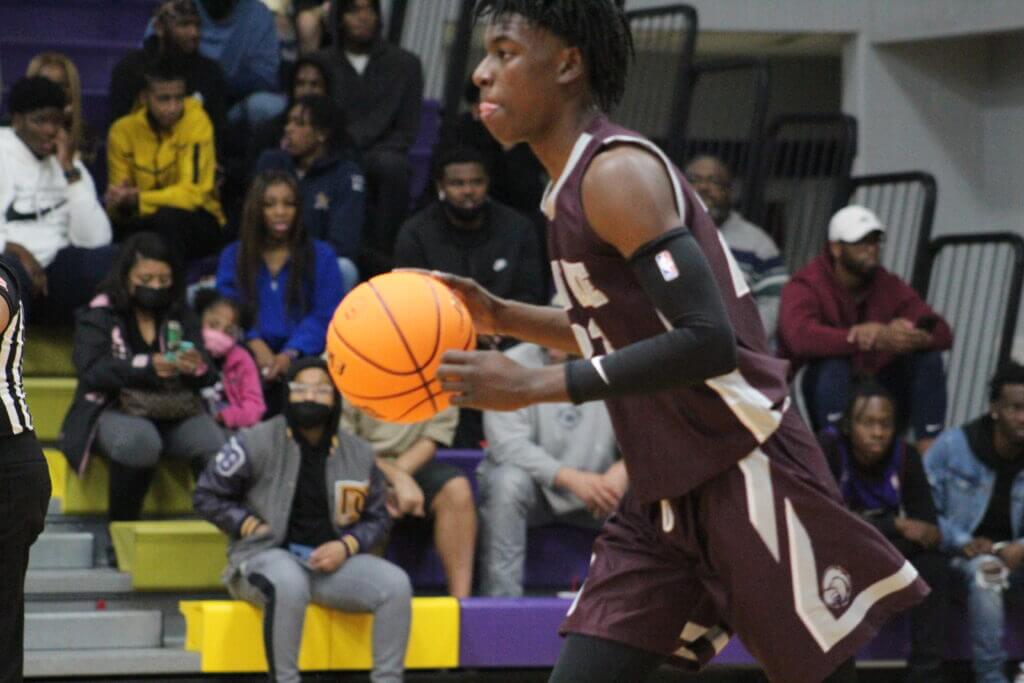 Caleb Curtis led three Jaguars in double figures with 20 points, 15 of which were in the fourth quarter frenzy. Alex Pete added 13 for DeSoto Central.
The Jaguars had a 10-point after one quarter at 21-11, but the Eagles cut slightly into that in the second quarter, trailing 30-22 at the break.
Using a 23-point third quarter, Horn Lake got within 46-45 DeSoto Central at the end of three quarters and the Jaguars had a 63-60 lead late in the fourth quarter before Dimp Pernell drained a three to tie the contest at 63-63 at the end of regulation, three of his 12 fourth-quarter points.
Five of Curtis' six three-pointers for the night came in the final eight minutes of regulation.
The overtime period was all Horn Lake, outscoring the Jaguars in the five-minute overtime 20-6.
"We just never quit," Bentley said of his team. "We knew they (DeSoto Central) were going to make shots, but if we could just weather those storms, block out and rebound. Our guys didn't panic and we stayed the course and that was such a huge difference in the game there."
DESOTO CENTRAL GIRLS 64, HORN LAKE 59
Janiya Jones led all scorers with 21 points and Tereah Haslett added 17 in the DeSoto Central girls 64-59 victory over the Horn Lake Lady Eagles Tuesday evening in Southaven.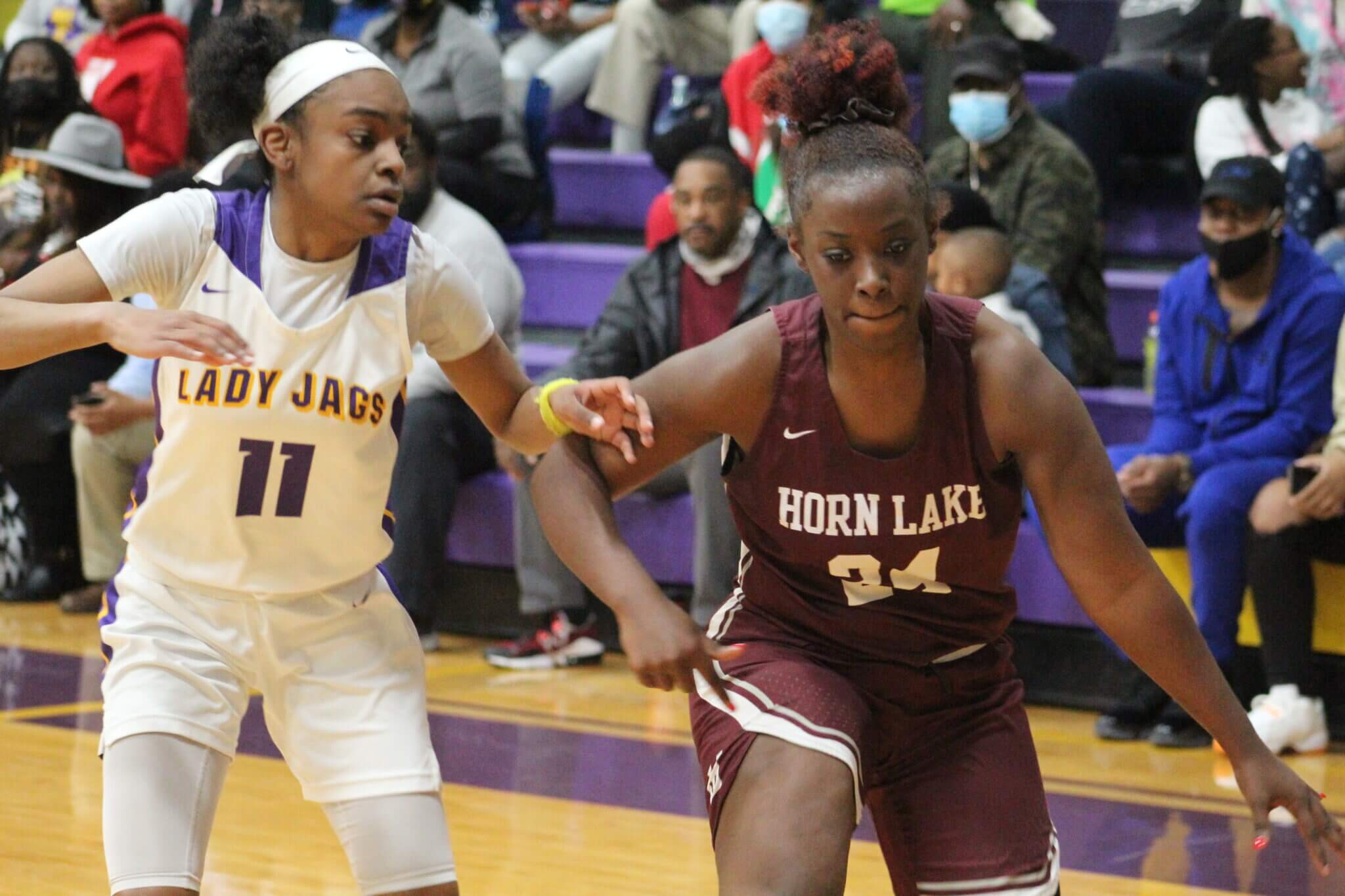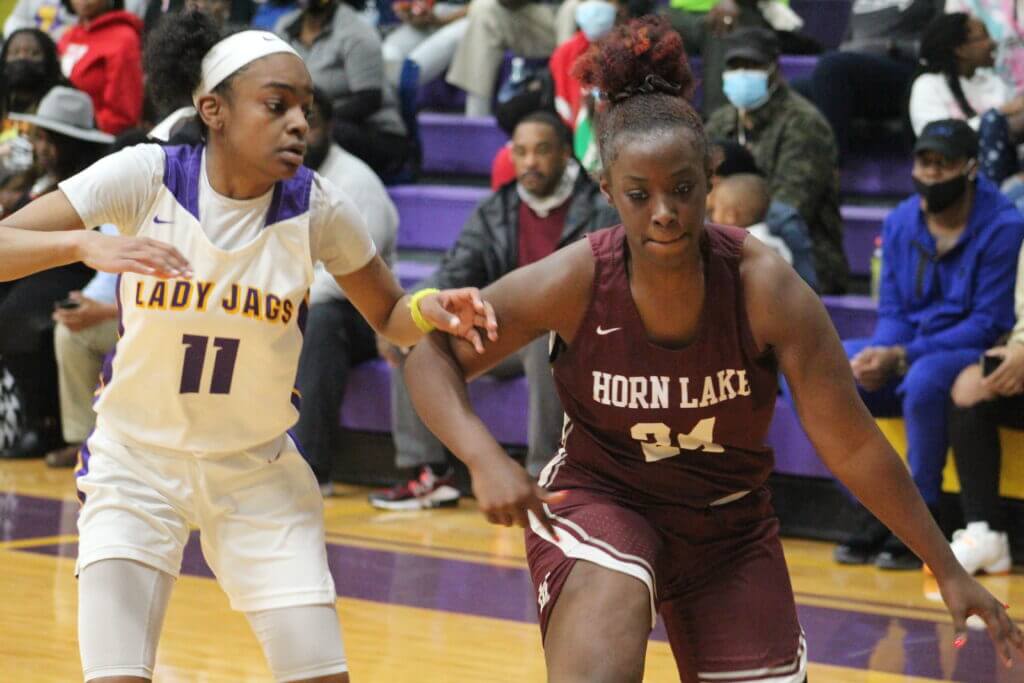 "She was determined to come out and have a good game for us," said DeSoto Central coach Gwendolyn Johnson Petty.
The Lady Jags shook off a Horn Lake team that battled the entire evening, and while the Lady Eagles trailed much of the contest, they actually took a 36-35 lead in the third quarter. DeSoto Central then went on a run to re-take the lead and carry a 44-40 bulge into the fourth quarter of action. That was about as close as Horn Lake would get the remainder of the game.
DeSoto Central took a 12-10 lead after one quarter and would lead 29-24 at halftime with Jones scoring 12 first-half points. Horn Lake countered with Tori Johnson scoring six of her eight points for the game in the first 16 minutes.
In the third-quarter comeback that saw the Lady Eagles briefly take the lead, Kiearneiza Ellis scored eight of her 10 points during that eight-minute period. But Hayslett scored six points in the quarter and Reagan Dale added five as the Lady Jags tried to fight off the visitors.
While making only two field goals, one of which was a three-pointer, in the final quarter, DeSoto Central hit 8-of-9 free throws in the last eight minutes to put the game away. Meanwhile, Horn Lake tried to stay in it with Talaieh Lipford scoring nine of her team-high 16 points in the final quarter. Indiya Bowen added 11 for Horn Lake in the contest.
Petty credited Kyra Kelley, a reserve post player, with some important minutes in the fourth quarter, scoring all of her points in the final period.
"She came in off the bench and gave us a spark when we needed it," Petty said.
The game also marked the first time for first-year Horn Lake coach Darryl Partee to lead a team back on a floor he played on as a high schooler and later coached at. Partee played at DeSoto Central through 2009 and then came back to be an assistant coach. He took on the Horn Lake job this season.
WORTH NOTING….
Deshun Dunn led the Center Hill boys with 18 points and six rebounds in the Mustangs' win at Pontotoc. Jhamal Ross scored 13 and Tanner Burcham scored 12 for Center Hill.  
Noah Jorgenson scored 17 points to lead the Lewisburg boys in their defeat at Grenada.  Amarian Davis had 11 and Joe Nelson added 10 for the Patriots.  
Kayleigh Prentiss led Center Hill with 13 points in the girls basketball loss to Pontotoc. Center Hill is now 1-2 for the season.  
Christian Holman scored a pair of goals and Carter Burton added another in Center Hill boys' 3-1 soccer victory over Southaven.
Eli Kitchens, Patrick Vallean, and Carlos Penate scored goals for DeSoto Central's boys soccer team in their 5-0 win over South Panola Tuesday.
Micah Benson, Kyleigh Herring, Katelyn El-Beck, and Kasey Canizaro scored goals in the DeSoto Central 7-0 victory over South Panola on Tuesday evening.
Isa Rivino scored the only goal for Center Hill in the Lady Mustangs' 1-1 soccer tie with Southaven.