Shootout in the Eagles' nest opens prep football year
Photo: Northpoint Christian's football team takes the field for their first game of the 2021 season at Jackson Christian, Tenn. (Bob Bakken/DeSoto County Sports)
THE VITAL STATISTICS:
Prep football (regular season)
Jackson Christian, Tenn. 56, Northpoint Christian 46
Prep football (jamboree scrimmages – 2 quarters, except where noted)
Tupelo 10, DeSoto Central 0
Center Hill 6, Holmes County Central 0 (1 quarter)
Center Hill 0, Lake Cormorant 0 (1 quarter)
Lake Cormorant 0, Holmes County Central 0 (1 quarter)
Oxford 28, Horn Lake 6
Olive Branch 28, Corinth 17
Lewisburg 0, Independence 0
TROJANS FALL IN SHOOTOUT SEASON OPENER
The defense can sometimes dominate early in a high school football season, as offenses are learning plays and trying to get used to their systems, either familiar or new.
Jackson Christian and Northpoint Christian quickly dumped that philosophy shortly after the opening whistle for their season-opening contest Friday, Aug 20 in Jackson, Tennessee.
The two teams put together a total of 102 points combined in the Eagles' 56-46 defeat of the visiting Trojans.
It was almost going to be a matter of who had the ball last in a very entertaining first game of the year for both teams. But, Jackson Christian's run of three straight touchdowns in the fourth quarter put the game out of reach for Northpoint.
"I thought we had a good game plan going in," said Trojans' coach Tyler Gold. "They found a real weakness and exploited us."
Kam Boyd put Jackson Christian ahead with two touchdowns in the first quarter for a 14-7 lead. Senior Jackson Thomason scored on a 26-yard pass reception from Jack Patterson for the Trojans' score, one of four scoring strikes for the sophomore quarterback.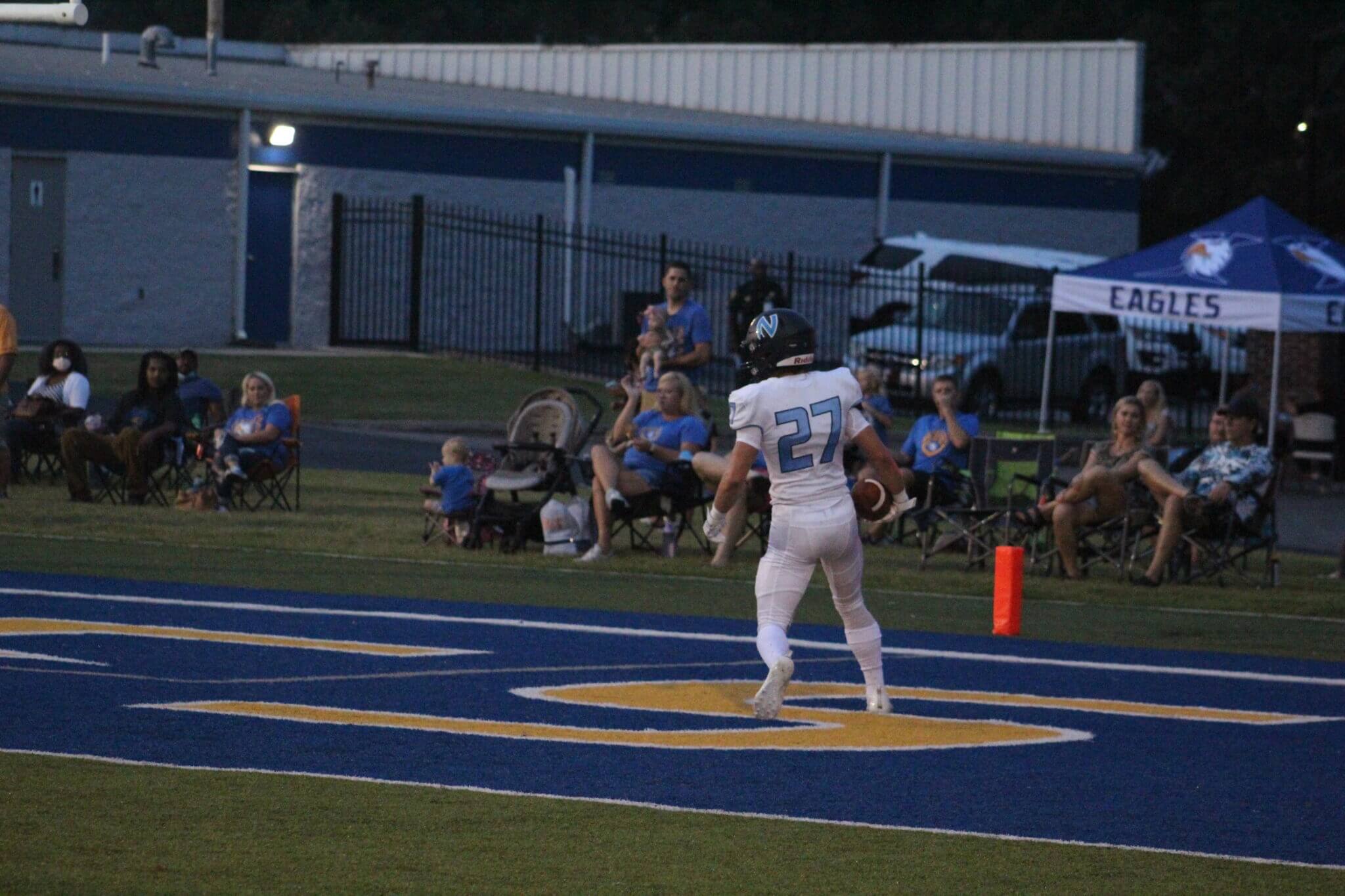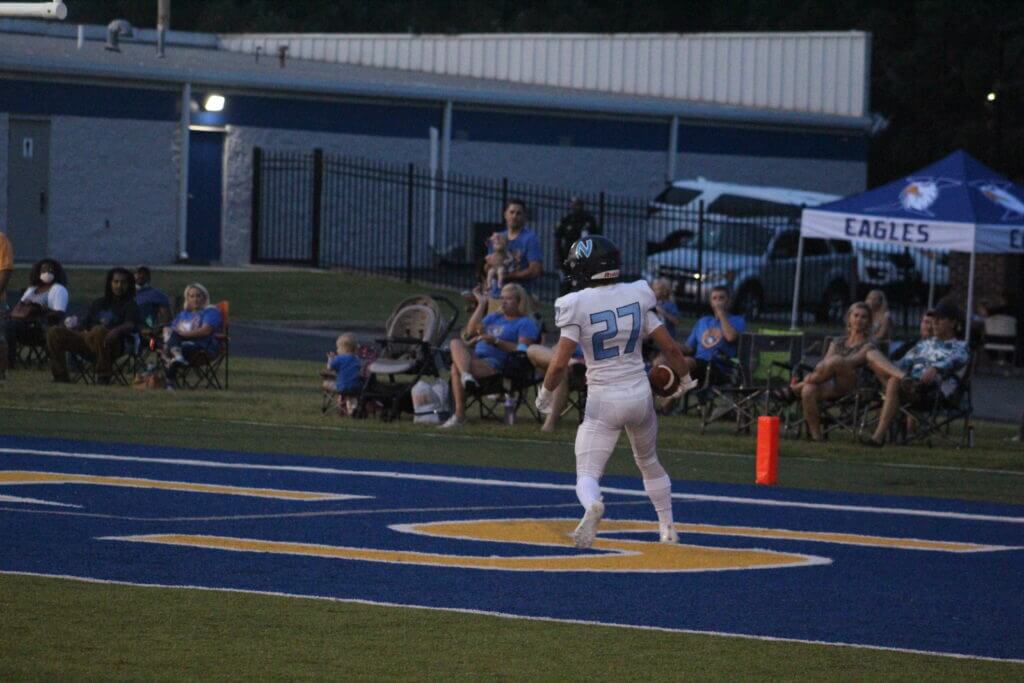 "Jack really stepped up for us tonight, he really battled," Gold said of his signal caller. "He made plays happen that shouldn't have happened and he just kept competing. He's a real smooth guy, never high or low, and he kept battling."
The Eagles held a 28-25 advantage at halftime, holding off Northpoint's pair of late scores that cut a 15-point deficit down to three at intermission. Sophomore Christian Gilliland caught a 20-yard pass for a score, and senior running back Josh Fisher went over from four yards out with 1:27 left in the half.
That halftime score may have been tied, but the Trojans were victims of a muffed snap, a kick that hit the goal post and bounced out, and an incomplete pass on extra-point tries after Northpoint's three touchdowns scored in the second quarter.
Jackson Christian saw their lead shrink to two points after three quarters to 34-32. Northpoint's Ethan Perepichay, a senior running back, scored from three yards out to give the Trojans their first lead of the game at 32-28, but Boyd scored his third touchdown of the game with less than four minutes to go in the quarter to take the lead back to 34-32. Another fumbled snap on the extra point try after that touchdown kept the Eagles from extending the margin even more.
In the fourth quarter, Perepichay gave Northpoint the lead back with a 19-yard burst into the endzone on the first play of the quarter and after the extra point kick, the Trojans had a 39-34 edge.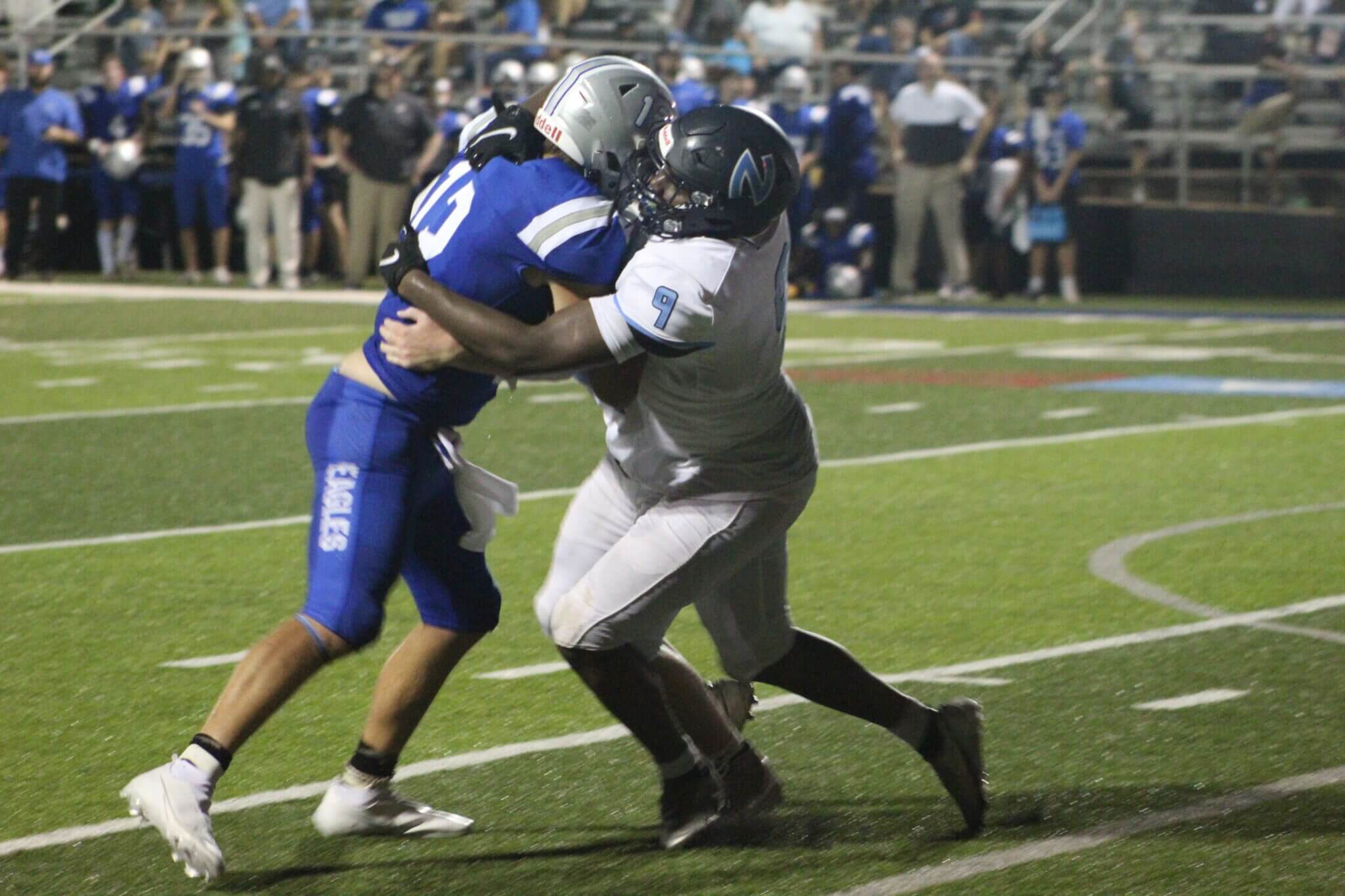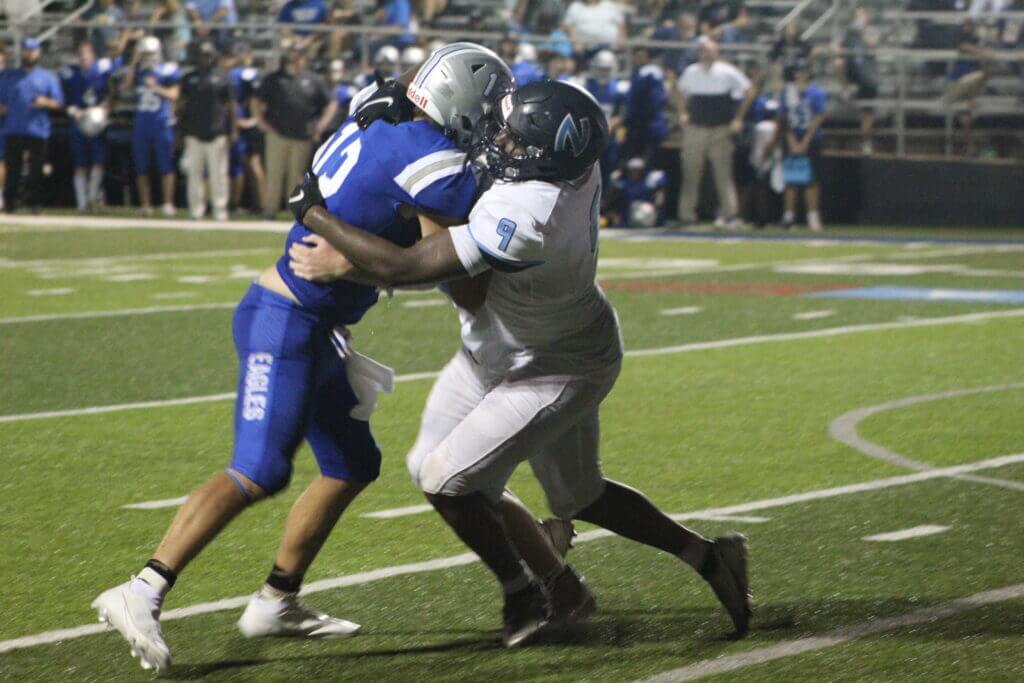 However, that would be the last time Northpoint held the lead on the scoreboard. Boyd scored twice and teammate Campbell Scott added another score. Boyd's final touchdown run of 16 yards, his fourth touchdown for the contest, gave Jackson Christian a 56-39 bulge with 3:11 left in the game.
"Their offense is a good offense," Gold said of the Eagles. "They have a lot of misdirection and they've got a lot of really good athletes. We gave them the ball too many times."
In a game played on a sultry, humid night, several players, especially in the second half, had to deal with cramping. Gold said that may have played a factor in the outcome.
"I'll take that one on my chin, we've got to be in a little better shape," Gold said. "We started cramping up and it's really humid, so we've got to get after it a little more in practice."
Northpoint's Alex Wright caught a 60-yard pass with 2:40 remaining for the final 56-46 score.
"Offensively I felt good with our game plan, and I still do," Gold said.
The Trojans are challenged with three road games before they hit their own home turf. Next week, Northpoint travels to Brighton, Tennessee, and the following Friday must make a trek to Murray County, Kentucky, a 170-mile trip.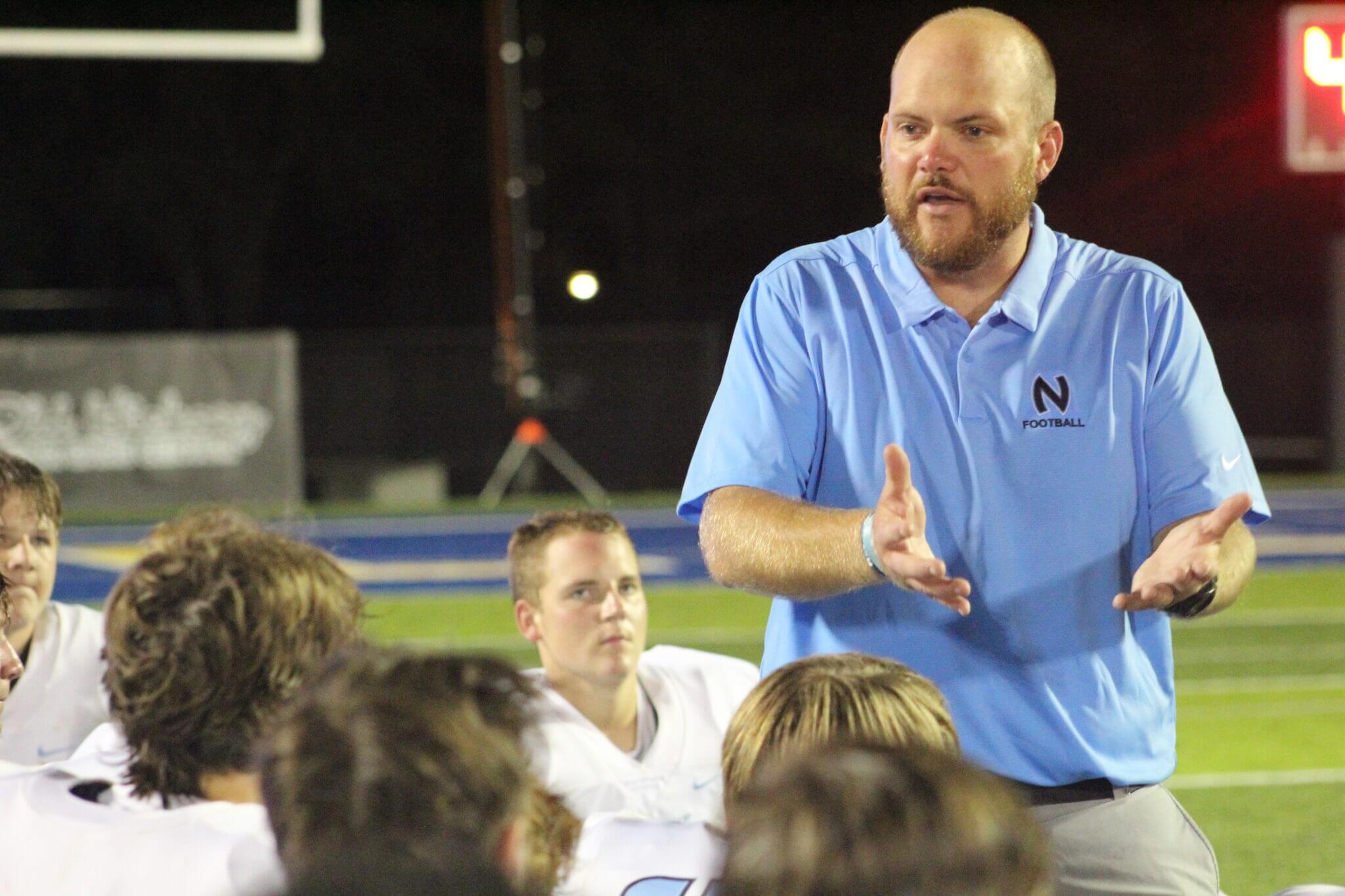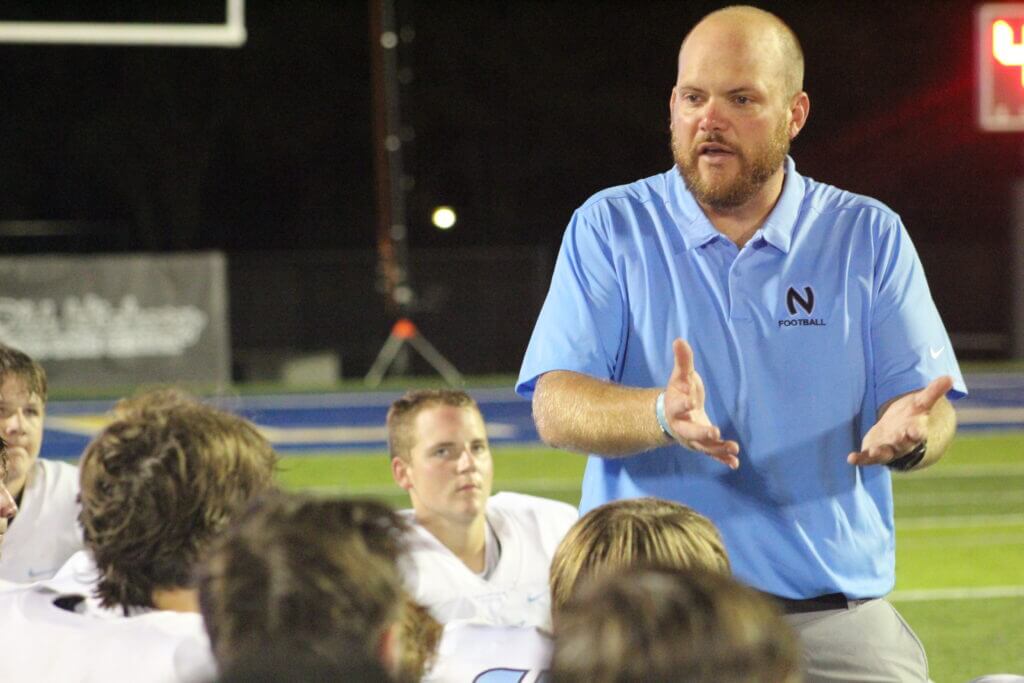 HERNANDO TO PLAY FRIDAY: With the Mississippi State Board of Education's permission and the DeSoto County School District Board of Education's decision to implement hybrid learning on Wednesday, Aug. 25 at Hernando High School, the Hernando Tigers football team will play their season-opening home game against Rosa Fort (Tunica) on Friday, Aug. 27. Had the school still have been in virtual learning, which they have been since Tuesday of this week, Mississippi High School Activities Association rules would not have allowed the Tigers to play and they would have had to forfeit the contest.