Lady Mustangs struggle against St. Agnes
Photo: Jairya Rankins of Center Hill and Natalie Bryant of St. Agnes trip up during Monday night's contest. (Bob Bakken/DeSoto County Sports)
A busy week for the Center Hill Lady Mustangs started Monday night with a tough 61-58 loss at St. Agnes Academy in Memphis. The Lady Mustangs fell to 7-12 for the season as Center Hill starts a week of three non-district games before the postseason tournament starts next week. 
Kayleigh Prentiss led the way for the Lady Mustangs against the Stars with 19 points, followed by Madison Bush with 14 and Dominique Collins scored 10. Skylyn Weisenborn led the Stars with a game-high 21 points and Sara Israel added 12 more.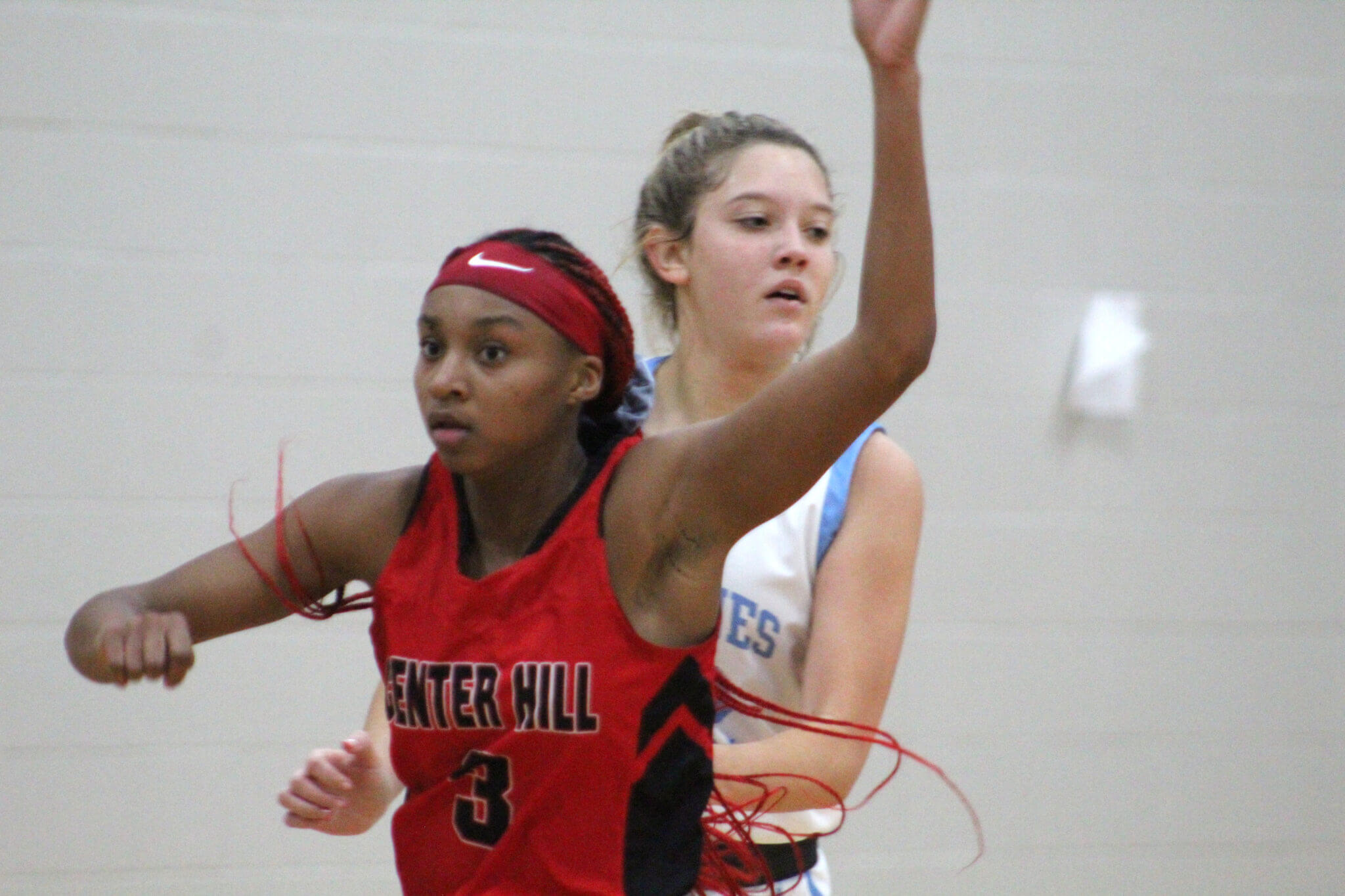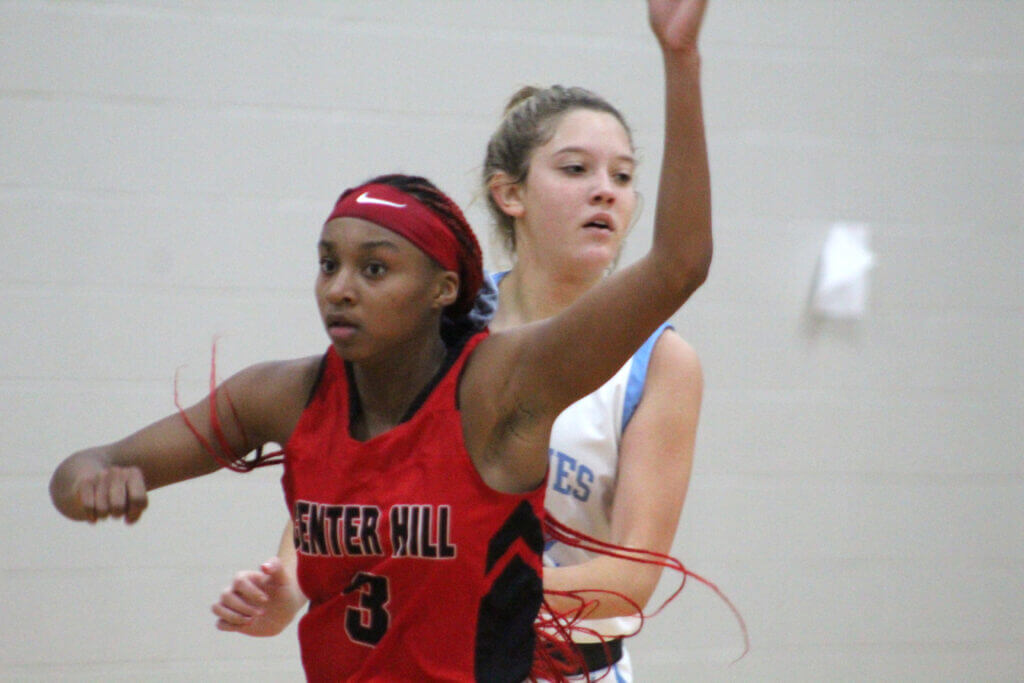 St. Agnes started strong and took a 14-9 lead before Center Hill came back and got within 14-12. The Stars responded to an 18-13 lead at the end of the quarter. Prentiss scored six of her team's 12 points.
The Lady Mustangs kept creeping close in the second quarter but St. Agnes still led 25-21 at halftime, after an eight-minute period where both teams picked up the tempo.
"We started flowing a little bit better (in the second quarter) instead of letting them control us," Center Hill coach Emily Owens said. "I felt like in the second quarter we really got back into our groove of how we normally play, and that's where the speed kind of picked up a little bit."
In the third quarter, Center Hill took the lead twice at 37-35 and 41-39, but St. Agnes answered each time and still held a lead, albeit one point, at 44-43, heading into the final quarter of the play.
Prentiss led Center Hill with 10 points in the third quarter
The 41-39 lead was the last time the Lady Mustangs would have an advantage, but again the Stars fended off the challenges, although Center Hill did tie the game at 46-46, the last time the contest would be level. Madison Bush had six of her 14 points in the fourth quarter, but Prentiss was held to a free throw.
The non-district game continued a series that was supposed to be a home-and-home last year, but the game on the Stars' court was canceled after one game due to COVID-19 cases.
"I think mentality-wise we let a lot of things affect our thought process that we don't usually let affect us, like fans, officiating, things like that," Owens said. "Our free throw shooting was terrible, which in a three-point game is important."
In the fourth quarter, for instance, Center Hill was 7-of-16 at the line alone.
Tuesday night, Center Hill hosts Briarcrest Christian on The Hill, and wraps up the regular season Friday at Southaven.
THE VITAL STATISTICS
Boys basketball
Northpoint Christian 86, Margolin Hebrew Academy 44
WORTH NOTING: Northpoint Christian scoring leaders against Margolin Hebrew Academy were Christian Gilliland with 26; Dean Patterson with 13; Jacorey Hughes with 12; and Jace Robinson with 10.
Girls basketball
St. Agnes Academy 61, Center Hill 58
Northpoint Christian 70, Margolin Hebrew Academy 15
WORTH NOTING: Center Hill scoring leaders against St. Agnes were Kayleigh Prentiss with 19 points, Madison Bush with 14, and Dominique Collins with 10… Northpoint Christian scoring leaders against Margolin Hebrew Academy were Bethany Wright with 18; Brylee Faith Cherry with 10; and Lillie Milligan with 8.
JUCO Men's basketball
Northwest MIssissippi 52, Itawamba 49
Freshman Isaiah Gaines won the game for Northwest on this last-second heave from beyond half court. Adam Gore of Itawamba Community College had the call.
JUCO Women's basketball
Northwest Mississippi 70, Itawamba 61
WORTH NOTING: Tierra Trotter led Northwest against Itawamba with 17 points. Maura Nunley and I'Yana Ragin each scored 13.