Hard work pays off for state swimming champ Potts
When Tucker Potts was standing on the top of the championship podium after winning the 200 yard individual medley at the Mississippi High School Activities Association Class II state swimming meet last Saturday, Oct. 24, there may have been some comfort knowing he had been there before.
The newly-crowned state champion had indeed been there, but as a state champ in another race just 12 months previous to last Saturday.
"It was kind of confusing because I didn't think I would win that one, because last year A.P. (Ander Pearce McDade of Tupelo) beat me, but I've been working hard on my strokes and practicing each one, so that I could be faster in that race," Potts said. "Close to the end of the race and I was ahead of everyone, I was swimming and smiling, I was so excited."
Last year, Potts finished just under two seconds behind McDade in the 200 IM finals with a time of 1:57.37. This year, Tucker's winning time in the event was a new school record of 1:55.42.
Potts, a senior team captain for the Lewisburg swim team, was second in the 200 IM, as it is called, last year, but had won the 100 yard breaststroke event when the 2019 meet was also held at the Tupelo Aquatic Center. This year was just the opposite: first in the 200 IM and second in the 100 breaststroke race with a finals time of 57.83 seconds.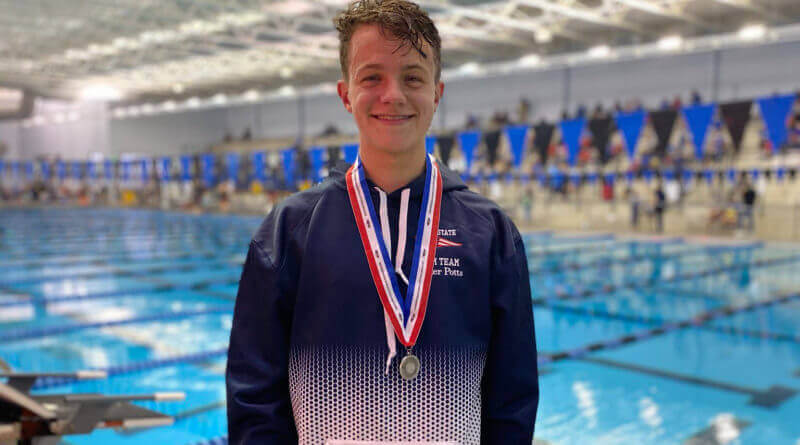 Potts' championship Saturday culminated a six-year journey from first starting to swim to taking home a state title. He began swimming at age 11.
"My mom wanted us to start a sport each and we were getting a pool installed so I needed to learn how to swim," Potts explained. "A swim instructor told her, 'he needs to join a team,' so I went and stuck with it while my sister continued cheerleading."
He became involved in programs, first in Collierville, Tennessee, and then with the Memphis Thunder and most recently with the Memphis Tiger Swim Club, which competes in USA Open club events.
Training for competition means spending almost as much time on the road as it does in the pool.
"He's also with the Memphis Tigers (Swim Club) and their pool is under construction, so for them he's been driving to Millington, Tenn. for practice," said Lewisburg swim coach Jennifer Clay. "That's an hour's drive each way and it's because DeSoto County does not have a facility."
Every meet that county schools compete in are held outside of DeSoto County because there is no competitive facility here, so swimmers must go to Tupelo, Delta State University, Tunica, and elsewhere to compete, adding more miles on the road before yards in the pool.
Potts and others on the Patriots' swim team got their start in the Olive Branch YMCA program, but he and captains Ben Armstrong (boys) and Amelia Anderson (girls) knew to compete at a high level among Mississippi high schools, competitive club teams would have to be part of the younger swimmers' training.
Clay calls the three captains the reason why Lewisburg continues to challenge the top rung of Class II swimming in Mississippi. The Patriots have finished fourth in the state both this year and last year.
"I think we're doing really good for what we have," said Potts. "We're really small but we have people who come and really work hard. We all get along and work together well."
"All of our swimmers pretty much come from the Olive Branch YMCA and it's a great beginner program," Clay added. "But to really excel, you have to move on and go to a club team and be somebody that swims more than three hours a week. Our captains pushed eight of our kids out of the rec program and into a competitive program. Every single one of those kids who went to a competitive program went to the North Half meet this year."
The long, sometimes boring, hours of practice have paid off, with Potts adding that focusing on each stroke in his competitions this past year has helped.
"This year, I wanted to do better in the 200 IM, so I made sure to practice each stroke a little more," he explained. "I knew the backstroke and butterfly were my weak points, so I practiced on those more to even it out."
Potts also gives a lot of credit for the program's success to Clay.
"She has always gone over the top in everything to try and give us the most opportunities possible," Potts said. "She works hard to do everything right to help everyone out. The swimmers have worked really hard and they've learned a lot, so I think they're working hard enough to keep it going."
And Clay returns the compliment by saying her team captain earns all of the accolades he is receiving.
"He puts in the work, he does the time and the work pays off."
(Contact desotocountynews@gmail.com)