Treadway seeks more compensation from the county
Tax Collector says he won't collect taxes from cities, Town of Walls, unless salary adjustments made
The sides are saying they are talking but the DeSoto County Board of Supervisors was hit hard this week by a notice from county Tax Collector Joey Treadway, who said he is owed money.
Late Monday afternoon, Treadway informed the board that he would not be collecting taxes for DeSoto County cities and the Town of Walls unless he was given a major bump in pay. Treadway and County Tax Assessor Jeff Fitch spent a good part of the afternoon board meeting session Monday discussing the situation with supervisors. Both are up for reelection this year but both do not have opposition.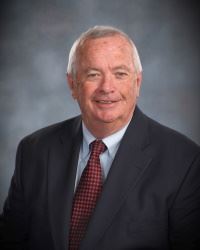 Treadway has been a long-time staple of county government as Tax Collector and continues as an elected county employee, even though he retired over a decade ago. His total compensation is estimated as a little over $100,000 when extra fees he receives for collecting for the cities are included, but now wants to come out of retirement and feels he is owed more.
"He thinks the county owes him money from the last 11 years," said Supervisors Board President Ray Denison Friday night. "He chose 11 years ago to go into retirement and in doing so he set his salary. If he chooses retirement, he can only make 25 percent of his statutory salary, which is around $70,000, and then he gets his PERS, or retirement check every month, plus a cost-of-living check, every year."
What Treadway is asking, Denison felt, seems to him to be "double-dipping."
During Monday's board session, Treadway also proposed the interlocal agreement be increased for him and Tax Assessor Jeff Fitch for their work, if the cities agree to it.
The current amount to both Treadway and Fitch under the interlocal agreement from 13 years ago is about $32,000 each. They also get a fee for collecting and assessing Tanger Outlets in Southaven.
"Long story short, he is asking the county to give him an additional $72,000 a year plus he's asking the cities to up their interlocal agreement," Denison said Friday. "That would increase his salary amount, and he wants to come out of retirement and draw these monies. That would increase his salary amount to about $255,000 a year. We just think that is not justifiable."
Denison feels Treadway believes he is owed the extra fees for the municipality taxes, "but basically, what he wants is to go back and collect those fees that he has missed the last 11 years, " said Denison.
Reached at the County Administration Building Friday, Treadway said he wouldn't provide details past saying that the sides "were negotiating." The written notice from Treadway was received and opened but details couldn't be made available until an open session. The next regular meeting of the Board of Supervisors is Monday, April 3.
Denison said Friday the options are being explored to settle differences in the matter.