School COVID numbers drop, MSDH provides weekend report
COVID-19 new case numbers in DeSoto County Schools have dropped below 100 for the first time in weeks, continuing a drop from nearly 500 in late August.
Monday's report on new cases and quarantines of coronavirus in the DeSoto County School District totaled 98 new cases and 211 new quarantines for the week ending Oct. 1, according to the weekly report from Central Services. That amounts to 0.28 percent of the district's total student enrollment.
New quarantines in DCS schools were 211 last week, or 0.61 percent of the student population.
There were also 19 teachers and staff members district-wide, who had a positive COVID-19 test in the past week.
Of the 98 new cases, 14 were discovered at DeSoto Central High School. There were nine at Pleasant Hill Elementary School and Lake Cormorant High School, and eight new cases at Olive Branch Middle School.
Pleasant Hill Elementary also had the most number of new quarantines in the past week with 41 reported there. There were 39 at DeSoto Central High School and 22 at Lake Cormorant High School.
The figures are a significant drop from the 496 new cases reported for the week ending Aug. 31, a week that had more than 1,400 new quarantines.
The complete weekly report shown below: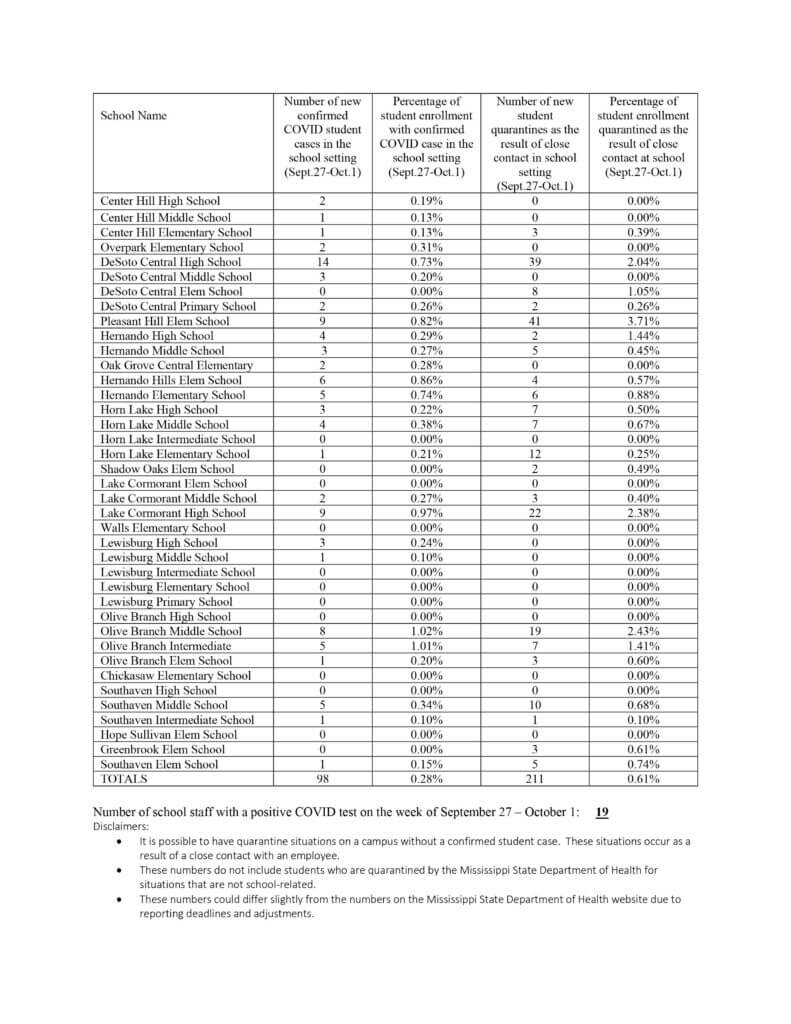 WEEKEND COVID UPDATE: Mississippi State Department of Health officials updated their case and fatal victims numbers for the past weekend on Monday morning.
Eligible people are now able to get booster shots of the Pfizer vaccine at the county health departments statewide. Appointments are required and may be made through the MSDH website.