Olive Branch hosts Honor Our Troops Classic
This week, DeSoto County is focusing on those who have served our country as a member of the armed services. The annual Honor Our Troops Classic is set for Thursday and Friday, centered on the Olive Branch Country Club in Olive Branch.
According to organizer Mike Brown, the Honor Our Troops Classic was started in 2015. Bunzl Distribution USA is a corporate sponsor of the event, which will include dinner on Thursday and a golf tournament on Friday.
Bunzl Distribution USA is also a corporate sponsor of the Walter Reed Society and the company holds golf events in a number of cities to offer support to the society.
In the five previous Honor Our Troops Classics in Olive Branch, about $125,000 has been raised for the Walter Reed Society and other veterans' organizations, Brown said.  The following are the organizations that have benefited from the classic: 
Walter Reed Society
Military Order Purple Heart, Memphis
Military Order Purple Heart, Mississippi
Marine League North Mississippi
VFW of Southaven and Collerville
American Legion Post 1 Memphis
Veterans Home in Oxford
Patriot Guard Mississippi
Marine Corps Junior ROTC, Olive Branch High School
War Horses for Heroes, Olive Branch
Wreathes Across America
Activities will start Thursday evening with a dinner that is free to all veterans and a guest. The veterans will also receive a hat provided by the City of Olive Branch and DeSoto County.
Speakers will include state Sen. David Parker, state Rep. Bill Kinkade, County Supervisor Jesse Medlin, Retired U.S. Navy Jag Officer Kerwin Miller, and state Attorney General Lynn Fitch. The program agenda is found here: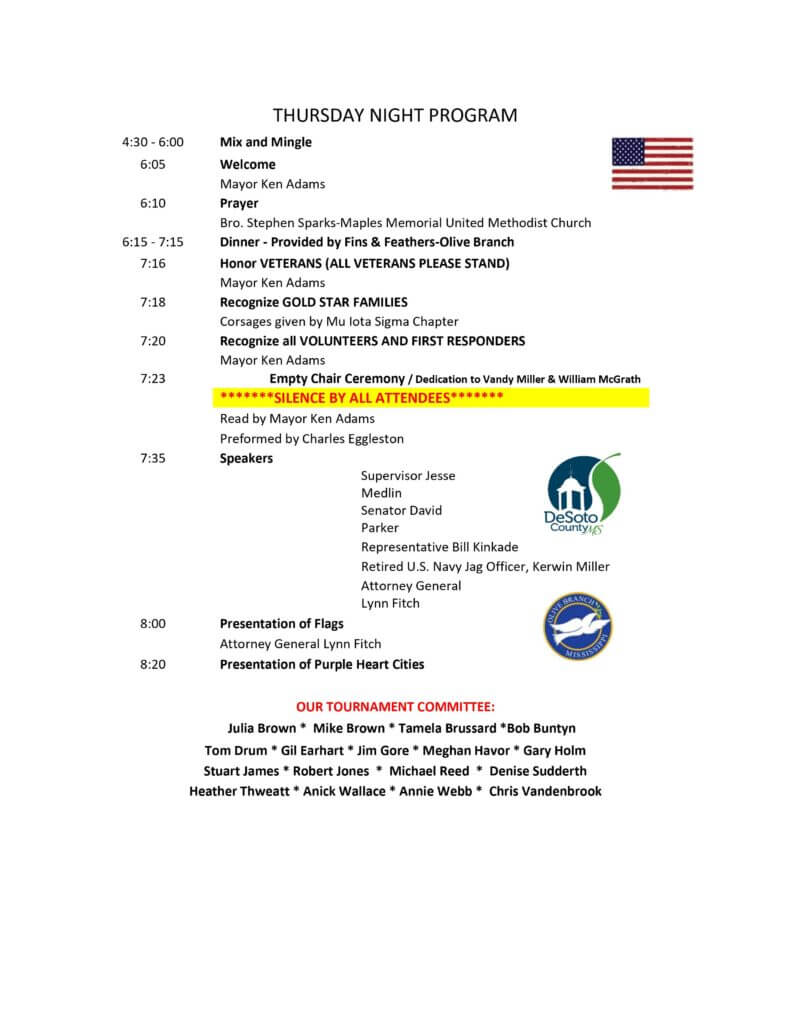 The event continues on Friday with an escort starting at 11:30 a.m. from Rolling Thunder Southaven to the Country Club to honor veterans and Gold Star families.
The golf side of the event will begin and sponsors are being sought so teams of veterans and first responders can play free of charge.
"Honor Our Troops Classic is responsible for the city of Olive Branch being named a Purple Heart City. along with Church Road being named a Purple Heart Roadway and Olive Branch Country Club named a Purple Heart Golf Course, the only one of its type in the state of Mississippi," Brown said. "Every dollar donated will touch a veteran in some way."