Olive Branch aldermen approve residential rezoning
Southaven approves hotel design at Silo Square, medical marijuana discussions continue
Photo: Olive Branch aldermen meeting at the Olive Branch Municipal Court. (Bob Bakken/DeSoto County News)
Olive Branch aldermen Tuesday night approved a zoning request for a residential development named the Highland Lake Residential Community, an area of 20 single family lots. The area is located on the west side of state Highway 305, south of Cedar Creek Drive and north of College Road.
The zoning request moves the land from A-R, or Agricultural-Residential, to R-3, or Planned Residential District. Ron Slade of Orion Planning Design presented the request on behalf of the land owner, Bryant Cashion.
The proposal was met by opposition from neighboring residents, concerned about traffic and the change in the area from a rural rural to more suburban-like appearance.
Alderman Dale Dickerson moved on the request, which was seconded by Alderwoman Pat Hamilton. The request passed on a 5-2 vote.
Aldermen agreed to move forward to seek a Request For Proposal, or RFP, on a plan to replace street lights in Olive Branch to LED lights, which would improve street brightness and could save the city about $100,000 annually.
Forty percent of the street lights have been changed out and the RFP would address the remaining 60 percent. The question is whether it is feasible to work with a time frame offered by Northcentral Electric Cooperative, or work with a sub-contractor to expedite the project.
Speaking of lights, a Master Services Agreement with The Events Benefits LLC was approved that will bring a holiday light extravaganza to City Park over the holidays.
Russell Lehman of The Event Benefits calls it "The Light Garden," which will offer a family-friendly experience that can become a seasonal tradition. He expects it to be a tourism driver to Olive Branch that could also become a commerce generator and a promotional platform for the city and vendor opportunities.
"We see it as a destination location for people to come to and we think it's going to be one of the largest in the Mid-South and it's going to be a gamechanger for Olive Branch," said Mayor Ken Adams.
Adams said visitors will see the "latest and greatest" in LED lights, which he has seen operated with the Memphis Zoo's "Zoo Lights" and the light displays at Shelby Farms.
People will pre-pay for tickets to walk through the area at their own pace and there will be areas for those physically unable to walk to enjoy and a train available for a fee for those to be able to ride through and see the lights, Adams said.
Another of the features will be a community stage that will offer programs, and there's plans for a fireworks show to bring in the New Year on New Year's Eve.
Adams Tuesday also announced Sanitation Supervisor Adam Crabb as the Mayor's Award winner for the month of March. Crabb was nominated for his work in the sanitation department. The award comes with $200 that is donated to the city, so city funds are not used.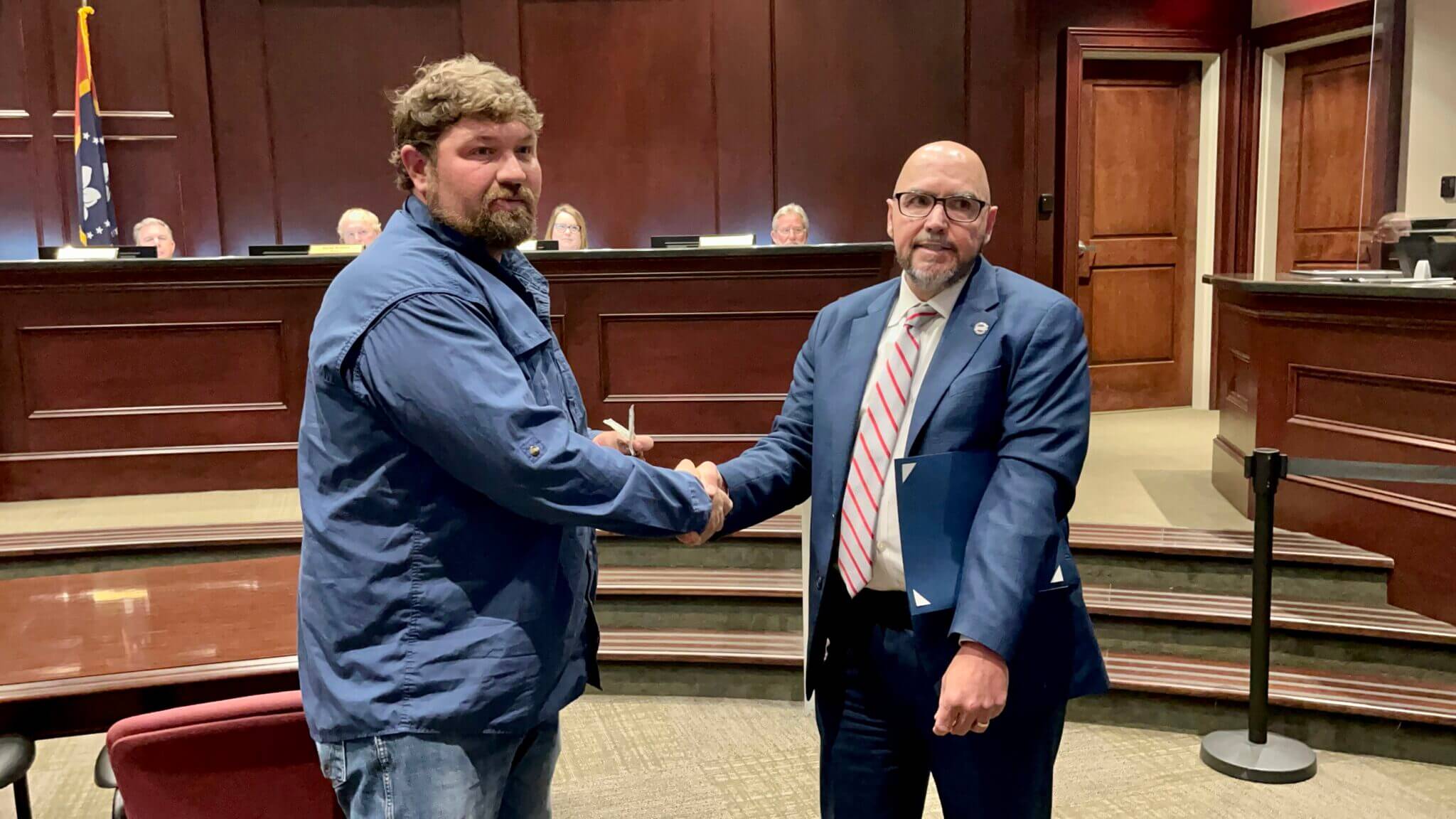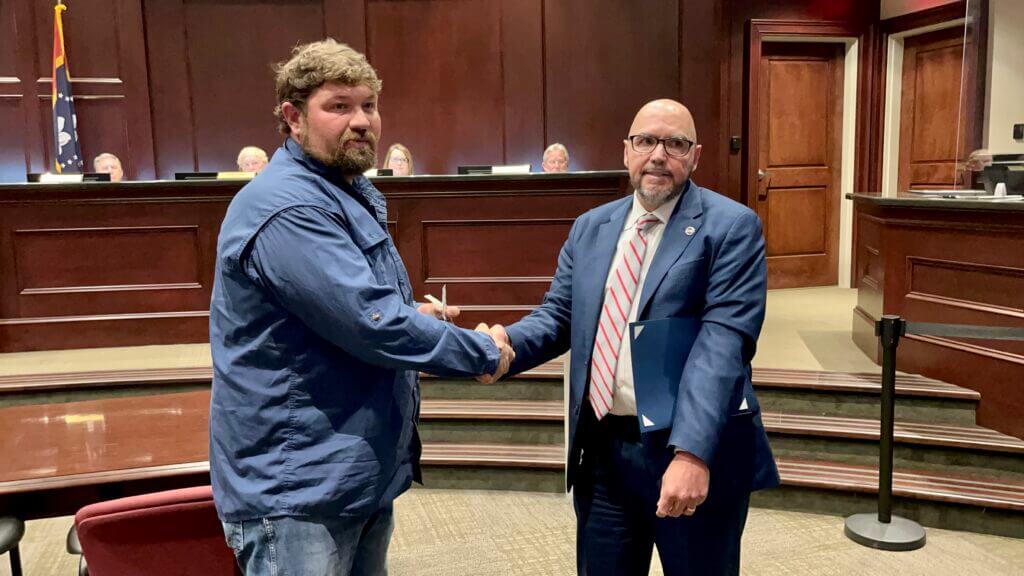 NEW HOTEL PLANNED FOR SILO SQUARE
Southaven aldermen approved plans for a new Fairfield Inn and Suites hotel in the Silo Square area of the city. Hari Hotels LLC of Memphis is planning for the hotel, to be built on the west side of Getwell Road and north of May Blvd. near the Slim Chickens restaurant. Total lot acreage for the three-story hotel will be 2,366 acres for the lodging facility
"In our long range plan for Silo Square, this is key," said Mayor Darren Musselwhite. "We've been recruiting hotels there for awhile. It will be huge and in high demand."
Musselwhite also told aldermen the city can expect about $15 million in additional revenue with the passage of the "Penny for the Parks" repeal extension over the next four years. With that, the mayor said he'd like to move forward and start planning for more neighborhood parks funded with that money.
"I'm going to recommend to this board a huge investment in neighborhood parks," Musselwhite told aldermen. "We've done the things we've had to do to get here, so now is the time to do it."
MEDICAL MARIJUANA DISCUSSIONS CONTINUE
Musselwhite added the board will need to determine at the next meeting if Southaven will "opt out" of the medical marijuana law passed by the legislature. The city has until May 2 to make that determination, but if they choose to "opt out," they can opt back in at any time.
The mayor, while he supports the medical marijuana concept, has had concerns about the city's inability to zone where dispensaries can be located under the current language. He said there continues to be efforts to change the language of the law to make that happen, but Southaven will be ready to opt out if it needs to, at the next meeting.
There was also discussion about the medical marijuana issue with the Hernando Board of Aldermen. It was pointed out there are limitations about where the dispensaries may be located within feet limitations of churches, schools, day care locations, etc.
Hernando's City Attorney was asked to come up with a recommendation about a possible "opt-out" at the next meeting.
Horn Lake aldermen voted to opt out on Tuesday but also formed a committee to work with lawmakers and others about the issue.
They don't have much time remaining, though, if they choose to opt out. The medical marijunana legislation has a May 2 deadline to do that, or else they will automatically be opted in. Cities that opt out can opt back in at any time, but once they are in and cannot reverse field at opt out of the law.