New school COVID-19 numbers negligible
County's risk level falls to "high" level
This week's report on COVID-19 cases and quarantines from the DeSoto County School District (DCS) in the past week are the lowest they have been in months.
According to the DCS weekly update, only 11 new cases of coronavirus appeared in district schools, down from 20 the previous week. The number of new quarantines among school students equaled just five. All five quarantines were at Olive Branch Middle School.
Of the 11 new cases reported, three were found at DeSoto Central High School, follow by single cases at eight other schools. Only three school staff members came in last week with a positive test for COVID-19.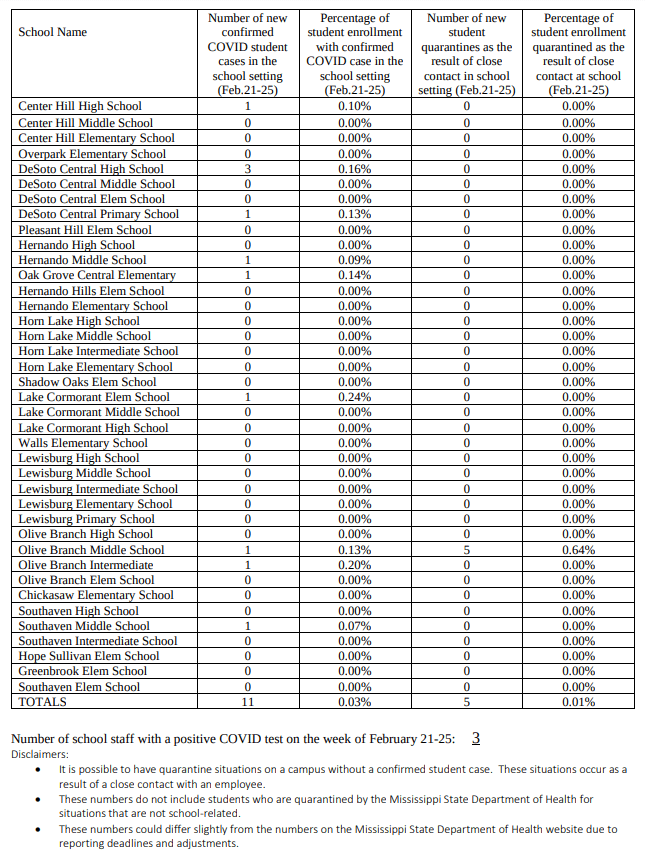 The case and death numbers from the past weekend also were reported Monday morning by the Mississippi State Department of Health. Of the 31 new death reports, one came from DeSoto County during the time period of Dec. 31-Feb. 20.
According to COVID Act Now, DeSoto County's risk level for COVID-19 has fallen to a "High" level, from a "Very High" risk level for the virus. The determination is due to the county infection rate per 100,000 population now at .44 and daily cases per 100,000 population of 17.2, still the third highest among Mississippi counties. A total of 63.8 percent of DeSoto County's population has received one dose of COVID-19 vaccine.