Ice Storm Warning issued in county
The National Weather Service in Memphis has issued an Ice Storm Warning for parts of the Mid-South, including DeSoto County, that is now in effect until 12 noon on Thursday.
Current forecasts have the expectation of between one-tenth to three-tenths of an inch of ice accumulating, which could result in power outages and tree damage occurring.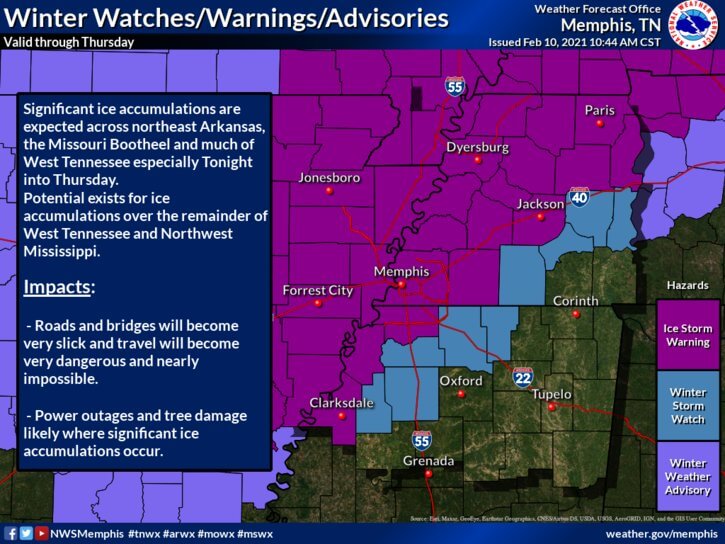 Travel is extremely discouraged. Travelers who must be out on the roads are urged to keep a travel kit with them that includes a flashlight, food and water in case of an emergency.
DeSoto County News recommends you keep informed with the latest developments. We suggest you follow Meteorologist Sam Rikard, the Weather Mayor, from Olive Branch for the DeSoto County perspective on all things weather. He is found on Facebook, and on Twitter @WeatherMayor. Olive Branch residents also get his forecasts and information daily on the OBTV19 public access channel.
Also closely updating the weather situation is meteorologist Wendy Nations of WREG-TV, who may be found on Facebook at Wendy Howell-Nations WREG Weather and on Twitter at @wendynationswx.
We are closely following their reports and passing on pertinent information, along with that provided from the National Weather Service and the DeSoto County Emergency Services.
Head to our website, www.desotocountynews.com, or our social media channels, to stay up-to-date. Follow DeSoto County News-MS on Facebook and @desoto_news on Twitter to stay informed.
Mississippi Department of Transportation (MDOT) crews are preparing for potential winter weather conditions as a cold front moves through Mississippi.
"With a winter event, MDOT bases its response from information issued by the National Weather Service (NWS)," Melinda McGrath, P.E., MDOT executive director. "Crews in areas that could potentially be affected by winter weather will be monitoring local forecasts and riding the highways treating problem areas."
MDOT crews have prepared equipment by installing salt spreaders on trucks and making sure all response vehicles are fueled and running properly. Crews have stocked salt, sand and asphalt slag piles. Overnight, crews will be riding the highways to treat problem areas as they are found.
"Initially, we treat the roadway with salt as temperatures drop and icy conditions occur," McGrath said. "Depending on the temperature drop and precipitation mix, we also combine the salt with slag for increased traction."
A second round of winter weather is currently forecast for Sunday and Monday. Crews will be working over the holiday weekend in preparation.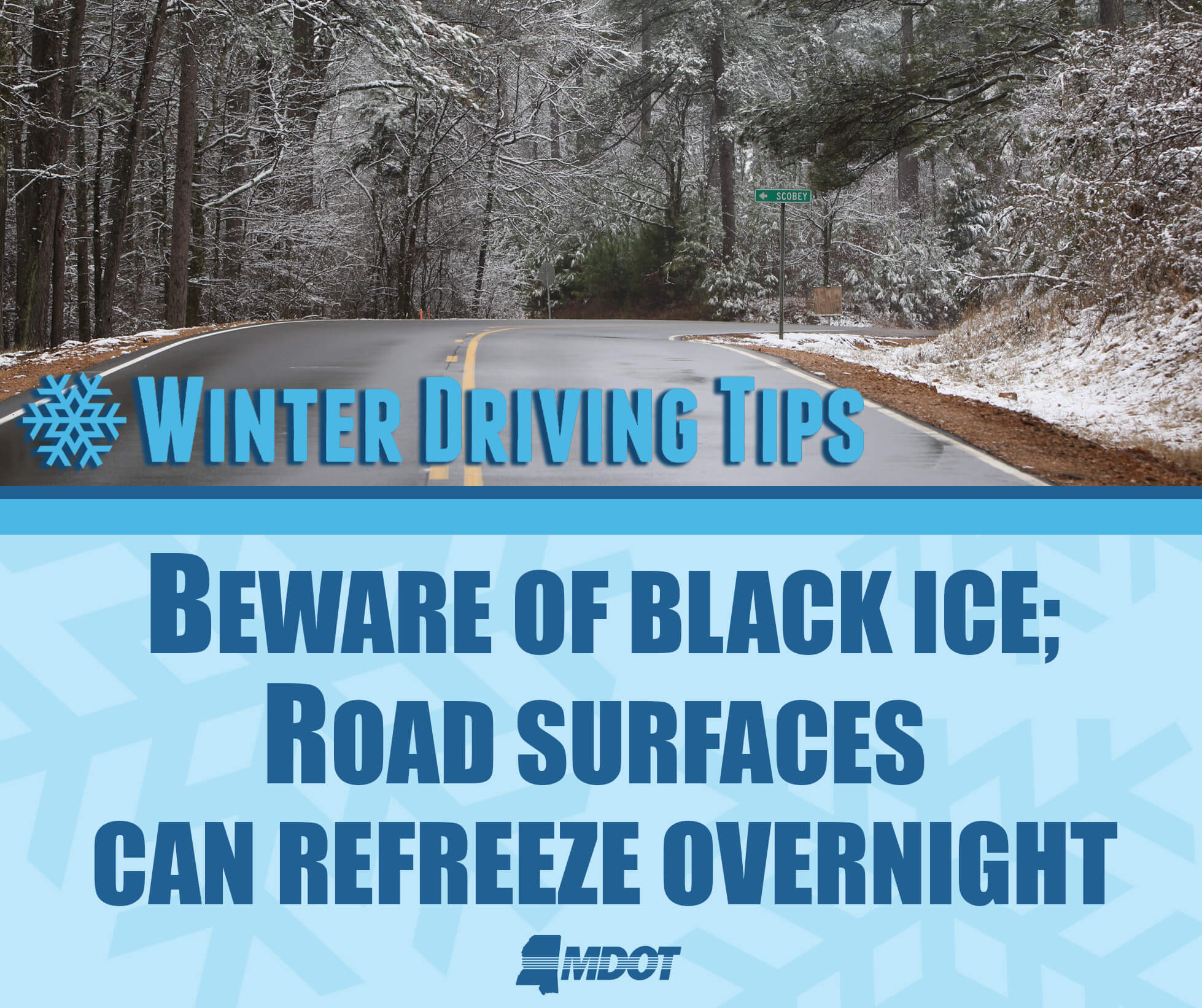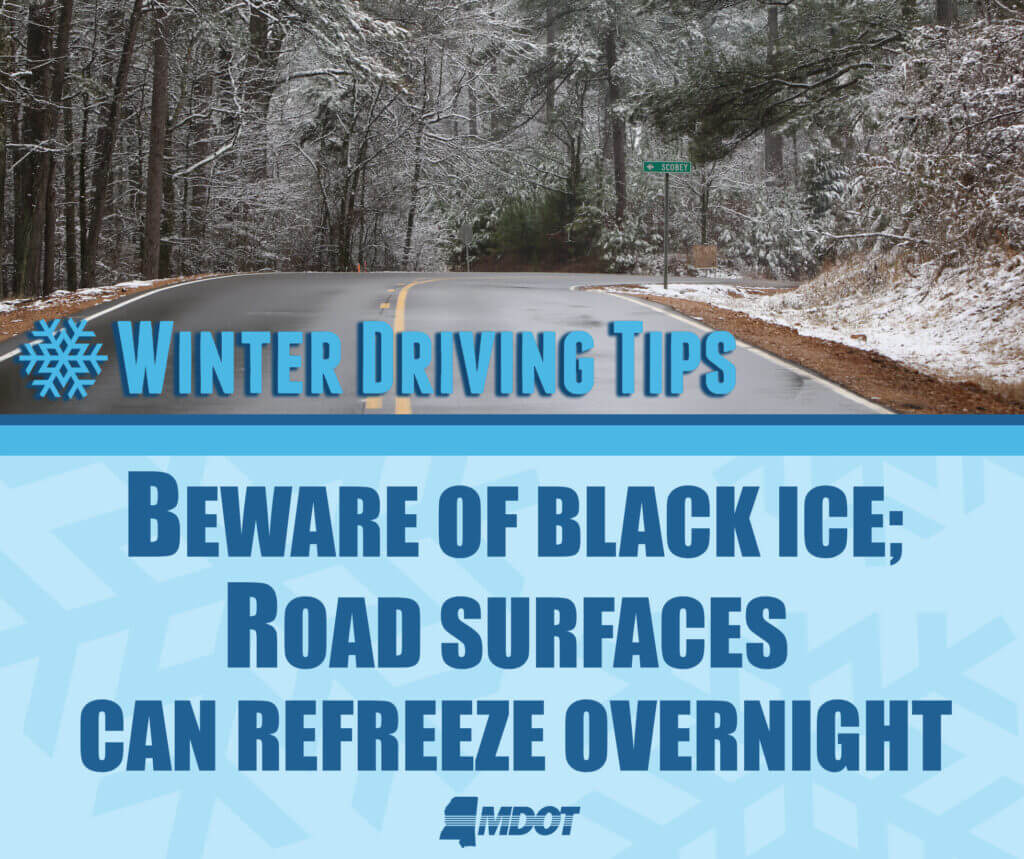 To assist the traveling public in preparing for potential winter weather conditions, MDOT offers these safe driving tips.
· Remember, ice will form on bridges and overpasses quicker than the road.
· Slow down; should winter weather conditions become present, black ice can form.
· Allow more space between the vehicles around you.
· Brake early and gently to avoid skidding, and never slam on the brakes.
· Avoid distractions, such as talking or texting on a cell phone.
· Stay alert.
"MDOT will be monitoring the weather so the appropriate response efforts can be activated," McGrath said. "The best thing you can do to stay safe is pay attention to local weather forecasts and advisories, and alerts from the Mississippi Highway Patrol and local law enforcement. Everyone should stay off the roads if they become unsafe for travel due to winter weather conditions."
For more information and tips on how to prepare for winter weather conditions, visit GoMDOT.com/winter.
For real-time road conditions on Mississippi's highways and bridges, visit MDOTtraffic.com and follow @MississippiDOT on Facebook and Twitter.
UPDATE: Schools in DeSoto County Thursday evening announced their decision to close classes Thursday. DeSoto County Schools issued the following announcement about 8:20 p.m.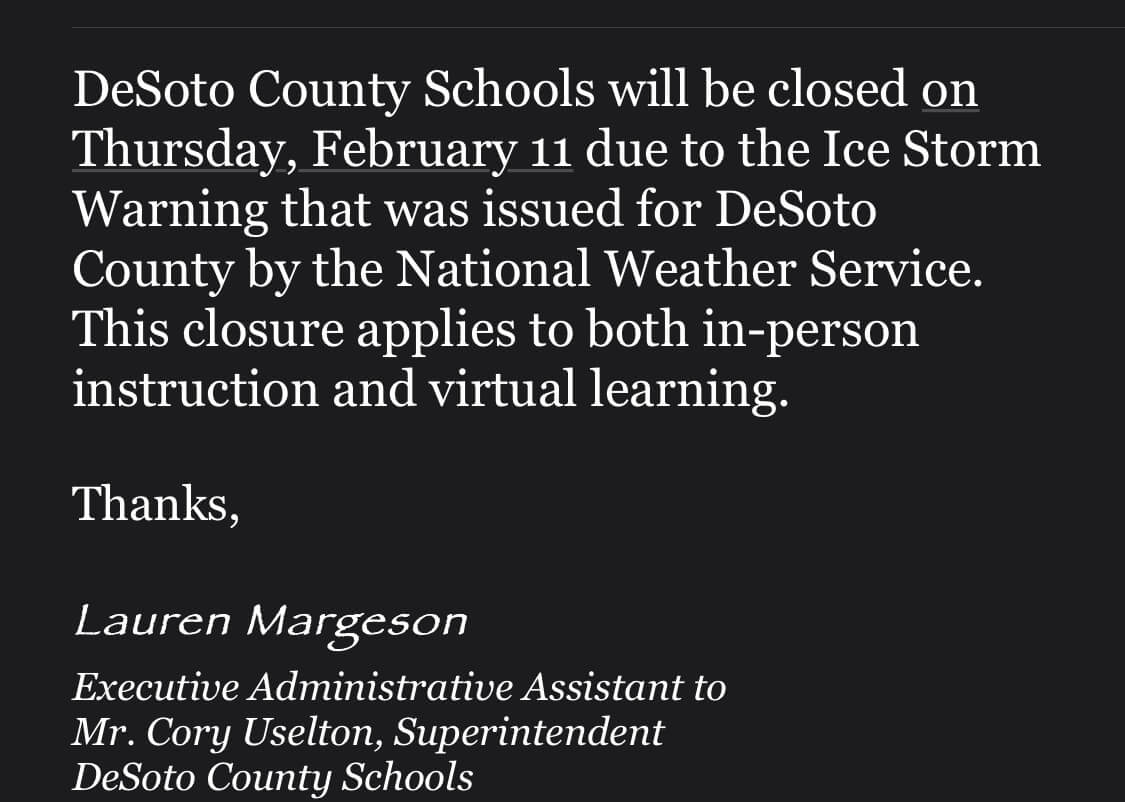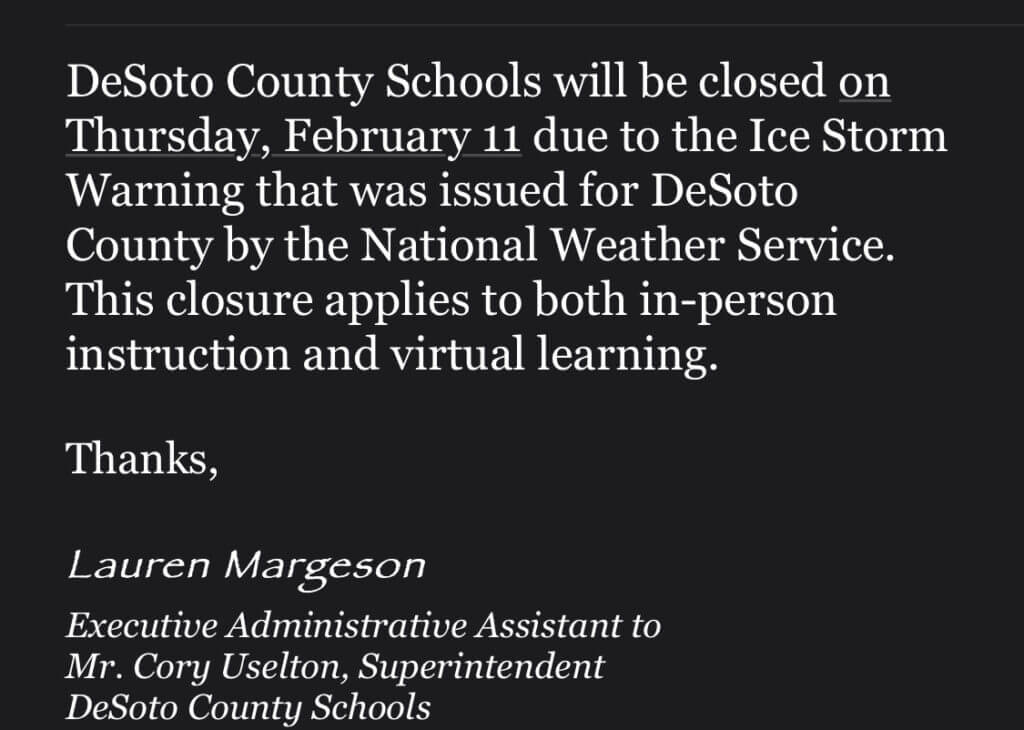 Northpoint Christian School followed about a half-hour later with this announcement.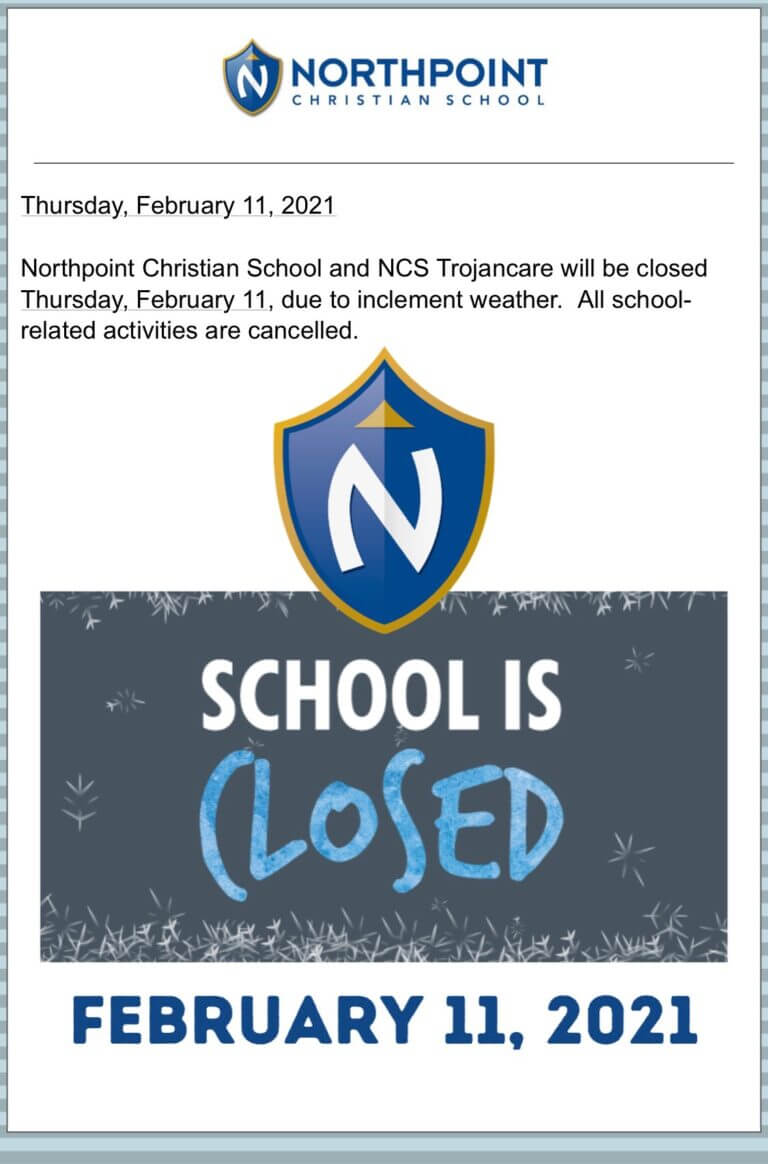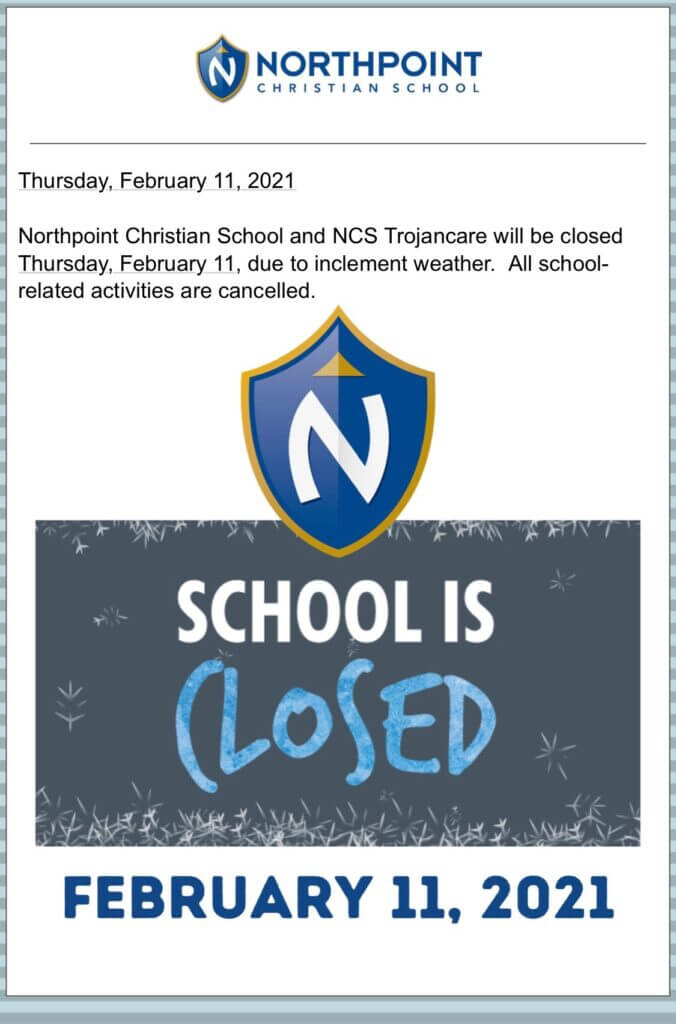 Sacred Heart School in Southaven announced on its Facebook page that all students there will participate in virtual learning from home on Thursday.
Olive Branch city administration and police department headquarters are closed today. Municipal Court is also not in session today. If you were scheduled to be in court today, please call the court offices at 662-892-9500, next week, for more information regarding your new court date.
Southaven City Hall and other non-emergency public facilities in Southaven are closed Thursday. This does not affect public safety and emergency services.
All City of Horn Lake non-public safety, non-emergency operations are closed Thursday.
Hernando city offices will open delayed opening until 9 a.m. Thursday. County administration offices in Hernando also delayed opening until 9 a.m.
Some customers of Northcentral Power Cooperative spent part of Thursday without power, most of whom were in Marshall County and in eastern DeSoto County.
Reports began to come in about 5:45 a.m. and by 7 a.m. there were more than 500 customers without power. That number grew to about 1,2000 without power in 33 outage cases.
"Most of the outages were scattered and caused by falling or sagging limbs," said Northcentral spokesman Michael Bellipanni. "But we did have a line torn down on Cayce Road in Marshall County. Our last outage affecting 64 members off Polk Lane in Olive Branch was restored at 5:38 p.m."