Hernando paramedics get new pay scale
The Hernando Board of Aldermen is moving forward with a request from Fire Chief Marshel Berry to increase the paramedic pay scale to a level Berry said would make it the highest in DeSoto County.  
The action comes as Mayor Chip Johnson Tuesday evening explained the reason for the discussion.
"We've been having really bad trouble retaining paramedics due to them leaving for more pay," Johnson said.
Berry explained to the board that given the current pay scale that was offered, he's not been able to attract applicants, and the ones that do get hired don't stay very long.  
"We've had three slots approved for paramedics this year and we have not gotten an application in yet," Berry said. "The problem we're having is we're hiring people and they stay here just long enough until another department opens up and they go to that department."
That means it is difficult to run ambulances and answer calls with a lack of manpower. Berry said he needs six paramedics on a daily basis to keep the ambulances running. Last year, six left the Hernando department, three have already left this year, Berry said.  
What the board approved Tuesday has since been posted on social media as the city starts promoting what is now being offered.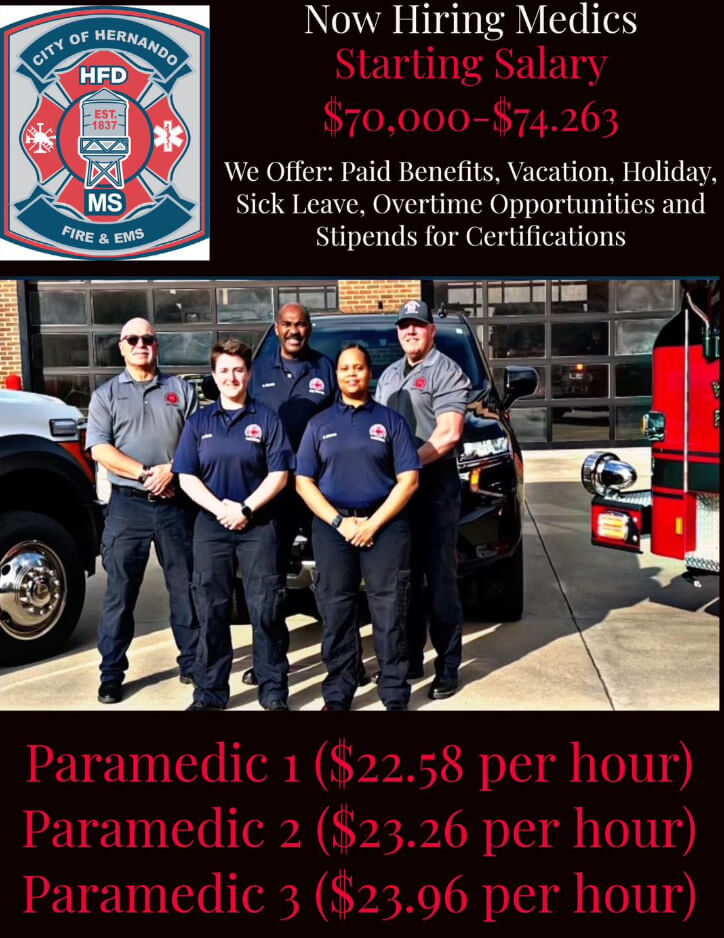 The pay scale is designed to attract people straight out of school and those who have 5-10 years of experience. 
Berry said the city is currently not getting anyone straight out of school.
"Other cities are hiring them while they are in paramedic school to pay for their school, so they're already working for them before they become a paramedic," Berry said. "They sign a two-year contract, so they are stuck with them for two years, at least."
The vote Tuesday did not come unanimously, however, as Alderman Andrew Miller questioned if the city could afford the increases. 
"We want to be the top pay but we're not the top in revenue," Miller said. "We had to cut things this year because we did not have adequate revenue. You're asking for an 18 percent increase this year and in two-and-a-half years that position has had a 42 percent increase."
But Alderwoman Beth Rone Ross said saving lives is too important a matter.
"I'm a numbers person and I look as if we can afford this," said Ross. "Services and salaries have increased and I know we have to stay competitive but it's a double-edged sword. We can't lose somebody like we almost did because we're not focusing hard on doing the best we can do to get the best people we can get."
Berry said the Hernando pay scale before Tuesday's vote amounted to $19.14 an hour.
"Other cities are paying anywhere from $19.90 an hour in Horn Lake with longevity added to their pay," the Chief said. "Southaven pays up to $22 (an hour) and Olive Branch $22.10 (an hour.) We pay $56,000 a year."
The motion for the new pay scale was approved on a 6-1 vote with Miller voting against it.