DeSoto County remembers on Memorial Day
DeSoto County took a pause among the picnics, boating, swimming, and family gatherings this Memorial Day to remember the reason for the day, to honor those who died to defend our freedoms as a member of the Armed Forces.
One of the traditional Memorial Day gatherings in DeSoto County each year is held at Olive Branch's Blocker Cemetery, where the Olive Branch Knights of Columbus again held the ceremony after a one-year hiatus due to the coronavirus pandemic.
Featured speaker M.J. Higgins spoke about the gravestones and burial sites of the fallen soldiers and urged everyone to remember their earthly price for our freedom.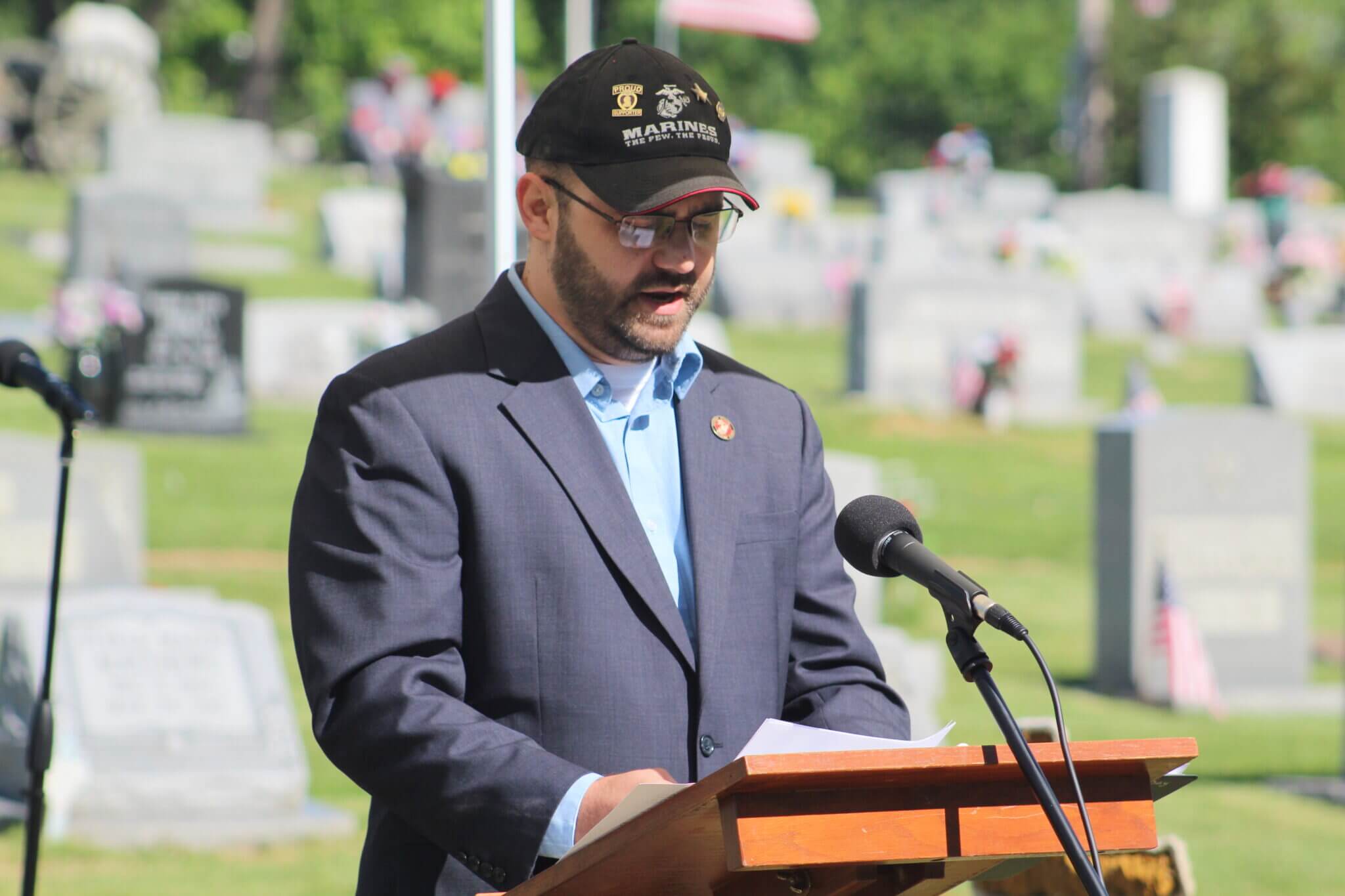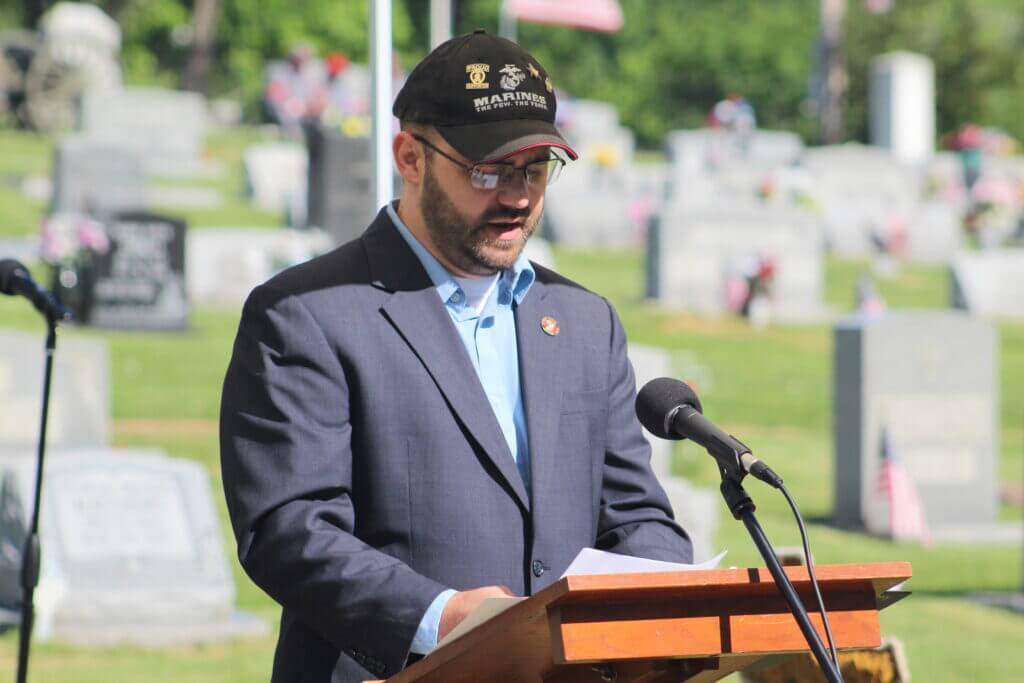 "The markers behind me are not merely placeholders," Higgins said. "They're a constant reminder of my brothers and sisters, my siblings, the ones that gave the ultimate sacrifice for all of us here today. We remember those who went before us."
Higgins also described the symbolism of the empty table set for those prisoners of war and missing in action from all wars, a table setting that stood in front of him as he spoke.
"They are not with us today, their chair is empty," Higgins said. "But, it is saved for their hoped return. Let us remember their absence."
Following Higgins' remarks was the playing of "Amazing Grace" with the bagpipes of the Phoenix Pipe Band of Memphis, followed by an honor guard and the playing of "Taps" by April Palladino and Diana Bailey.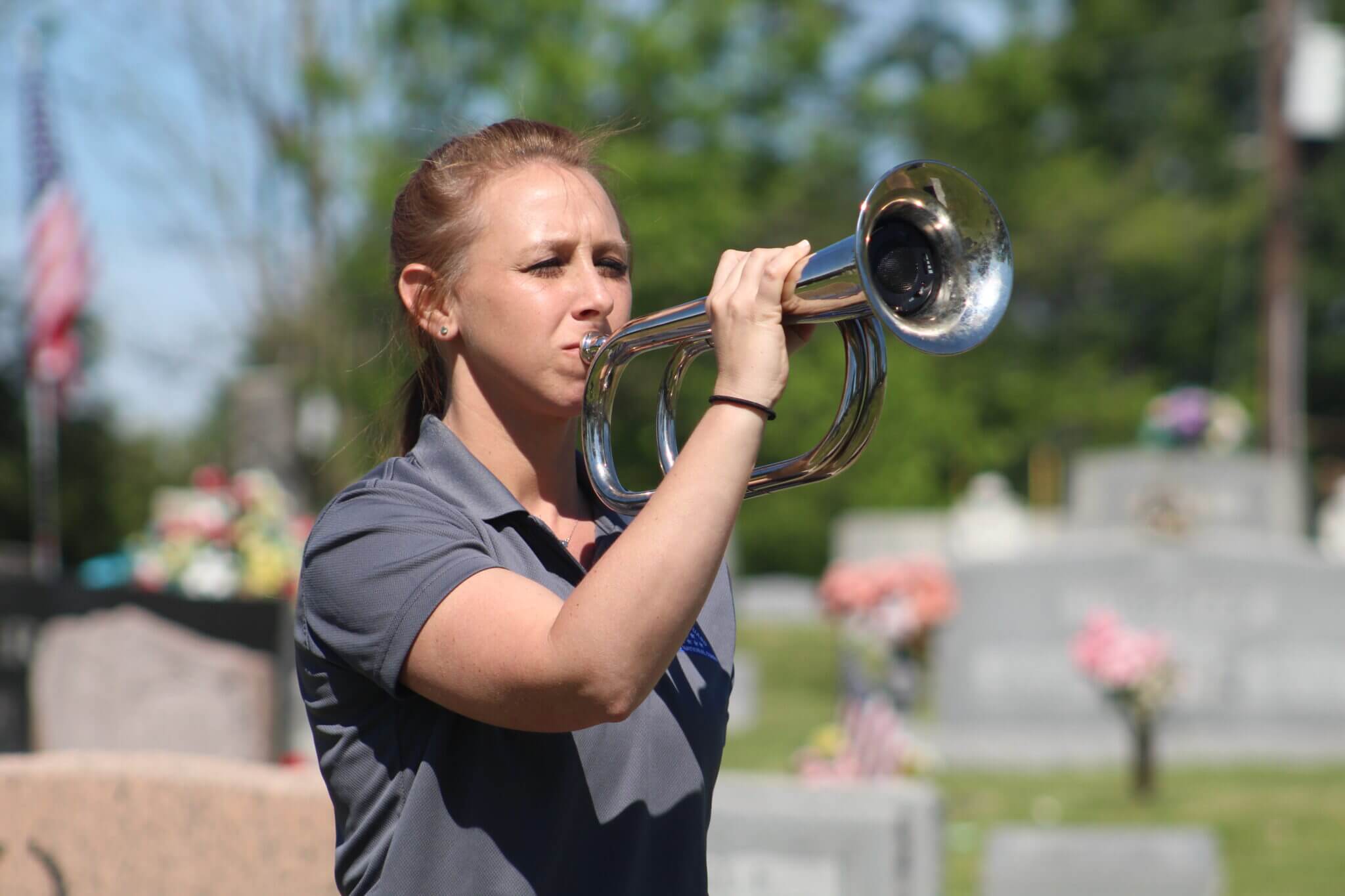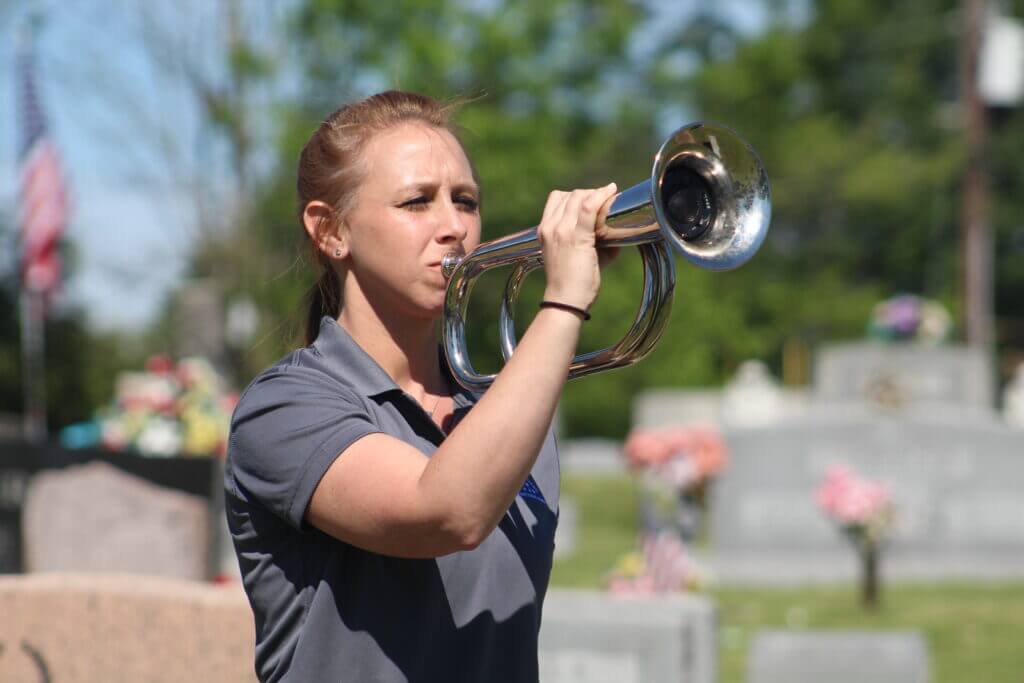 Others who participated in Monday's ceremony at Blocker Cemetery were a helicopter flyover by the DeSoto County Sheriff's Department, and the presentation of colors by the Knights of Columbus, Olive Branch Marine Corps JROTC, and the Sons of the American Revolution.
Boy Scouts and Cub Scouts led the Pledge of Allegiance, Don Scholand sang the National Anthem, and Deacon Hank Babin gave the invocation.
David Symanski spoke on the 60 names of servicemen affixed to the flags dotting the cemetery and he and Brenda Loftin read their names.
Glenn Bryant spoke of the significance of the poppy as a symbol for Memorial Day, how the poppy survived and bloomed in the battlefields during World War I and was made popular as a symbol after a poem written by Canadian military surgeon Lt. Col. John Mcrae.
Katherine Lander sang "Hallelujah Soldiers Song," prior to Higgins' comments.
The most moving part of the morning was the reading of all of the Olive Branch veterans interred at Blocker and Payne cemeteries.
More photos from the morning at Blocker Cemetery in Olive Branch are found on the DeSoto County News Facebook page.
Olive Branch was not the only location for a Memorial Day ceremony in DeSoto County, as Goodrum Cemetery in Eudora also held its annual program. The Goodrum event remembers 93 veterans who are buried at that location and lasted about an hour.
Melissa Kamler Burnett posted these photos from the Goodrum Cemetery program to the DeSoto County News Facebook page.