DCS reduces Friday schedule to help planning
DeSoto County Schools (DCS) officials Thursday announced that school schedules will be cut back on Fridays to allow teachers more time to plan for the following week ahead.
"In order to give teachers additional time to plan instruction during these challenging times, every Friday during the fall semester (beginning on Sept. 25th) will be a 70 percent school day for students," DCS Supt. Cory Uselton said in announcing the move. "Teachers have more responsibilities than ever before, and the need for additional planning time is magnified during this unprecedented school year."
Under the plan, school days on each campus will start at their normal time on Fridays for the rest of the fall semester. However, the school day will end two hours and 15 minutes ahead of the normal time.
While students will leave early on Friday, teachers, teacher assistants and other school employees will still be at their schools until the end of their normal work day.
For those wondering about how this will affect the district's ability to meet their state requirements, Uselton points out that the 70 percent plan meets the Mississippi Department of Education instructional requirements.
Lunch will be served on 70 percent Fridays. Principals of each school will take care of the bell schedule for their particular attendance center. Children of teachers will be allowed to be in their parent's room if need be during the planning period.
The new schedule will be in effect until at least Dec. 18, allowing for the possibility of extending it if needed after the Christmas vacation break.
Thursday's announcement came as the district's Board of Education was meeting Thursday morning at Central Services in Hernando.
Board members approved an amendment to expand plans for additional classrooms from four to eight new rooms at Lewisburg High School and a revised board policy was passed regarding how surplus school property will be disposed of.
The Olive Branch High School girls' basketball team was congratulated for winning the MHSAA 6A state championship last March, just before the coronavirus pandemic struck. The Lady Quistors defeated Clinton 75-51 at The Pavilion at Ole Miss in Oxford. It was the second straight title for Olive Branch after winning the 5A title the previous year.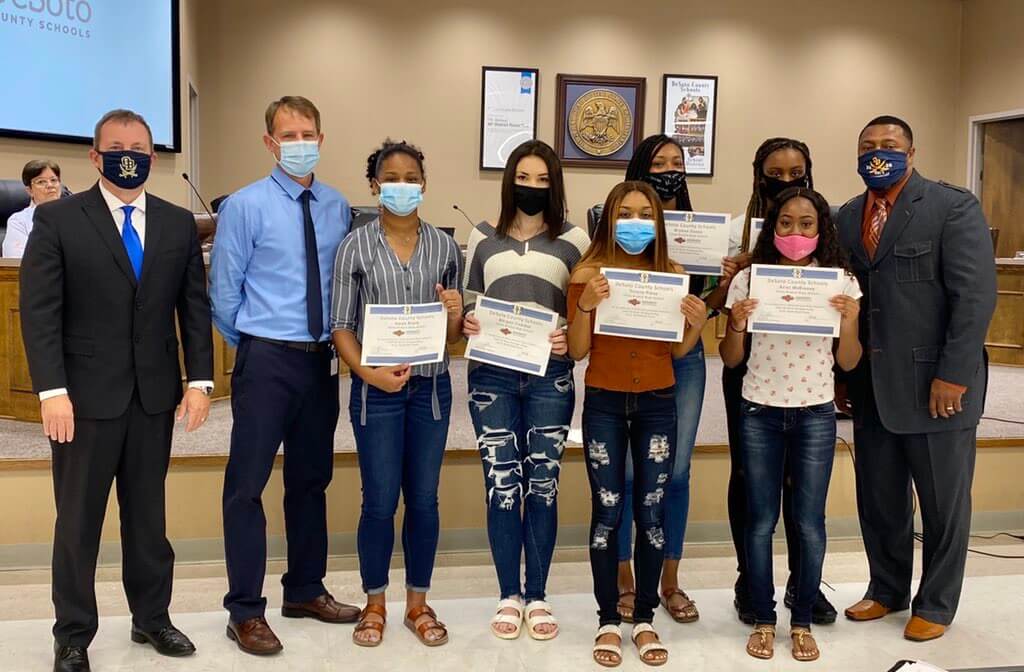 The school board also recognized Hernando Middle School parent Kim Starnes as the 2020 District Parent of the Year and retired Southaven Police Sgt. Donna Holloway for her years of work with Hope Sullivan and Southaven Elementary Schools at the School Resource Officer. She retired back in February from school service and from the police department.