Study ranks Mississippi legislators on votes to limit government 
A report from a group promoting more limited government ranks two departing state legislators from DeSoto County as among the best at voting with the conservative position on policy.
The report is a scorecard from the Institute for Legislative Analysis, which describes itself as the data and policy hub for national conservative and liberty-minded organizations. It is a new organization, established earlier this year, but previous to that, was connected with CPAC and the American Conservative Union where they constructed the nation's first 50 state legislative scorecard.
In the report, touted as the most expansive legislative scorecard ever, legislators were ranked from best to worst on votes for limited government.
The scorecard ranked departing state Rep. Steve Hopkins (R-Southaven) best among Mississippi legislators, voting for limited government in 96.43 percent of the votes he made in the Legislature. Second was state Rep. Chris Brown, who is about to become Northern District Public Service Commissioner, who voted with limited government 96.23 percent of the time.
Tied for third was departing state Rep. Dana Criswell (R-Olive Branch) at 90.43 percent and at number six was state Rep. Dan Eubanks (R-Walls), who is unopposed for reelection, at 78.16 percent.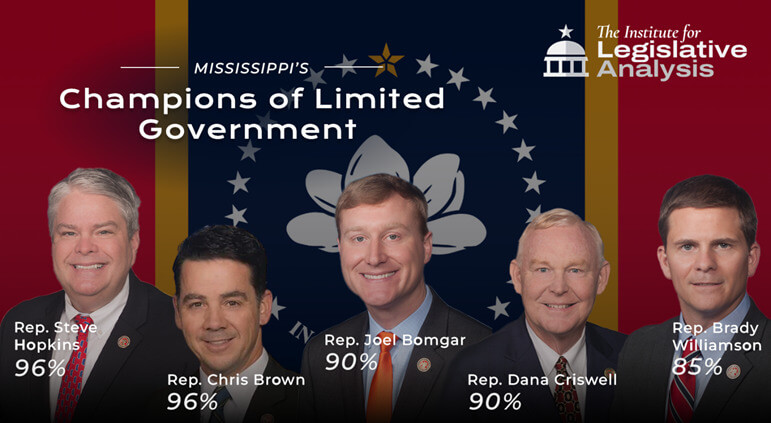 According to the ILA scorecard, the vast majority of state lawmakers failed to uphold the limited government principles of the U.S. Constitution in their voting. Ninety-one out of 112 Republican lawmakers received ratings below 50 percent meaning they voted more often with the liberal position on policy than they did with the conservative position.
The report covers every key policy area of interest to voters including tax and fiscal, energy and environment, local and national security, and multiple other issue areas.
The ILA ranking has every other DeSoto County legislator under 50 percent, with state Sen. Michael McLendon (R-Hernando) ranked highest of that group at 48.10 percent.
Among other legislators are state Sen. Kevin Blackwell (R-Southaven- 47.50 percent), state Rep. Jeff Hale (R-Nesbit – 46.15 percent), state Sen. David Parker (R-Olive Branch – 45.68 percent), state Rep. Bill Kinkade (R-Byhalia – 44.68 percent), state Rep. Jerry Darnell (R-Hernando – 41.49 percent), and state Rep. Hester Jackson-McCray (D-Horn Lake – 21.84 percent).
The complete scoreboard report is found on the Institute for Legislative Analysis website.