Weekend sports: Americans sweep Tampa Bay in weekend series
Photo: Samuel Castro (14) of the Memphis Americans and a Tampa Bay Striker battle for a loose ball during a contest Sunday, March 26 at the Landers Center in Southaven. (Bob Bakken/desotocountynews.com)
The Memphis Americans swept the Tampa Bay Strikers in a highly-contested National Indoor Soccer League series at the Landers Center over the weekend.
The Memphis men beat the Strikers 11-4 on Saturday, March 25 and 9-5 on Sunday, March 26. The women posted victories of 4-1 on Saturday and 4-2 on Sunday.
For the men, in Saturday's win, Djordje Djordjevic scored a three-goal hat trick and Jan Bergk and Max Galizzi each scored a pair of goals. Piotr Sliwa made eight saves on 12 Tampa Bay shot attempts.
On Sunday, it was Paulo Ndenzako with the three-goal hat trick and he added two assists for the Americans. Goalkeeper Matthew Klinck made five saves on eight shot attempts.
On the women's side, Saturday's game featured two goals from Lauren Odino-Draughon and a goal plus an assist for Molly Martin. Angel Hailey stopped 14 Striker shots on goal.
Sunday, Cheyenne Smith joined Martin to lead the offense with a goal plus an assist for each player. Hailey made seven saves for Memphis in her second-straight goalkeeping victory of the weekend.
Saturday's game for the men was especially rough and physical, and the physicality continued into the locker room hallway after the contest.
As a result of the post-game fracus, player/head coach Corey Adamson and Strikers' assistant coach Santiago Gramatica were both suspended for Sunday's game by the National Indoor Soccer League:
After Sunday's play, the Memphis men (5-2-0) remain in second place in the league standings behind Central Florida (9-0-0). The women Americans (6-1-0) are in first place in the league with Central Florida (6-3-0) in second place.
Memphis and Tampa Bay meet again two more times during the regular season, on April 6-7, both times in Tampa.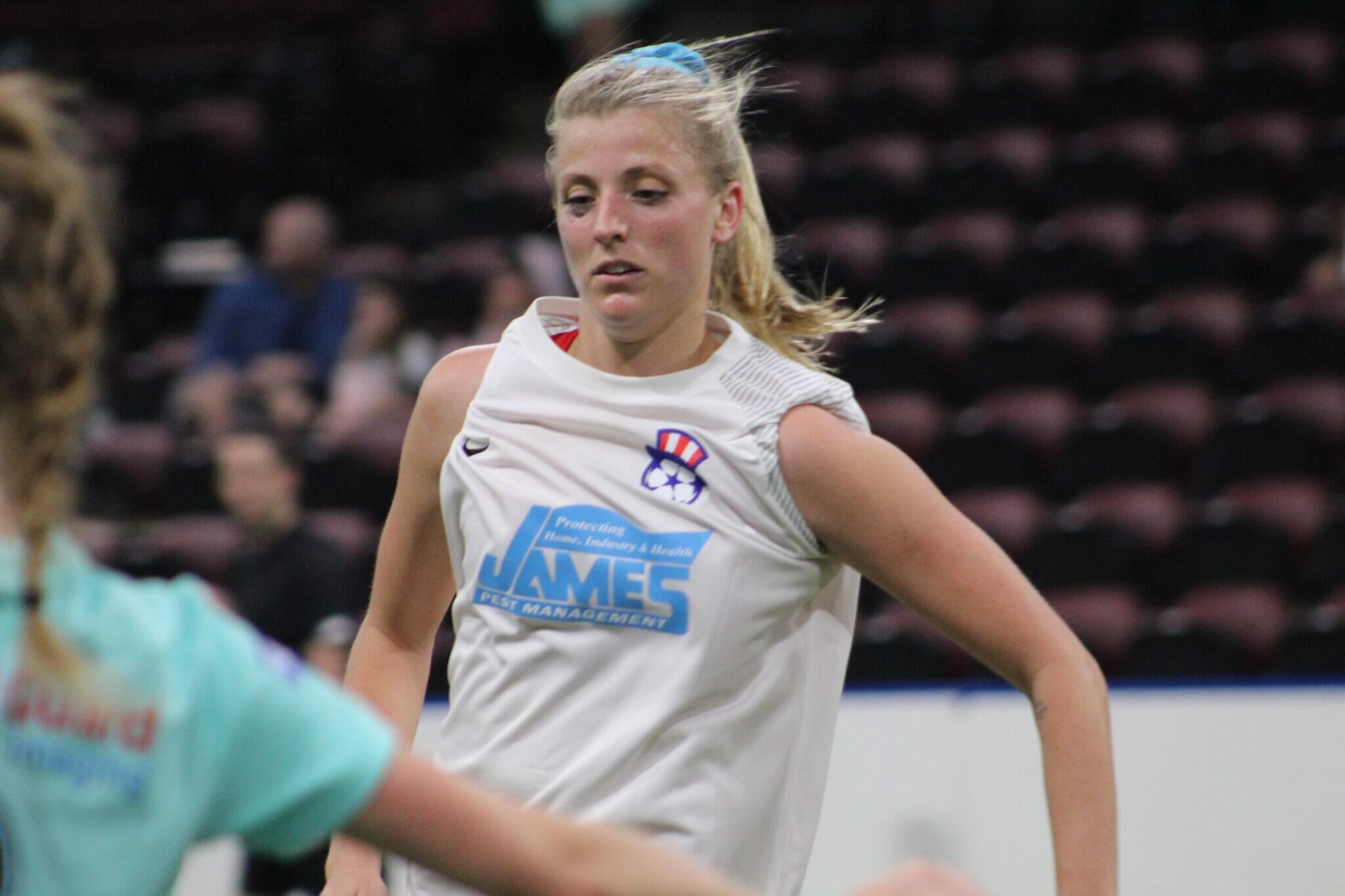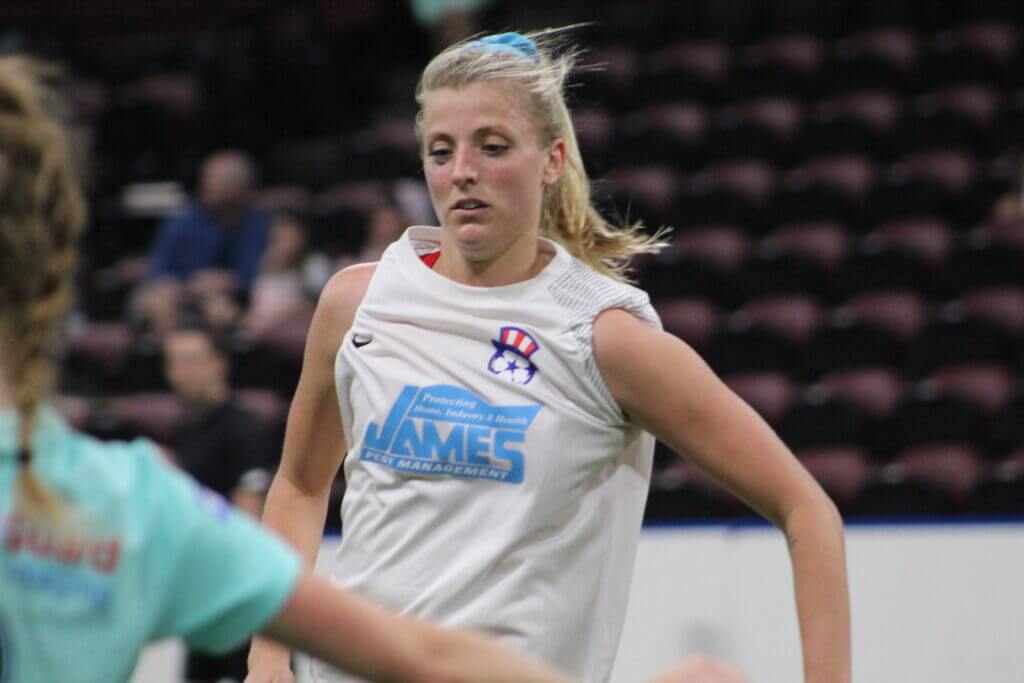 Hustle playoff game set for Friday morning at FedExForum
The Memphis Hustle will play either the South Bay Lakers or the Rio Grande Valley Vipers in the NBA G League Conference semifinals on Friday, March 31, at FedExForum. Game time will be 11 a.m. for the contest.
Memphis earned a first-round bye in the playoffs with the Hustle's second-place finish in the regular season. South Bay and Rio Grande Valley play on Wednesday to earn a spot against the Hustle in the semifinal round.
In the G League playoffs, there are three single-elimination rounds leading up to the finals, a best-of-three series.
Memphis finished the regular season losing a pair of games against the Skyforce in Sioux Falls, South Dakota, 119-105 on Friday and 116-88 on Saturday.
Southaven, DeSoto Central win county track titles
DeSoto Central boys' track team (Credit: DeSoto Central HS T&F on Twitter)
DeSoto Central boys and Southaven girls were the overall team champions of the DeSoto County track and field championships held at Center Hill High School on Saturday.
The DeSoto Central boys scored 212 points to win that division, followed by Southaven in second place with 116. Center Hill finished third (95), followed by Hernando, Lewisburg and Olive Branch in that order.
Southaven girls scored 200 points to win their division with Center Hill (146 points) taking second place. Hernando was third (102), followed by DeSoto Central, Liewsburg, and Olive Branch, in order.
Click here for complete results.
Saturday, March 25
Prep baseball
Hernando 9, Southaven 4

Hernando: Connor Young (3 hits, 2 RBIs). Topher Jones (3 IP, 0 R, 5 Ks)
Southaven: Stephen Tolbert (HR, 2 RBIs)

Northpoint Christian 11, Christian Brothers 6

Northpoint: Hudson Brown (2 HR, 5 RBIs)

Lewisburg 3, Munford, Tenn. 2

Austin Hannigan (2 hits, 2B), Matt Osteen (4 IP, 7 Ks)
Prep softball
Kosciusko 11, DeSoto Central 0
Northwest Rankin 6, DeSoto Central 3
Hernando 9, Marion, Ark. 3
Southaven 2, Olive Branch 0
Southaven 7, Center Hill 6
Center Hill 11, Starkville 1
Brandon 8, Lewisburg 5

Lewisburg: Kara Walker (2 hits), Aubrey Williams, Leona Klaire Stokes, (2 RBIs) each. Emma Abrams (7 IP, 7 Ks)

Brandon 6, Lewisburg 3

Lewisburg: Lexi Edmiston (1 hit, 2 RBIs). Casey Raggett (7 IP, 6 Ks)
JUCO baseball
East Central 4, Northwest Mississippi 2
East Central 3, Northwest Mississippi 2