Olive Branch hires Russell as new football coach
Despite several coaches holding the title of head football coach at Olive Branch High School the past number of years, new Conquistador program leader Jason Russell wants the "revolving door" in the coaching office to stop for a while.
Russell, who comes to Olive Branch after being offensive coordinator at Lafayette High School in Oxford since 2016 and who also coached across town at Oxford High School, was hired recently by Olive Branch principal Jacob Stripling. Russell's selection was approved by the DeSoto County Schools Board of Education at its Feb. 22 board meeting.
Russell replaces Darren Bowling, who resigned from the post after one season at the school. Bowling's quick departure brought back concerns about the school's football coaching situation after going five straight seasons with five different coaches until Tyler Turner's three-year tenure. Turner departed after the 2019 season to coach at Goodpasture Christian School in Madison, Tennessee, outside of Nashville.
While at Olive Branch, Turner took the Quistors to a 33-8 record and three MHSAA playoff appearances between 5A and 6A.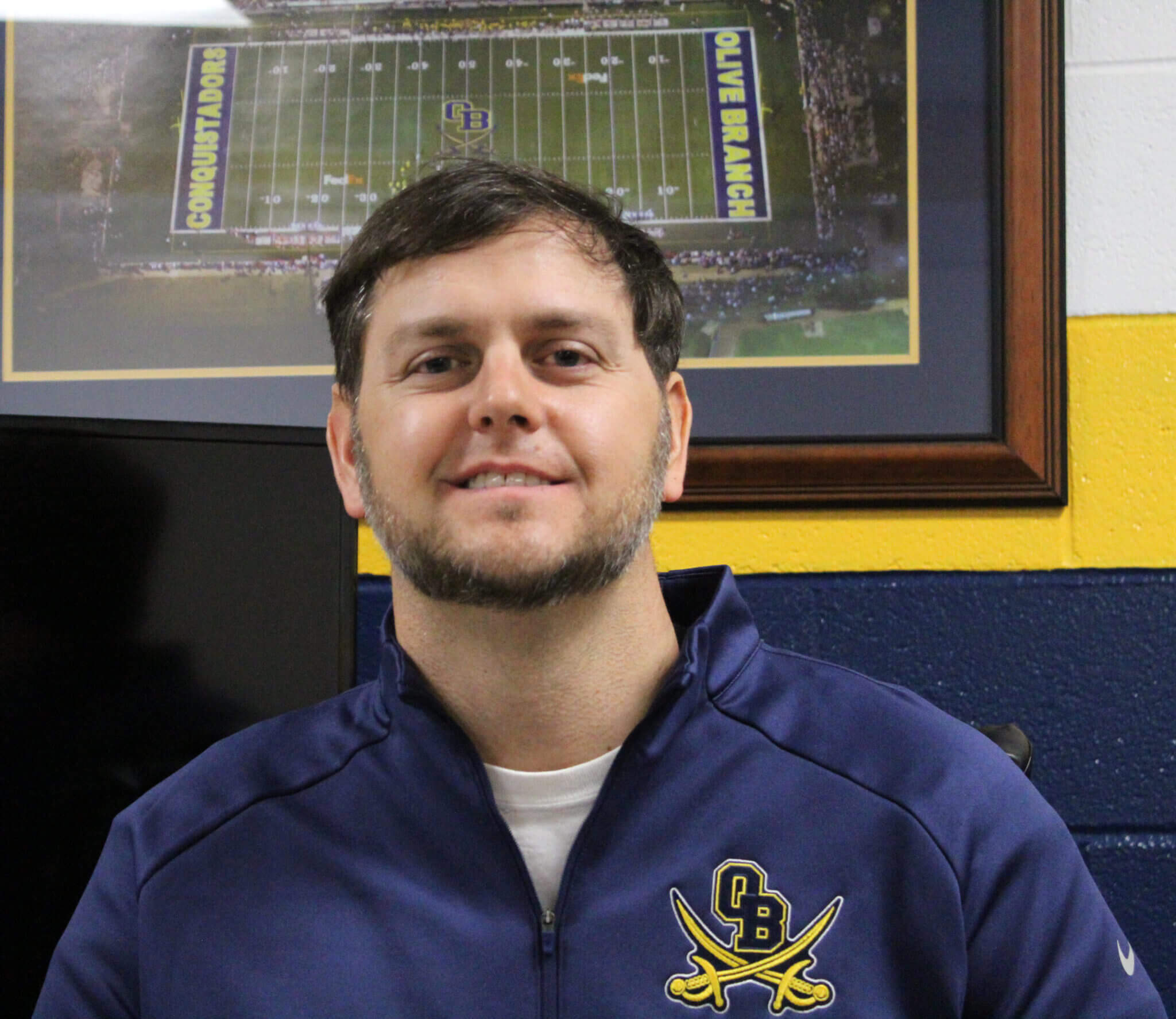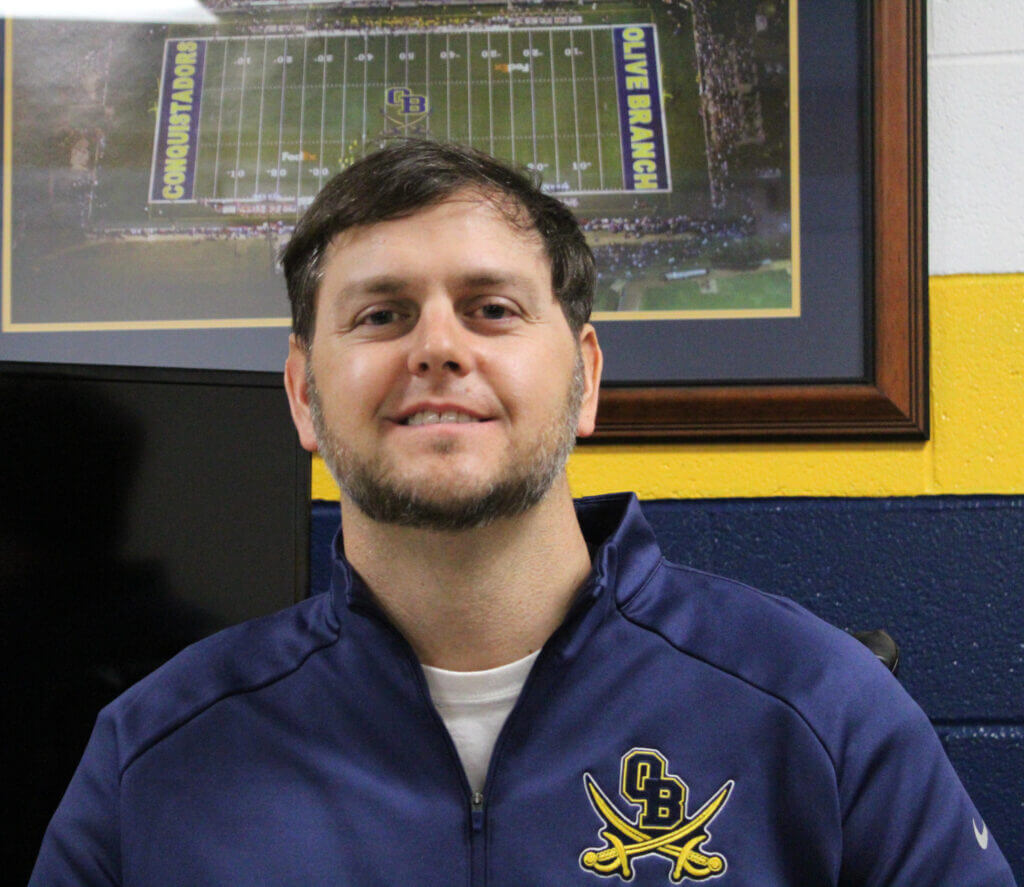 However, Russell said he will not use Olive Branch as an immediate step to another coaching job.
"When the Olive Branch job came open, to say I was interested is an understatement," Russell told DeSoto County News this week. "It is, as far as the state of Mississippi is concerned, very much a destination job. It is one of the best jobs in the state."
Football teams that Russell has been a part of the past several years have found themselves either winning or being in championship games. The first season he was at Lafayette, the Commodores won the MHSAA 4A state title. Three Oxford football teams were in the 6A finals with Russell part of the coaching staff before that, and he has also coached powerlifting teams to four straight state titles.
The coaching background, plus his time playing at Central Arkansas, a brief time with the Indianapolis Colts of the NFL, then playing in the Arena Football League and the Canadian Football League before retiring, made Stripling very interested in adding Russell as coach.
"His resume immediately stood out to me from his extensive experience as an offensive coordinator, as well as the state championships he's won in some other areas, so I was eager to talk with him when I saw his resume," Stripling said. "When I sat down and talked with coach Russell it was evident that he was the man to lead the Conquistador program going forward."
The new coach's playing background consisted of four preseason games with the Colts before an injury ended his time there. Russell then played in the AFL and at Montreal and British Columbia of the CFL before ending his playing career. A connection he had brought him to Oxford where he started coaching there.
However, Russell said there's another reason why he doesn't plan on making the Quistors a one-year coaching pit stop: family. His mother lives four miles from the high school and his two young girls are excited about seeing their grandmother a bit more often.
"I've got a family here and my mother has lived here for 16 years in this community, so this is coming home of sorts for me," said Russell. "I've coached for 14 years and I've coached for 14 years in the same town and I don't like to move. Having my girls near family is really important to me."
Early work with the players on the Olive Branch roster has given Russell a good impression of his team.
"We've got kids who are really eager to work hard," Russell said. " They understand the pride that goes along with being an Olive Branch Conquistador and the legacy that has been left here by the previous teams in the history of this program. It means something to be a part of this program."
Olive Branch football should be fast and exciting on offense, Russell said, but his teams will be disciplined.
"The fundamentals are extremely important," Russell said. "Offensively, I am a spread offense-type guy. When calling offense, the most important thing to do is get the ball to the guy that can go score in their hands. We'll play fast and we will play sideline to sideline and we will make them cover the entire field. There will be times we throw the ball deep, there will be times we throw the ball laterally to the sidelines and we will force them to cover the entire field."
Russell, with his powerlifting background, also knows that good talent comes from development.
"College coaches have the opportunity to pick their teams, but high school coaches do not," Russell noted. "One of the greatest things you can do to increase your talent is to develop it. I feel like my background makes me uniquely qualified for that. That's the first thing to grow a program, you develop them to be the best athletes they can be."
Starting this fall, the Quistors' district challenges will come from some familiar foes, but also a new one or two. The Region 1-6A makeup will have a newcomer to the classification in Center Hill, along with perennial challengers DeSoto Central, Hernando, Horn Lake, Lewisburg, South Panola and Southaven.
"I think at some point I've coached against every team in the district," said Russell. "There's talent at all of the different schools. We don't shy away from that, we don't back down from that, it's something we embrace."
The non-district schedule was pretty much set for Olive Branch before Russell's arrival with one exception that he filled immediately in adding Starkville as an opponent in the third week of the year.
"Before you go into districts, you really need to make sure you're playing top-notch competition," Russell explained. "Not to say the other teams we're playing are not great teams because they are. But Starkville is one of the best teams in the state the last several years. Our ultimate goal here at Olive Branch is to win state championships and if you're going to be the best you have to beat the best."