Monday sports: Hurt's career effort leads Hustle past Spurs
Photo: Matthew Hurt of the Memphis scored a career-high 30 points in the victory against the Austin Spurs on Monday, March 6. (Michael Priest/desotocountynews.com)
Monday was a career and season night for Matthew Hurt of the Memphis Hustle, who poured in 30 points to lead the Hustle to a 112-97 victory over the Austin Spurs and split a two-game NBA G League Western Conference series at the Landers Center. Austin defeated the Hustle 101-92 in the series opener on Saturday night in Southaven.
Hurt, a 6-9 returning rights player who played collegiately at Duke, eclipsed his previous high of 29 points, which happened at Salt Lake City on Jan. 30. Monday was the fourth time in the regular season for Hurt to lead the Hustle in scoring.
"He did a really good job of sprinting in and sprinting out of screens, slipping through and getting to the paint and having hands ready," said coach Jason March. "When he got matched against the small versus switch and it slowed down, he got down in the post and was very patient. It was just a good effort from him."
Austin led a tight ball game in the first half with a 26-24 lead after one quarter and the Spurs held a 57-51 lead at halftime. Hurt led Memphis in scoring in the first half with 15 points.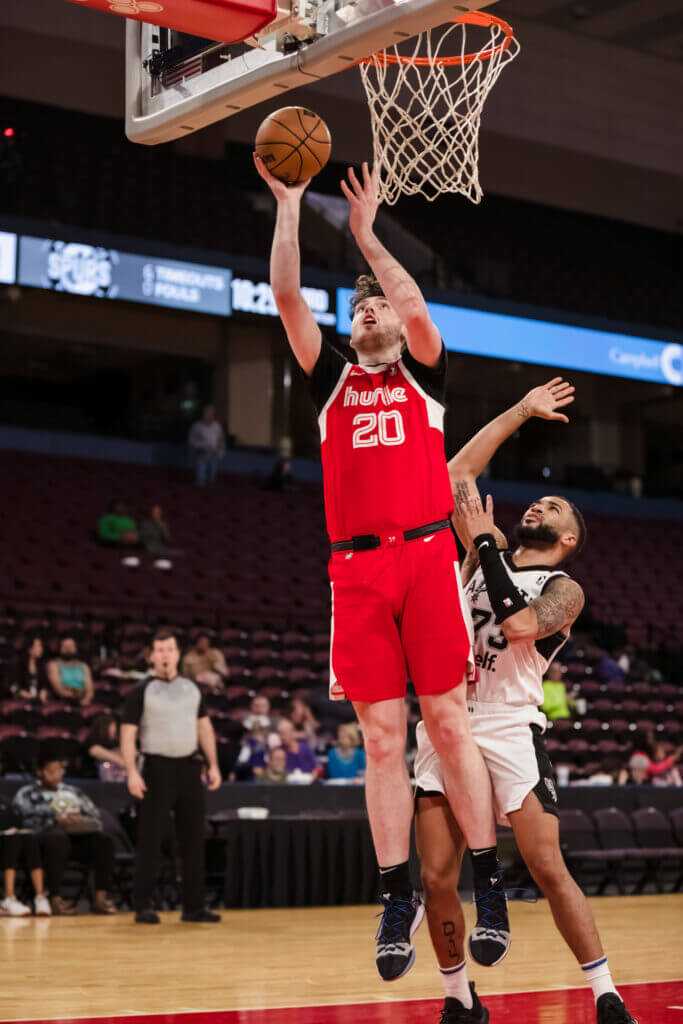 But, the Hustle held Austin to just 15 points in the third quarter, while scoring 28 as Memphis took the game over, leading 79-72 after three quarters.
In addition to Hurt's 30 points, Damien Jefferson came off the bench to contribute 18 and Dakota Mathias scored 12 among five Memphis players in double figures. Jacob Gilyard scored a double-double with 10 points and 12 assists.
Jordan Murphy led six Austin Spurs in scoring with 21 points.
"We're a really good shooting team," Hurt said. "They're going to stay home and we have a lot of great shooters on our team. That opened me up especially for a lot of points in the paint."
With the victory, Memphis improved to 18-6 and is in a first-place tie with Stockton. Austin dropped to 7-18 for the season. Monday night saw 683 on hand for the game at the Landers Center.
An important part of the season now awaits the Hustle with eight games in the next 13 days, starting March 13 to Wisconsin and two nights later at Windy City. Then, a two-game home series awaits against the Rio Grande Valley Vipers at the Landers Center.
Here is Monday's DeSoto County sports scoreboard:
Prep baseball
Lake Cormorant 11, Southaven 5

Lake Cormorant: Brayden Collins-6 strikeouts in 5 innings pitched. Easton Martin, Brayden Moberly-2 hits each.

Horn Lake 8, Olive Branch 7

Horn Lake: Cameron Sipp went 2 for 3 and had the walk-off game-winning RBI in the bottom of the 7th
Prep softball
Hernando 14, Olive Branch 1

Hernando: Amberlee Holley-7 strikeouts in three innings pitched.

DeSoto Central 17, Grenada 0

DeSoto Central: Rachel Noble- 2-for-3 with 5 RBIs

Lake Cormorant 22, Horn Lake 8
NBA G League basketball
Memphis Hustle 112, Austin Spurs 97