Bringing soccer out of the cold
Among Mississippi high schools, basketball is the big winter sport that's played indoors in warm gymnasiums before large crowds.
At the same time, sometimes at the same time as basketball is played inside, another winter sport is going on outside, contested with no regard to the cold temperatures. Its players are required to battle on the field wearing shorts and shirts in frigid temperatures. While their playing apparel resembles something worn in the heat of summer, their fans come to cheer them on while clinging to warm blankets and bedecked in parkas sometimes used by snowmobilers in the Great North.
Such is what high school soccer is all about in DeSoto County and North Mississippi. As a winter sport with the Mississippi High School Activities Association, most games are contested under the lights at night in the cold. Temperatures in Central and Coastal Mississippi are more temperate but the soccer talent in the northern part of the state is forced to shiver through its season.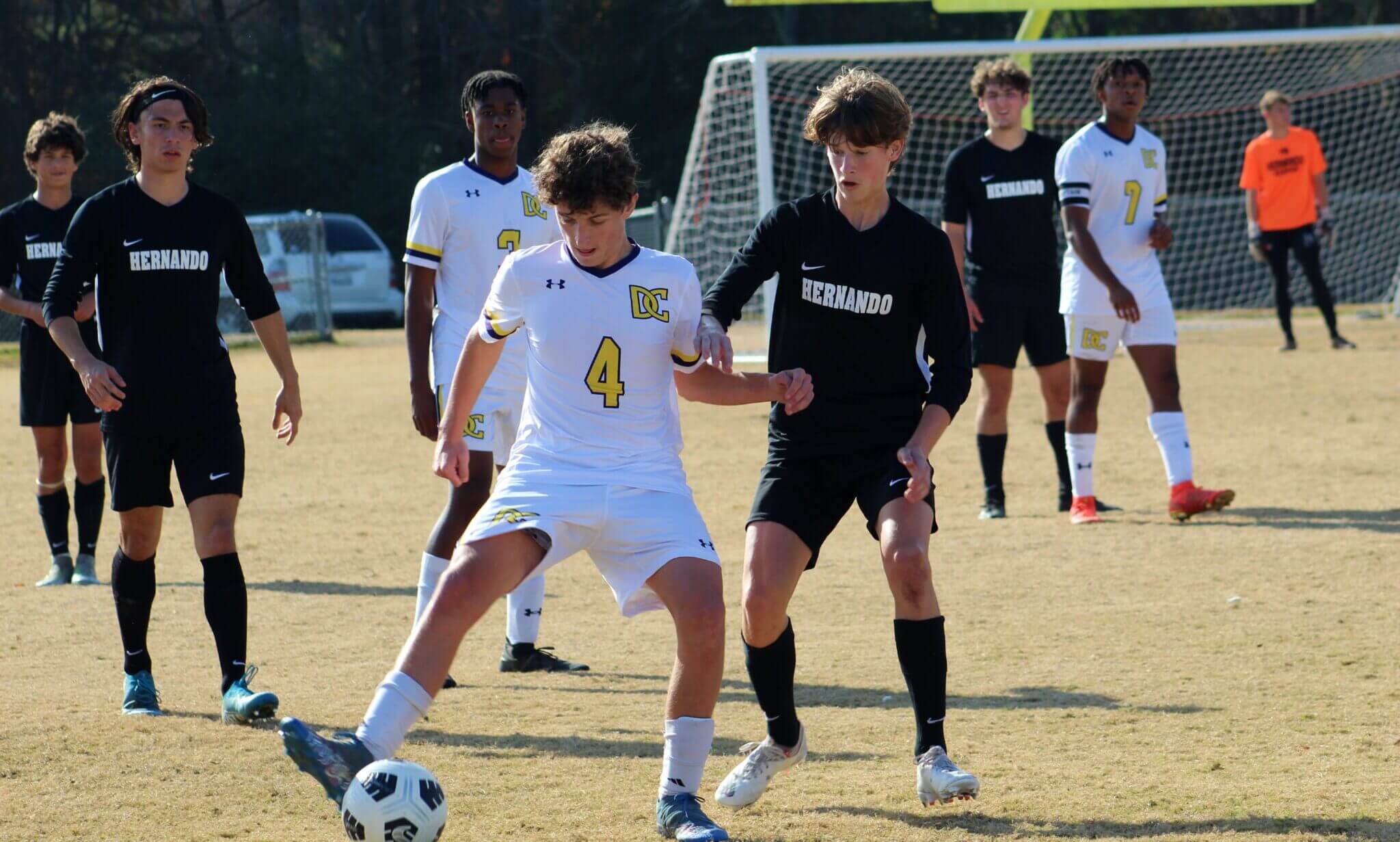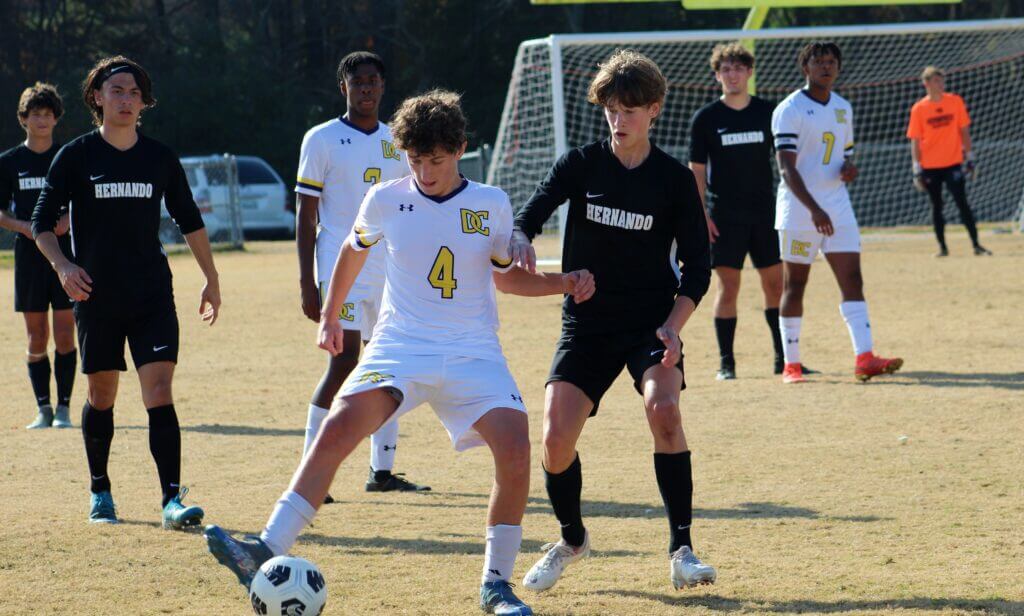 Friday, Dec. 3, Hernando and DeSoto Central soccer programs decided to take their sport out of the cold and dark, and place it in the warm sunlight before about 550 Hernando students and adult fans to watch their games.
Taking a cue from the fall sport of volleyball, which has used daytime in-school varsity contests to raise funds for their program and to attract more student fans, The Tigers and Jaguars took their contests outside to Anthony Jenkins Field in a similar fashion. It certainly helped that the temperatures were approaching an un-December-like 70 degrees in sunshine.
Ticket prices charged the students for coming out benefited the Hernando soccer program, but Hernando boys' coach Logan Clark hoped the students also learned about the excitement of soccer, which is the most popular sport in the world.
"A lot of times with soccer being a winter sport we're not able to get the large crowds there are at football games," Clark said. "We really hope this encourages our students to come see more of our games throughout the season."
High school soccer is typically played in two, 40-minute halves, but Friday's contests were truncated down to two, 25-minute halves to respect school time.
Hernando came out on the winning side of both matches. The Lady Tigers defeated DeSoto Central 2-0 and the Tigers topped the Jaguars in penalty kicks. That is an overtime method where players try to score on the opposing goalkeeper in rotating penalty kicks to determine a winner. Hernando won the penalty kicks 4-3. Both teams had gone through regulation time without a goal being scored, forcing the penalty kicks overtime.
DeSoto Central girls' soccer coach Matt Duggin was glad his team was able to have the daytime soccer experience and being able to play before more fans.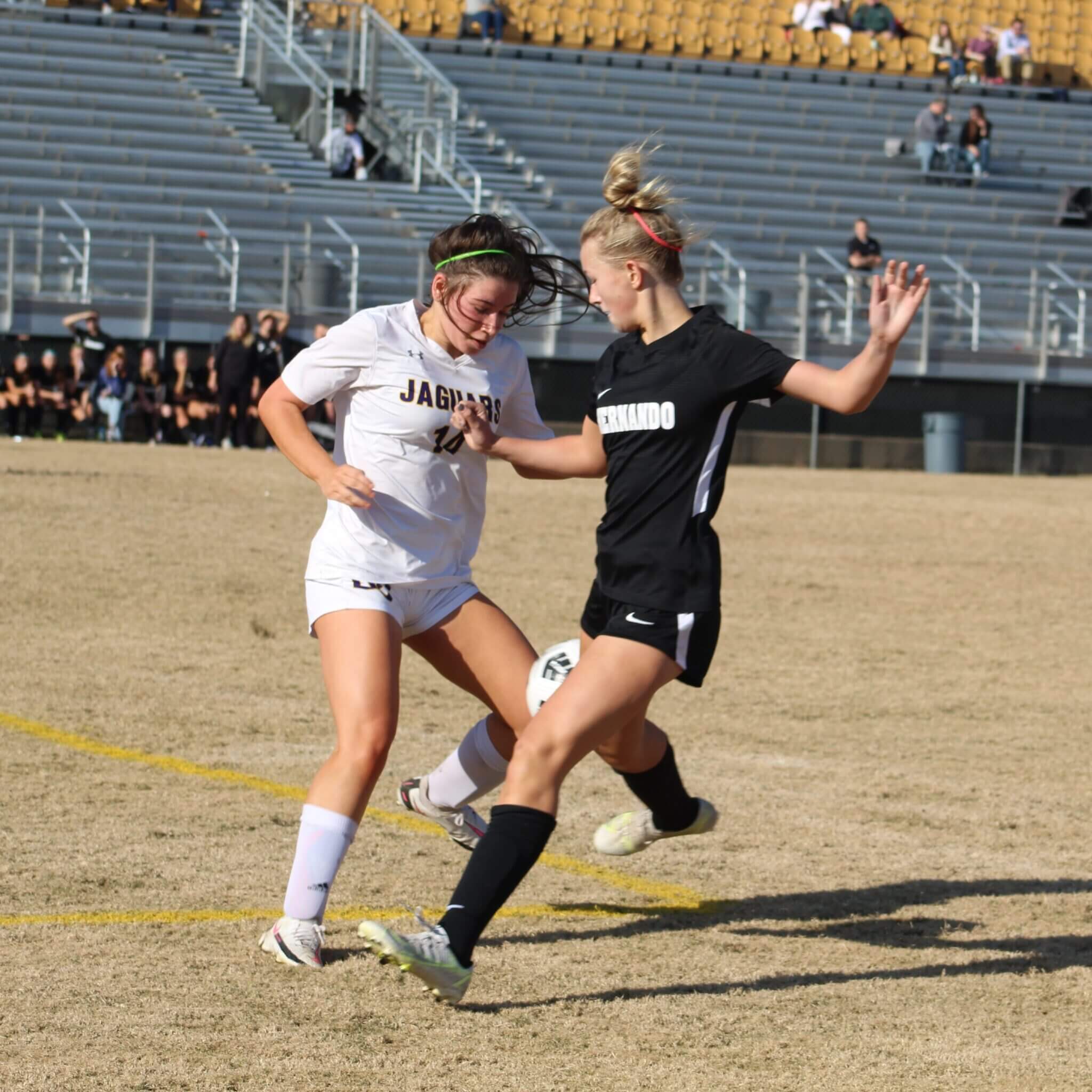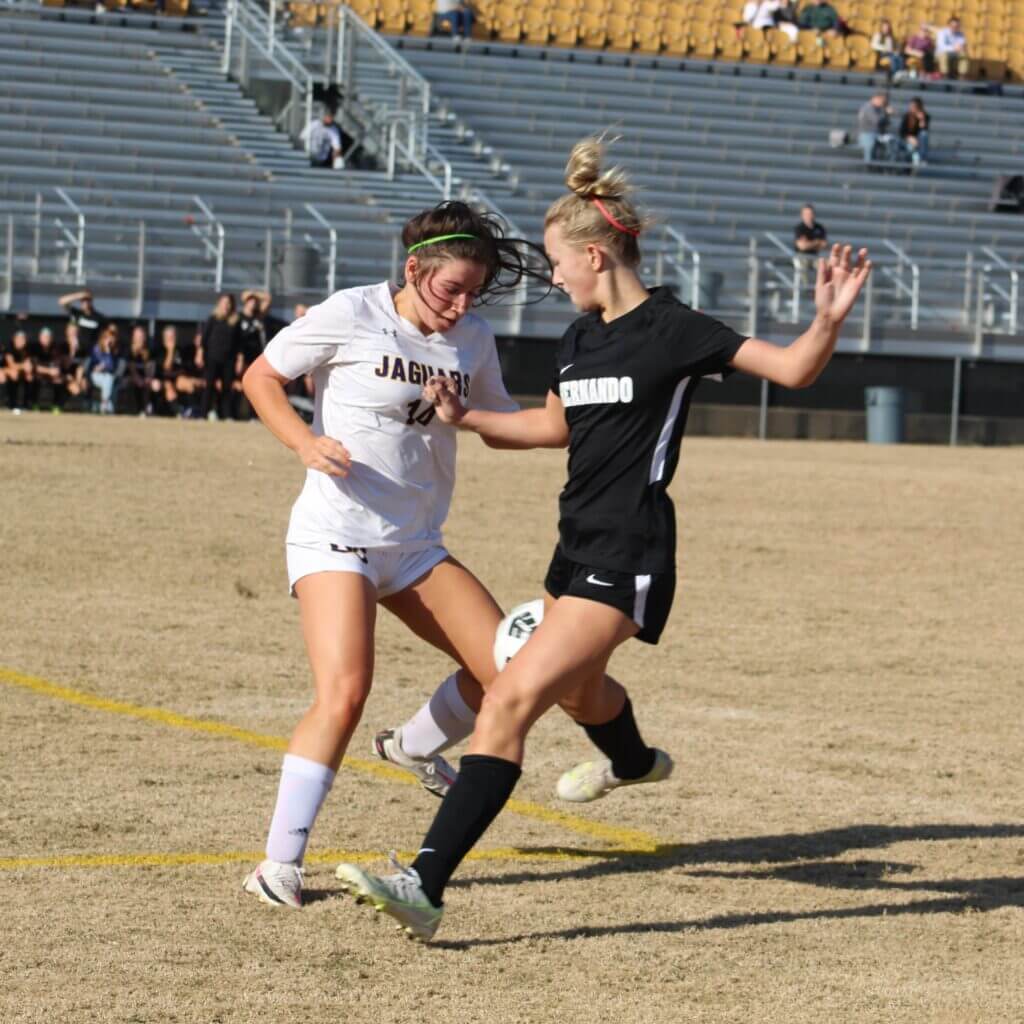 "If you took several of our games' attendance and added them up, there might not be as many people as there were today," Duggin said. "That's great for our girls because we're growing as a program and I'm glad they had the pressure there was today. The next time we play in a big game we'll be more prepared."
Clark said there's a lot to look for in watching soccer. He hopes some of the misconceptions about the sport are dispelled when fans see the action in person.
"A lot of people believe soccer at times can be a boring sport and a slow sport and not as physical as it actually is," said Clark. "So hopefully today watching the boys and girls they'll see the physicality, they'll see some of the high pace and high action plays that we put on."
And Duggin said those fans who do come out will see some skilled players competing.
"There are multiple MAC (Mississippi Association of Coaches) all-stars in DeSoto County, so there are a lot of girls who are going to play in college," Duggin said. "There's always been great soccer in Central Mississippi and on the Coast but there's good soccer up here, too."
It is certainly worth grabbing an extra blanket, a warm coat, and maybe some hot chocolate in an insulated container to watch DeSoto County high school soccer.
Friday's daytime contest will be reciprocated by Hernando at DeSoto Central in similar fashion next season. And watch out, you might see more DeSoto County teams use the daytime to bring their favorite sport into the light and out of the cold.