BankPlus Amphitheater is ready to shine
Photo: A view of the stage from the expanded BankPlus Amphitheater at Snowden Grove in Southaven. (Bob Bakken/desotocountynews.com)
With just hours before the renovated BankPlus Amphitheater at Snowden Grove hosts its first event Thursday, April 20, the final polish and touches are on the entertainment facility. 
Thursday evening, Better Than Ezra and Sister Hazel will take the stage after Memphis-based Ingram Hill leads off the night in the first concerts played in the venue which shut down last year for the $10-million construction to be completed.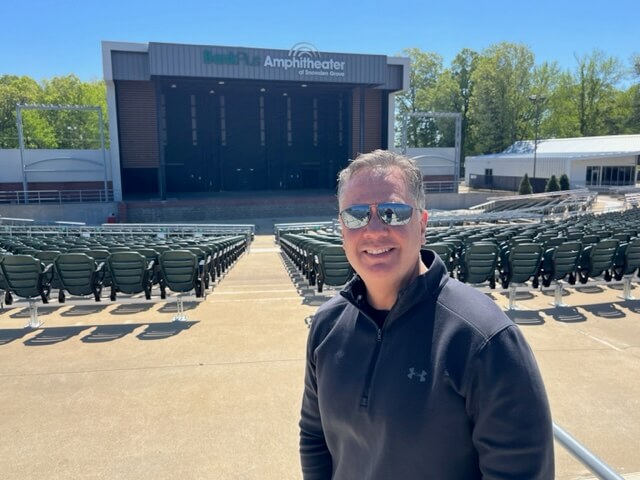 Todd Mastry, Executive Director for both the Amphitheater and Landers Center, took DeSoto County News on a tour this week and showed off a venue that will impress and amaze first-time visitors and those who have been coming to hear great music outside for many years.
The first thing you may notice when you arrive is there's more than just one option to enter the amphitheater, Mastry said.
"It's all about the guest experience," Mastry said. "The box office was the only entrance they had before but we added two more entrances; one on the south side, one on the Getwell (Road) side, and then a private entrance for premium suite holders."
Next is the availability for concessions and merchandise sales. There are a lot more places to buy food or get T-shirts and other items.
"We built a commissary with 22 points of sale but it is, but it is a main receiving spot to create your items and then send them out to the other three new permanent concession stands just on the entrance or plaza level," Mastry said. "No tents are being set up for merchandise companies coming in to sell T-shirts and that kind of thing."
Another improvement is in the number of relief stations or restrooms available.
"We've doubled the amount of restrooms that are here," Mastry pointed out. "We've given people the opportunity to have three entrances, double the restrooms, and for the biggest shows we can have up to 70 points of sale to get something to eat and drink."
The amphitheater has now been expanded to seat about 10,000 people attending. Much of the grassy area there was previously has been replaced by seats, except for a couple of smaller areas of turf replacing the grass.
However, Mastry said the amphitheater can actually be reduced from 10,000 to about 4,000 seats to attract artists who want to play for a smaller, more intimate audience experience. He said the facility does want to limit itself to only hosting certain levels of entertainment.
"This is an over 10,000-seat facility and not everybody can play to 10,000 seats," Mastry explained. "We can put a black windscreen up and it can cut a 10,000 facility down to about 4,000 seats. You now have an option of having an artist on their way up or on their way down that doesn't want to play to 6,000 open seats. We've actually created a boutique amphitheater and one of the larger amphitheaters at the same time, one of the smaller and larger ones in the country."
Another improvement involves how the artists are handled when they come to Snowden Grove.
"Artists used to have to go over to the Snowden House, outside of the perimeter gate of security, and that's where they had catering," Mastry said. "We built an artist's catering building with a merchandise stand on the main public side of the building."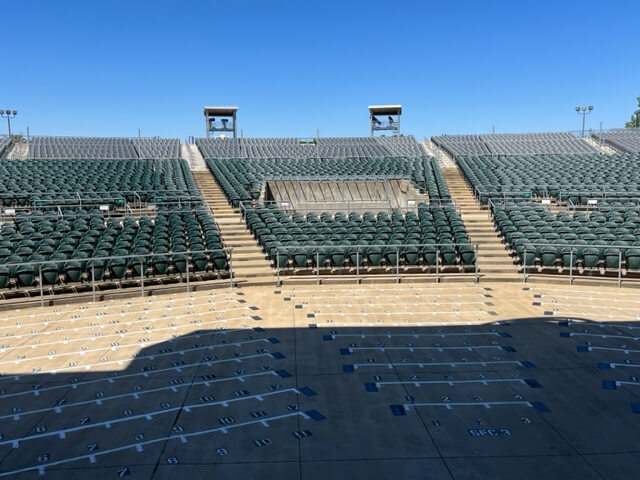 Interest and ticket sales for the announced concerts this year at the amphitheater have been strong and brisk.
"All the premium seat holder opportunities here have been sold out," Mastry said. "Every show is different. Dave Matthews Band is selling very well, not to say the others are not. Everything is selling well out here but there are currently no completely sold-out shows. We do have a few that are getting there very well."
Artists already announced for the BankPlus Amphitheater include Thursday's show, the Dave Matthews Band, Gary Allen and Tracy Lawrence, Dwight Yoakam, Big Time Rush, and Max and Jax.
When the renovation plans were first announced, Southaven Mayor Darren Musselwhite said the city learned the amphitheater had become outdated and changes were needed to bring top acts to Southaven.
"Specifically, we need more permanent seats, more concession facilities, more bathrooms, more conveniences for the artists, and more accommodations for season ticket holders to meet the upfront artist ticket guarantees and improve general revenues," Musselwhite said.
Mastry said the new amphitheater fits the bill for any level of top talent.
"If you're an artist heading east to west, Nashville to Rogers, Arkansas, between those two amphitheaters, we're right here," Mastry said. If you're heading north to south on I-55 between St. Louis and the Brandon Amphitheater in Jackson, we're at the corner of I-55 and I-40. If you want to play indoors, the Landers Center is right here. If you want to play outdoors, the BankPlus Amphitheater is ready to go."